Indigenous entrepreneurship in Food, Fashion and Music collide for RRC Polytech's second annual RBC Reaction by Collision Community Event.
This week, hundreds of staff, students, industry partners and community members came together to celebrate Indigenous Food, Fashion, and Music at the second annual RBC Reaction by Collision Community Event. Hosted at RRC Polytech's Manitou a bi Bii daziigae, the event showcased Indigenous culture and arts in Manitoba and highlighted the importance of creating space for Indigenous entrepreneurship.
"The longstanding friendship between RBC and RRC Polytech and the spirit of community and collaboration connects us back to our strategic commitment of reconciliation, our shared journey, where Indigenous leadership and guidance take the lead and work with us to guide us on the best way forward, together," said Fred Meier, President and CEO of RRC Polytech, during his speech to start the event.
The event treated guests to delectable cuisines from local chefs, a haute couture fashion show featuring student models, a crafters' market with local artisans and businesses, a panel discussion, and a drumming performance from student-led Indigenous culture group OGICHIDAA. Juno-award nominated Indian City capped off the spectacular event as the grand finale.
"What each of our partnering initiatives and programs have in common is that they drive human connection," Herb ZoBell, Vice President, Commercial Financial Services, Indigenous Markets at RBC, said. "They provide unique channels for people to connect with their ideas, and most importantly, with one another."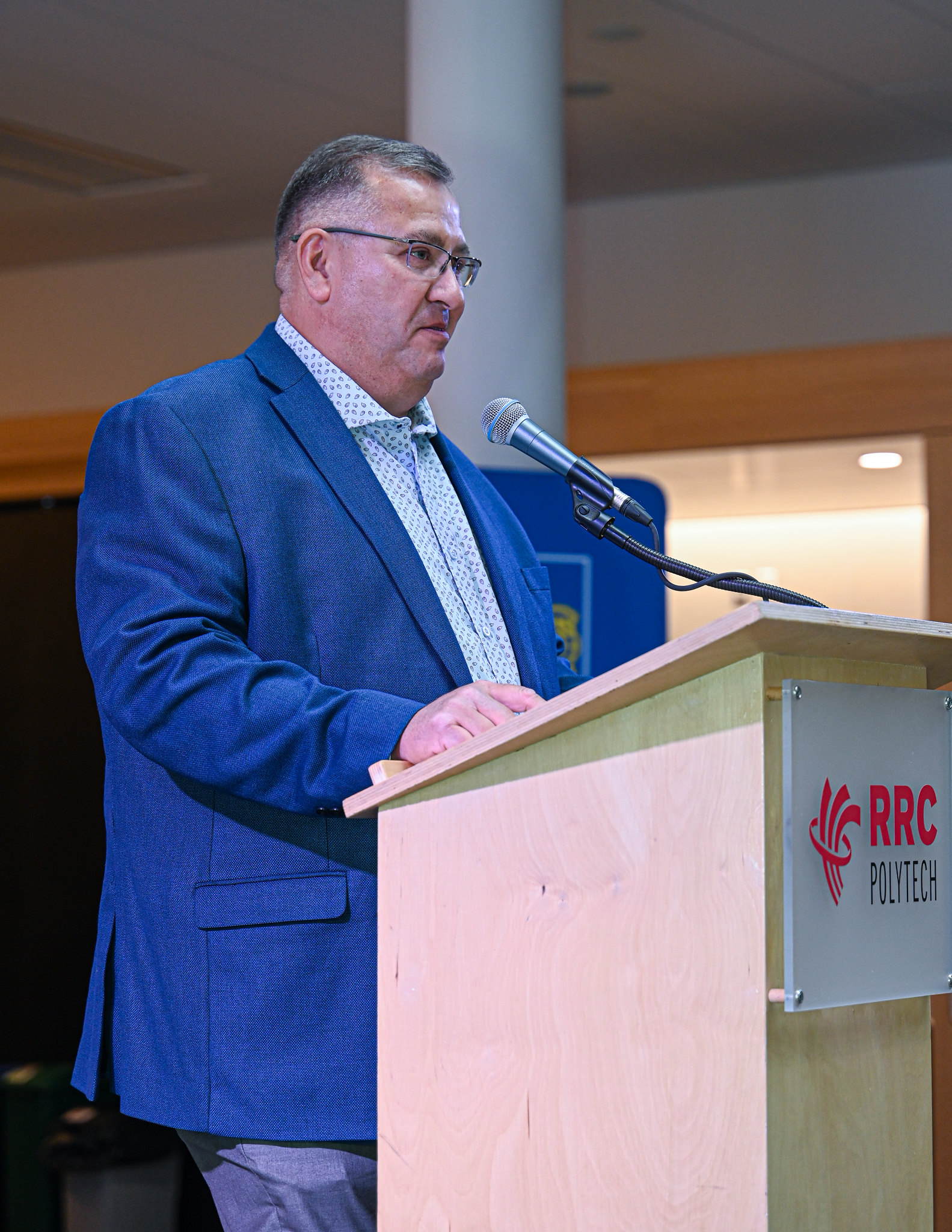 RBC Reaction by Collision is designed to converge industry, academia, and students to grow networks, seek advice, and launch careers. RBC Future Launch found that 85 per cent of all jobs are found through the strength of a network and not through the resume.
RRC Polytech students volunteered to model some of the pieces featured during the event. Kylla Harper, from the Pathway to Health Programs, was one of the students who modelled Gayle Gruben's Inuit designs.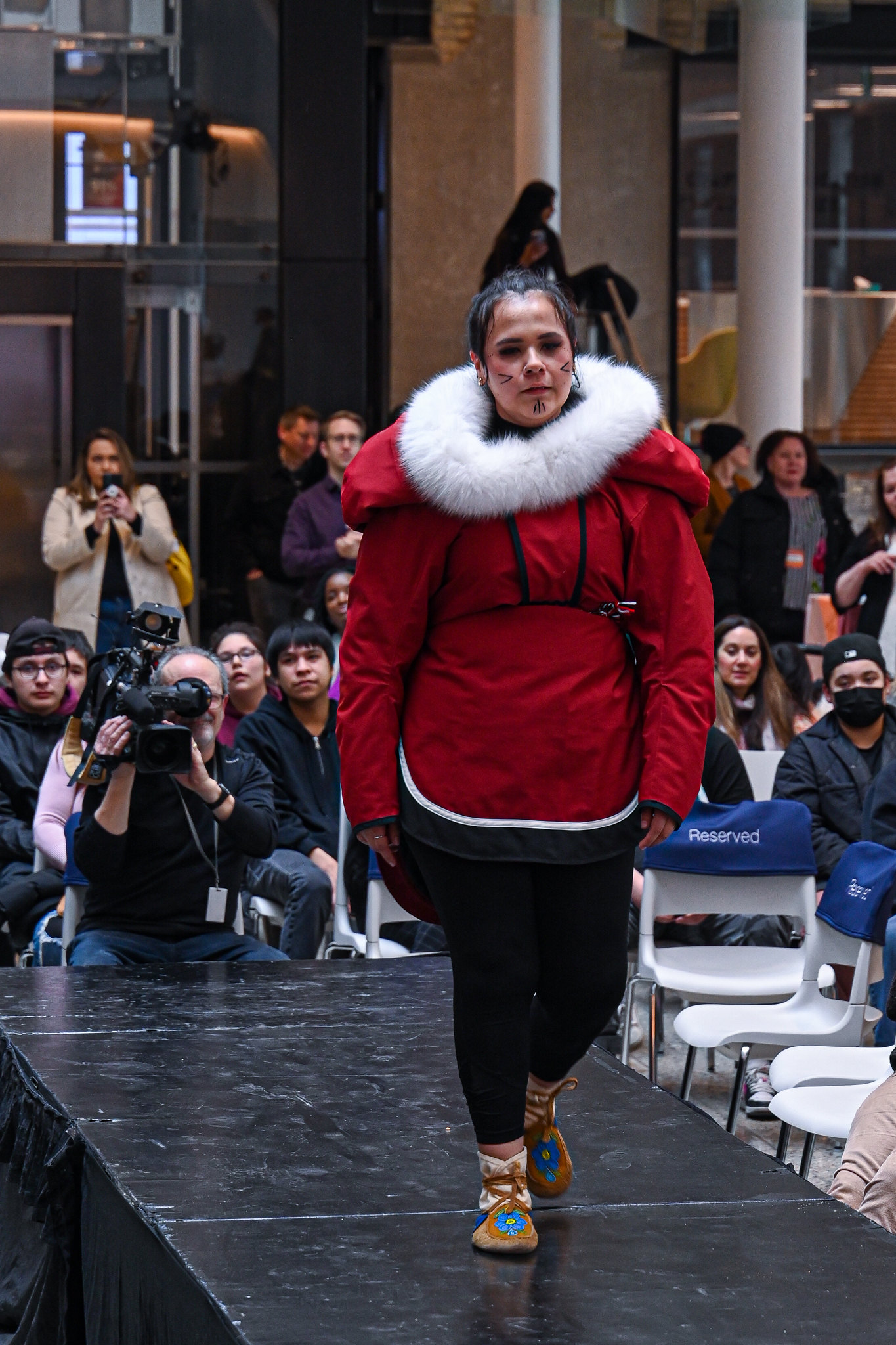 "It was very nerve-racking waiting backstage for my turn, but as I walked on the catwalk, my confidence grew," Kylla said. "I loved seeing different Indigenous cultures represented. It goes to show that we have so much to explore still within our own communities."
Since the event, Kylla has received an outpouring of support from her circle, which she said has made her "smile with pride."
Miranda Harper, an RRC Polytech alumni and drummer in the local rock band Venus Man Trap, took part in the event's panel discussion and shared her experience as an Indigenous musician with students and community members.
"For me, I make music to feed my soul. I never look at the fame and fortune of it because I feel like it can take something away from what you do," Miranda said. She reminisced during the panel about one of the best gigs she's ever done: National Aboriginal Day in the early 2000s at The Forks, where she played to just five people.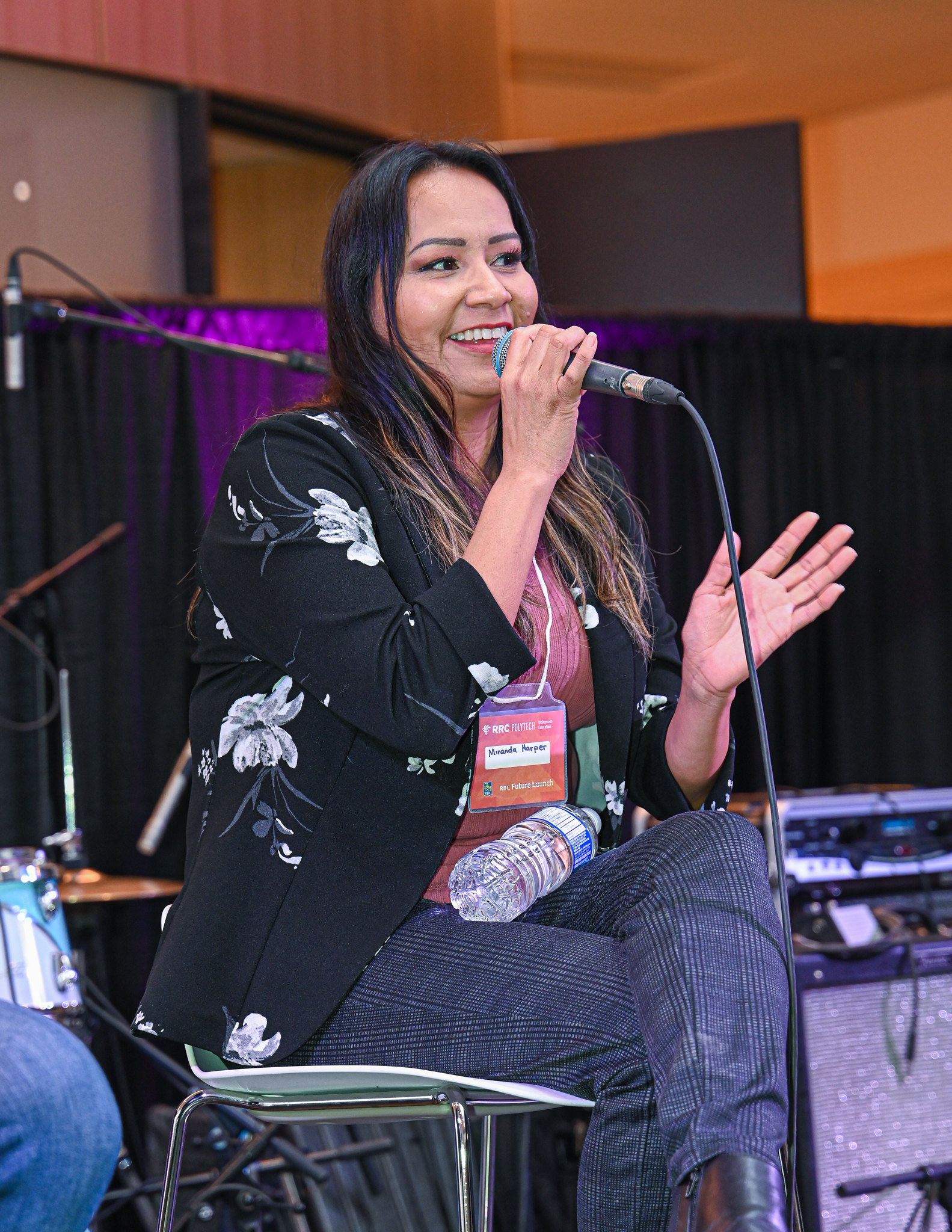 The event was held at Manitou a bi Bii daziigae, a building named by Elders-in-Residence and translates to, "Where Creator Sits – Brings Light." The building was designed with the intent to bring together the community, to build connections and create bridges. The College commissioned Indigenous artists Jackie Traverse, who attended the event, and KC Adams for artwork on the fourth-floor ceiling and the Roundhouse Auditorium, respectively.
With RBC's support of RRC Polytech's In Front of What's Ahead comprehensive Campaign, the College has been able to provide students with the Indigenous Pathway to Information Technology Program, access to Ten Thousand Coffees Mentorship program, and projects like the Reaction by Collision events series. Collaborative events with RBC like Reaction by Collision have helped more than 5,000 students network with industry professionals and community leaders in Manitoba.