Administrative Assistant
Develop Your Skills for a Career in a Range of Professional Business Environments
Get work-ready in just 18 weeks.
You will learn the theory and practical skills needed to succeed in your administrative career. You will have the opportunity to apply your skills in the workplace during a four-week practicum.
After successful completion of the program you'll be knowledgeable in a variety of technical and soft skills, including business office software, administrative procedures, communication, event planning and teamwork, bookkeeping and accounting, payroll and problem-solving.
Practicum
This program integrates classroom theory with related on-the-job training during the four-week practicum.
Employment Potential
Our grad have found work in businesses, private and public corporations, and government departments. Their titles include:
Administrative Assistant
Administrative Professional
Executive Assistant
Office Assistant
Office Manager
Receptionist
Data Entry Clerk
However, this is just a starting point. An administrative assistant education opens the door to a number of career-defining opportunities in the workforce. Find out the paths of some former students.
Earning Potential
In Winnipeg, annual salaries for this job range from $29,120 to $63,690 (average: $42,994).
Wage data taken from jobbank.gc.ca.
What Students Are Saying
Students who have taken RRC's Administrative Assistant program have experienced firsthand the doors that a career in this field can open and have enjoyed a lot of success in their careers as a result. Check out thoughts on the program and success stories from former students:
"The skills and formal training learned in the program gave me the confidence to take initiative at my new job and opened an entire world of opportunity for me."
– Jessica Tapatai, Graduate of the RRC Administrative Assistant Certificate Program with Honours
Past Info Sessions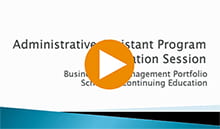 Hear instructors speak about the program, a career as an administrative assistant, and other benefits: RRC Administrative Assistant Program Information Session Video.
Since the video was released, there have been a few changes to the program:
The program is now 18 weeks.
Intro to Business is no longer offered. RRC offers assessment for students who partially meet admission requirements.
Keyboarding is no longer part of program.
Sage Accounting should read Simply Accounting.
Basic Business Math has been replaced by MATH-1069 Basic Mathematics.
Apply
Jump into the workforce sooner and grow your career with this full-time Fast-Track program from Red River College.
See Locations, Dates and Fees Apply Today
Part-time and online Administrative Assistant courses are also available. View courses.