At just 32 years old, Vic Savino is the Director of Communications for the Treaty One Nations.
It's a dynamic role, one that allows him to serve community members from the seven First Nations in Treaty No.1 territory and dive into projects like the development of the Naawi-Oodena urban reserve. Such a prominent director position at age 32 is certainly not the standard. But then, Savino's life has been anything but.
A proud graduate of RRC Polytech's Business Administration program (class of 2016), Savino joined the team at Treaty One Nations in July 2022. Prior to that, he was a digital content programmer for SkipTheDishes, a communications officer with the Southern Chiefs' Organization, an owner of a successful hot dog cart business, a freelance journalist, and an advocate for criminal justice reform.
Savino balances his professional endeavours with fatherhood—a delicate juggling act that he chronicled in The Projector in September 2015. His inspiring life journey has attracted the attention of national outlets, including CBC.
"Learning how the business world works."
Savino credits RRC Polytech's Business Administration program with many of the skills he uses daily in his current director role—including public speaking, effective networking, and learning to work within tight deadlines. One instructor in particular, Murray Moman, had a tremendous impact on his early career development.
"He always encouraged us to do a little extra," said Savino. "He would encourage us to not just do the course work, but to look at everything."
One suggestion from Moman found Savino and his classmates attending a forum hosted at the College with mayoral candidates leading up to the 2014 City of Winnipeg civic election.
With his first-ever DSLR camera in tow—which he was practicing with after originally purchasing for his mother's wedding day—Savino acknowledges that this experience was his initial encounter with the intricacies of civic politics. Prior to this, politics had barely registered on Savino's radar. Yet, he found himself utterly captivated by the discourse and strategies involved. This provided Savino with his first real taste of political engagement, igniting a strong passion. Now, his workdays are regularly punctuated by meetings with mayoral candidates, influential leaders, and government representatives.
"[Those photos] were the foundation of my career today—working with politicians, writing press releases, and taking photos. I always look back at that day as where I began this journey," said Savino.
"I felt like my classmates must have thought I was a bit of an oddball, running around with a camera and taking everyone's pictures when it was not really my area of study nor a focus in my line of work at the time."
Savino stayed busy throughout his two years in the Business Administration program, volunteering as a mentor with the international mentorship program and the College's food bank, as well as sitting on the Students' Association board to understand how political bodies and boardrooms work.
His advice for future students? Do the same.
"Don't just do your studies—get involved with the college community. The Students' Association is a great place to start. Mentoring and peer tutoring as a side job was very rewarding. It's not just about your grades," said Savino. "As the old adage goes, it's not always about what you know, but who you know."
"People look at what you're doing while you're in school, too. Just keep your options open. What people study isn't always what they end up doing in the future—I'm doing public relations as a living now, for example," he said.
"I want to get better at what I do."
Savino is currently enrolled in RRC Polytech's Communication Management program. This multi-year, part-time program is designed for mid-career professionals looking for a higher-level management role in organizational communications.
He's able to apply many of his assignments to his work at Treaty One Nations, which allows him to develop useful tools, frameworks, and other content for the organization, while working toward his own certification. He sees this integration as a tremendous strength of the program.
"You can apply your job to your schoolwork and it works hand-in-hand together," said Savino. "I also got a chance to hear about my classmates' work and learn about other organizations and how they do things."
Savino is a firm believer in continuous learning and sees the value of post-graduate programs like those at RRC Polytech.
"Continuous learning is a good way to refresh what you know or learn something new to bring into your current role, or if you're looking for a career change," said Savino.
"I want to get better at what I do now. As director of communications, I have a big responsibility resting on my shoulders. As your organization grows and your team gets larger, you need to learn how to get better and manage that effectively. [This program] is exactly what I'm looking for," he said.
"A path to my culture through this work."
Savino has familial ties to Peguis First Nation but was born and raised in Winnipeg. He feels lucky for the opportunity to reconnect with his culture through his work, he says, and is grateful for the chance to steer the dialogue in a better direction.
"I grew up in the city, so I didn't have a deep connection to that culture. But through my work with Indigenous organizations, I've been reconnecting with that part of me and with that culture. Through my work, I'm learning more about myself and my Relatives," said Savino.
"There's a lot to learn. You can't just learn 500 years of history – and beyond – by reading a few books. A lot of people tend to generalize and lump First Nation peoples into one category, but there are hundreds, if not thousands, of communities who each have their own history and ways of doing things," he said.
"It's true reconciliation in action."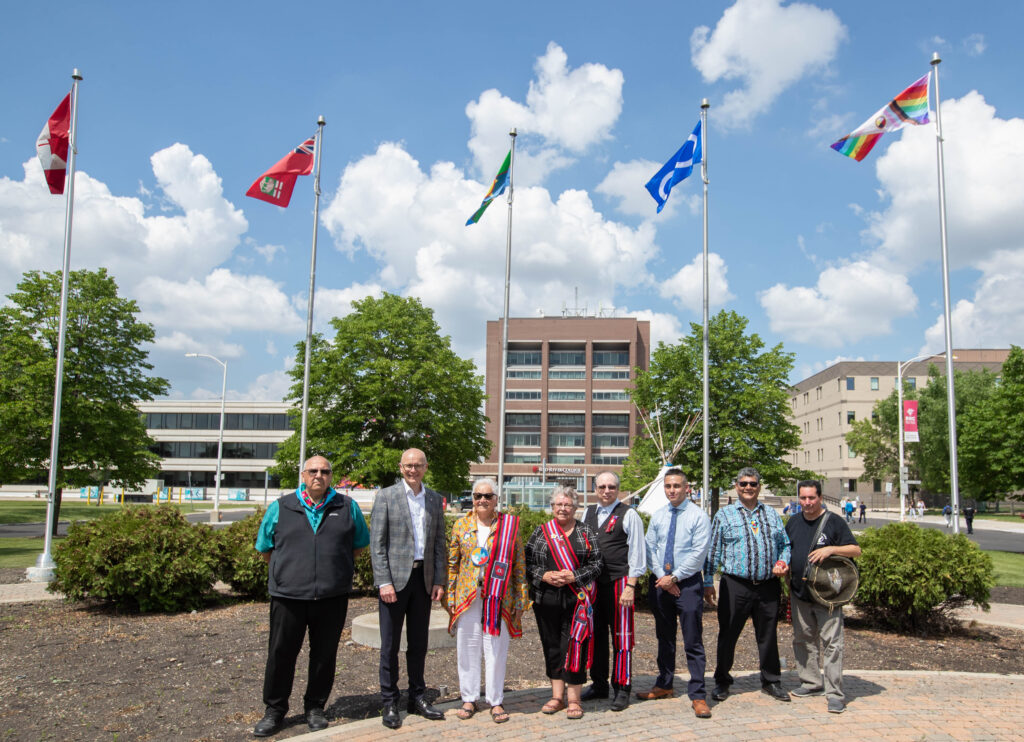 The Treaty One flag, along with the Red River Métis flag and RRC Polytech's inclusive Pride flag, now fly year-round at the Notre Dame Campus in Winnipeg to acknowledge the history of the land, respect for the treaties made on the land, and representation of the people who live here.
Savino attended the flag raising ceremony in June 2023 as a representative of Treaty One and a proud RRC Polytech alumni member. He is now pushing for flags at other prominent locations throughout the city, including the intersection at Portage and Main.
"This is our land. The treaty was signed 152 years ago, and there are were too many obligations to count that were not followed."
Treaty One was negotiated and entered into in August 1871 at Lower Fort Garry. With a lasting legacy of promises made and broken, Savino said it's important to remind people that this is the way it is, and "offer a reminder of those who have called this land home for time immemorial."
"We had a lot taken from us, so this is not only one small way of taking it back, but also showing that this is where we are, this is who we are. It's true reconciliation in action. Through this work, we're establishing ourselves as a force to be reckoned with, while creating our own opportunities to move forward toward a better life in this world."
Profile by Riley Chervinski (Creative Communications, 2016)
---
Learn more about RRC Polytech's flag raising in June and how we continue to commit to reconciliation, equity, diversity, and inclusion on campus year-round >