Senior Leadership
The Senior Leadership Team works collaboratively and steers the College on the path for success. This team works primarily at the Notre Dame Campus, but you'll regularly find them visiting other campuses, saying hello to our community in the hallways, or attending special events.
Learn how each team member contributes to the success of the College, and what their interests outside of work are too (you likely have a thing or two in common!).
Fred Meier – President and CEO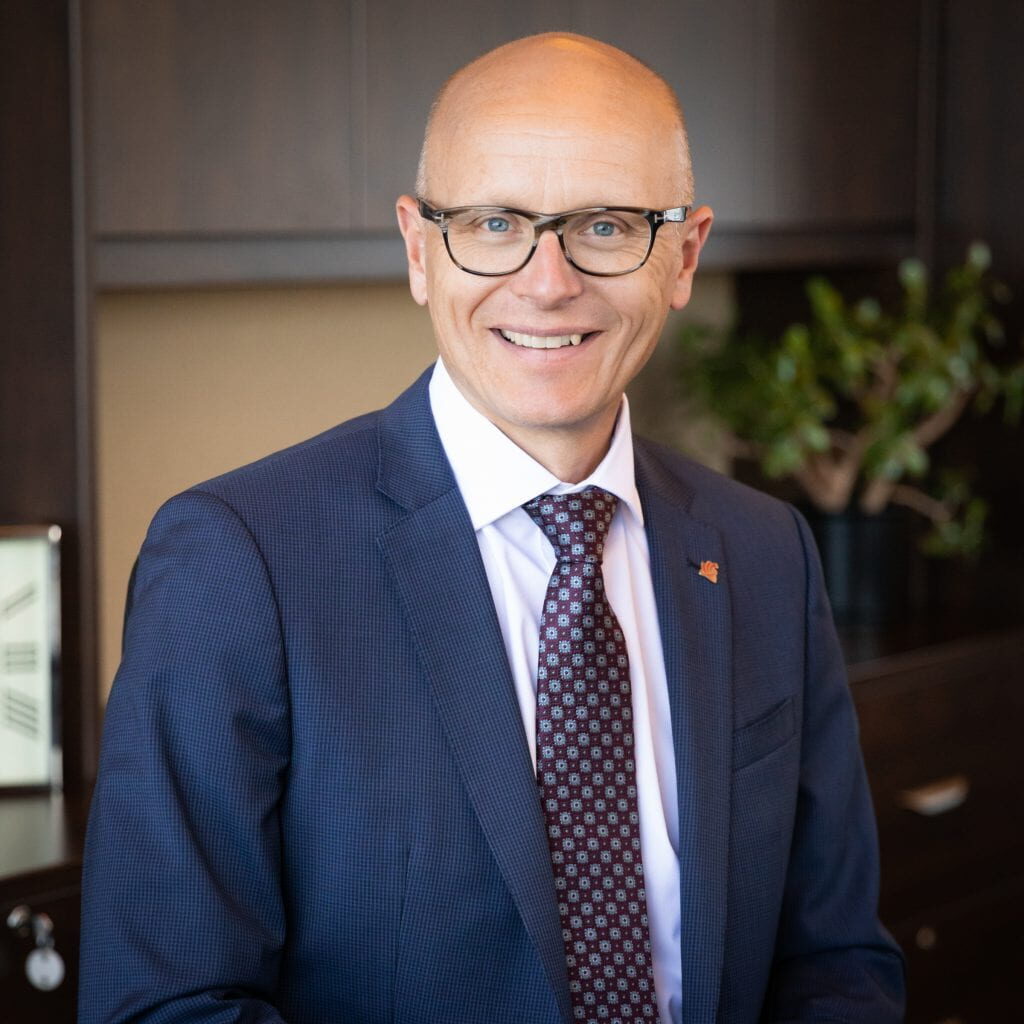 Fred Meier is Red River College Polytechnic's sixth President and CEO. Before coming to RRC Polytech, Fred held many progressive leadership roles within public service, and joins the College after formerly holding the position of Clerk of Executive Council and Secretary to Cabinet.
Throughout his career, Fred has focused on building a positive and inclusive work culture, championed employee engagement, and leads with a strong code of values and ethics.
Outside of work, Fred enjoys spending time with his family and spending time at the cottage. Fred is an active cyclist, and enjoys tennis, curling, and outdoor pursuits. He is a lifelong Manitoban and enjoys exploring our great province.
Dr. Christine Watson – Vice-President, Academic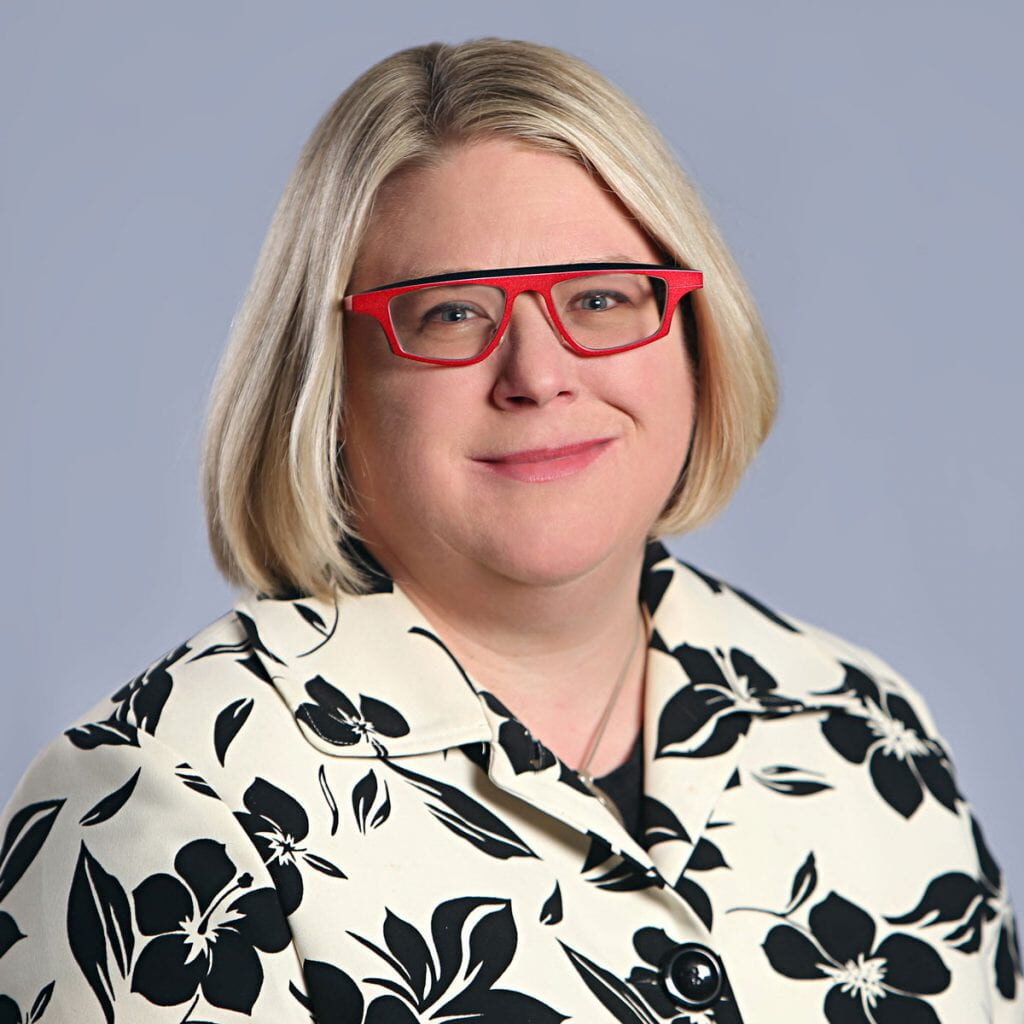 For over 20 years, Dr. Christine Watson has worked in senior administration, leadership, teaching and research at universities and colleges in three Canadian provinces. Christine joined Red River College Polytechnic in 2013, and has led the development of the Academic and Research Plan, chaired the Senior Academic Committee and founded the RRC Polytech Apprenticeship Committee.
She holds a B.A. English (Honours) from University of British Columbia, a M.A. (English Literature) from Queen's University, and a Ph.D. in English Literature from University of Queensland (Australia). Outside of work, Christine enjoys time with her wife, two kids, two dogs and two cats.
Christine's favourite hobbies include writing daily haikus (you can follow her haiku journey on Instagram (@dr_c_watson), and taking road trips to discover the beauty, history, and quirkiness of small town Manitoba (which become the source for many haiku!).
James (Jamie) Wilson – Vice President, Indigenous Strategy, Research and Business Development
Jamie Wilson (Opaskwayak Cree Nation) is a visionary leader with a passion for building bridges between communities and organizations, strengthening relationships with Indigenous Peoples, and creating opportunities for community and social development that support economic prosperity.
Jamie joined RRC Polytech at the beginning of 2022, to guide significant and transformational work within the College's newly re-envisioned Indigenous Strategy, Research and Business Development portfolio. He brings a wealth of experience to the College, with a background as a private sector senior executive, Deputy Minister (Growth, Enterprise and Trade; Education), educator, member of the 75th Ranger Regiment, Infantry officer, and as Manitoba's Treaty Commissioner.
In his spare time, you can find Jamie hitting the mat to practice jiu-jitsu with his teenage son.
Lynn Zapshala-Kelln – Vice President, Finance and Administration
Lynn oversees all current aspects of the finance and administration portfolio, including finance and campus services, capital projects, campus planning, and sustainability. She works directly with the College's Chief Information Officer and Executive Director, Finance and Campus Services.
Lynn has an extensive background working in Manitoba's post-secondary system, and has served in the senior ranks of the Province of Manitoba's civil service for almost two decades. Lynn is a Chartered Professional Accountant, and holds a Bachelor of Administration degree from the University of Regina.
A collaborative leader, Lynn enjoys working with her teammates to build on successes and overcome challenges to ensure people across the College continue to shine.
Adam Gerhard – Chief Information Officer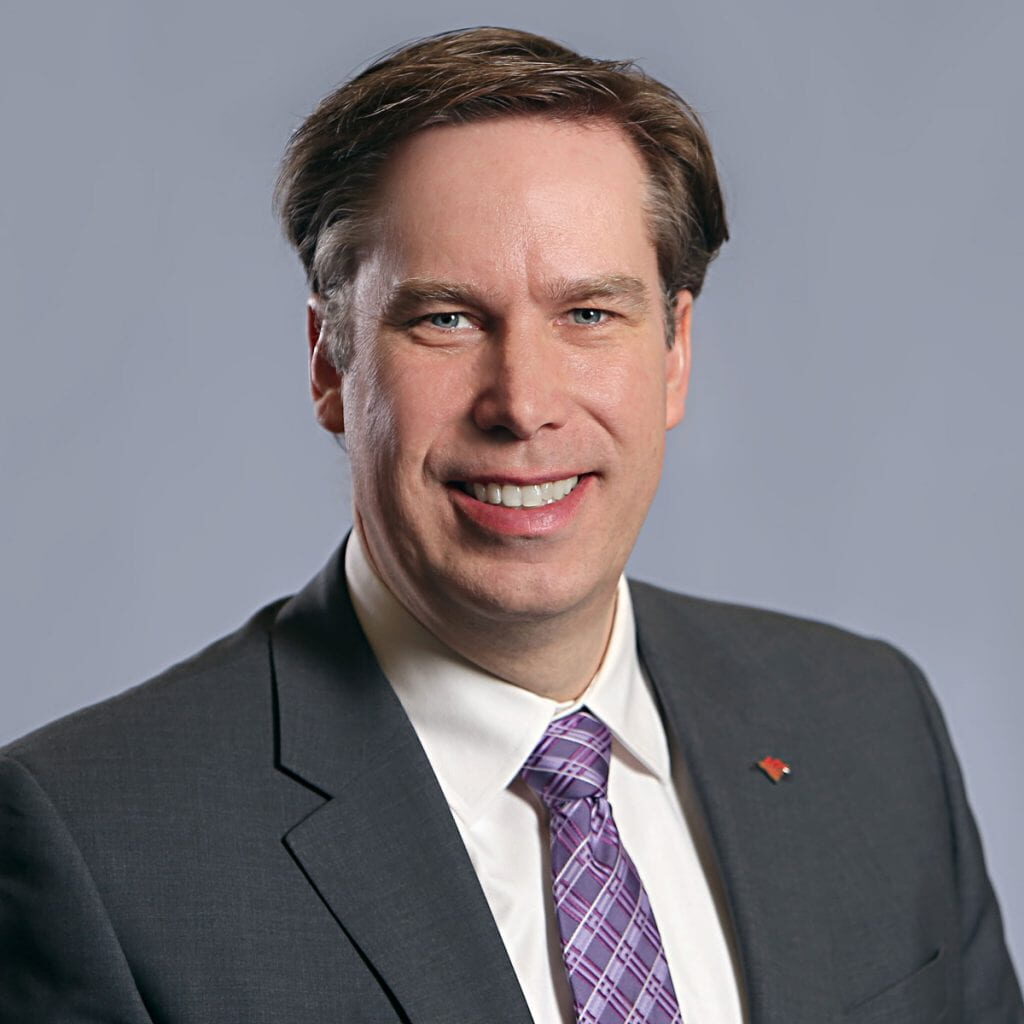 Adam joined the College in 2020 as the College's first Chief Information Officer. Prior to joining the College, he was Director of Planning and Governance in Information Services and Technology at the University of Manitoba, where he had responsibility for IT Governance, IT Architecture, and the Project Management Office, as well as the finance and administrative functions of the unit. Before that, he was Vice-President Corporate Services with RANA Respiratory Care Group (now Careica Health), and an IT Architect with IBM.
Adam has been involved in national organizations, including the Canadian University Council of Chief Information Officers, and has served as a Regent as Chair of the Governance and Community Relations Committee of the University of Winnipeg Board of Regents. Adam holds a Bachelor of Computer Science and an MBA from the University of Manitoba, and is an alumnus of the Governor General's Canadian Leadership Conference.
Outside of work, Adam is a Scouter with Scouts Canada, coaches cross-country skiing, and serves as chair of his church board.
Melanie Gudmundson – Chief Human Resource Officer
Melanie is responsible for Human Resource Services, Payroll and Benefits, Safety and Health Services, Security Services, Corporate Legal Services, and a shared responsibility for the Centre for Learning and Program Excellence (Staff and Faculty Development). Melanie has been with the College since 2009, and joined the Senior Leadership team in 2018.
Prior to joining the College, Melanie worked for the Province of Manitoba in the Departments of Education and Training, Treasury Board Secretariat (Labour Relations and Compensation Services), and Family Services and Housing.
Outside of work, Melanie spends her time with her family camping in the summer and at the hockey rink in the winter.
Giselle Martel – Comptroller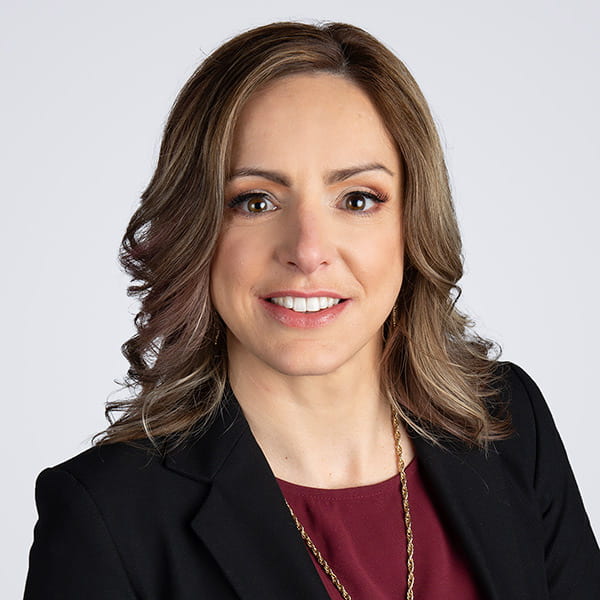 Giselle works with teams across the College, helping modernize and adapt our financial services to better support our ongoing operations and ensure RRC Polytech's financial sustainability.
She oversees the College's finance portfolio, including budgeting and accounting, procurement, and ancillary services, and works directly with our finance team to ensure we provide consistent and reliable services.
Giselle has an extensive background in public sector and post-secondary leadership. In addition to 15 years of experience with the provincial government, before coming to RRC Polytech, Giselle held the position of Executive Director, Financial Planning and Budgeting at the University of Manitoba, where she provided strategic oversight and leadership to the budgeting process, analysis of financial information, and recommendations to support senior leadership.
Giselle is a Chartered Professional Accountant who holds a Bachelor of Commerce degree from the University of Manitoba.
Outside of work, Giselle enjoys spending time with her family and traveling to beaches near and far.
Dr. Jeanine Webber – Executive Director, Academic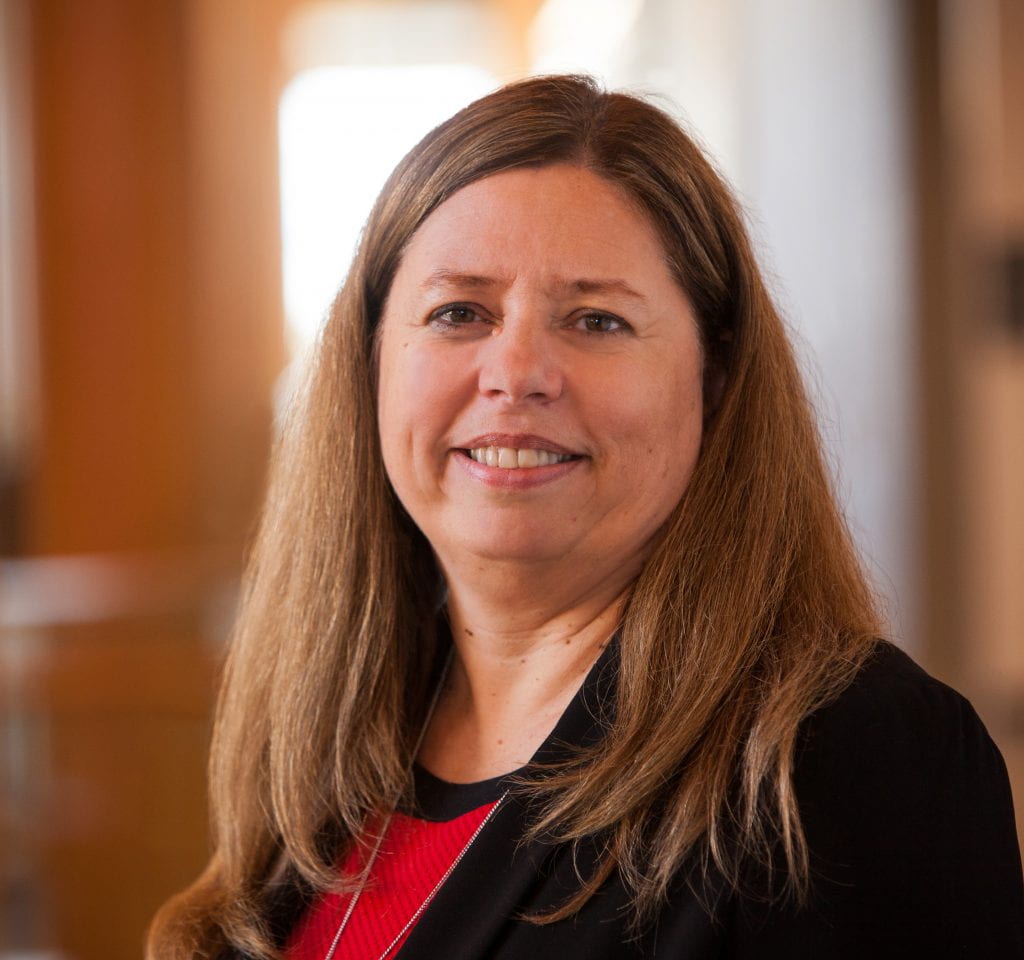 Jeanine's post-secondary educational journey began with a Bachelor of Arts in Social Development Studies at Renison College at the University of Waterloo, followed by a Bachelor of Social Work (Honours) at York University, and a Master of Social Work and Doctor of Philosophy (Social Work) at the University of Toronto.
During Jeanine's doctoral studies, she had the opportunity to teach at York University, the University of Toronto, and at Humber Institute of Technology and Advanced Learning. Additionally, Jeanine has extensive leadership experience within the college sector including that of Program Coordinator, Associate Dean at Humber, and formerly as Dean for the Centre for Justice & Human Services at Lethbridge College.
Jeanine has a passion for creating pathways for non-traditional learners and ensuring everyone has access to education. She brings a collaborative, values-based strategic leadership style with extensive experience in strategic planning, program development, program evaluation and renewal, and project management.
Outside of work, Jeanine enjoys reading, hiking, photography, traveling, volunteering within the community, and most importantly, spending time with family and friends.
Aileen Najduch – Executive Director, Student Services and Global Partnerships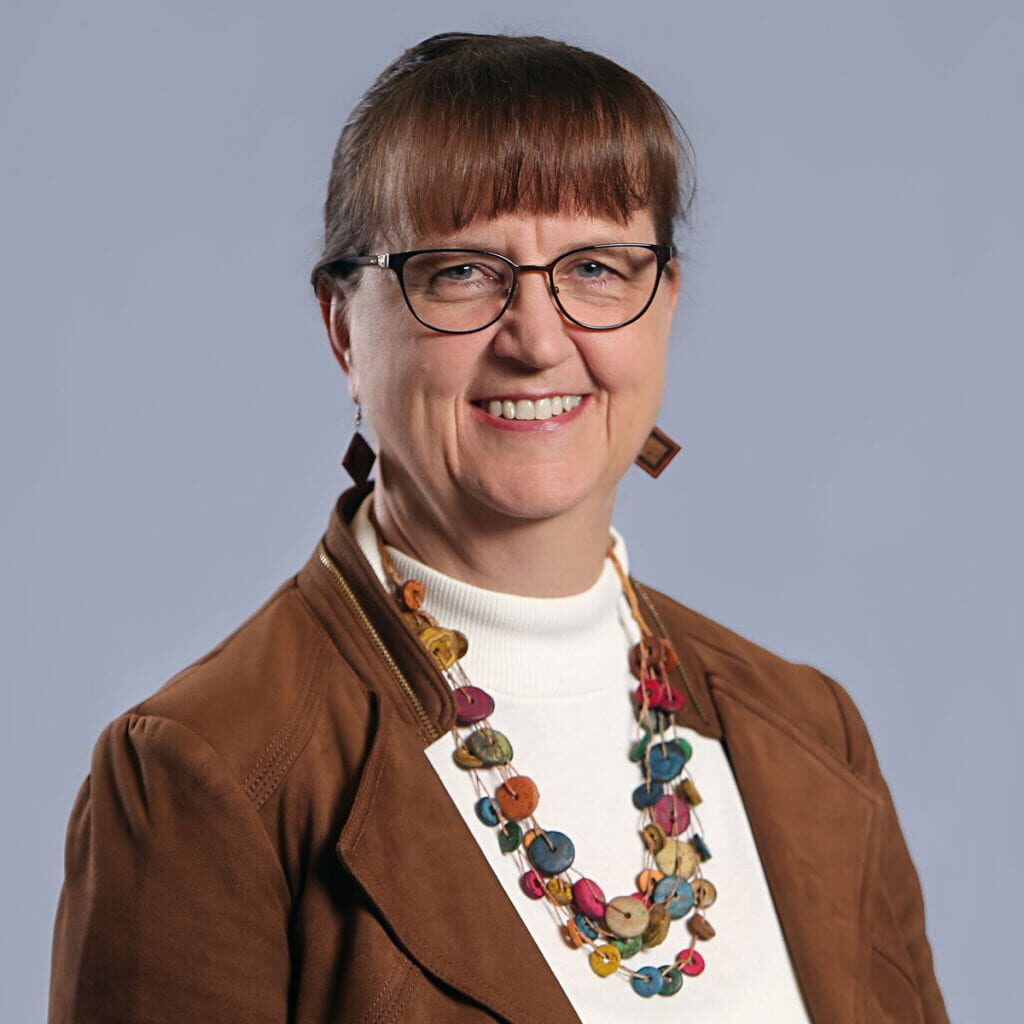 Aileen Najduch H.B.O.R., B.Sc., B.A., B.Ed., M.Ed. spent the early part of her career teaching in remote communities in Nunavut, Northwest Territories and later in northern Manitoba. These experiences provide her with a deep understanding into the role education plays in the success of Indigenous youth.
Aileen also has extensive experience and knowledge in curriculum development, supporting students with diverse learning needs, and collaborating with education stakeholders from various communities.
Outside of work, Aileen is a dedicated volunteer, canoe tripper, and holds a black belt in Shotokan Karate.
David Petis – Executive Director, Advancement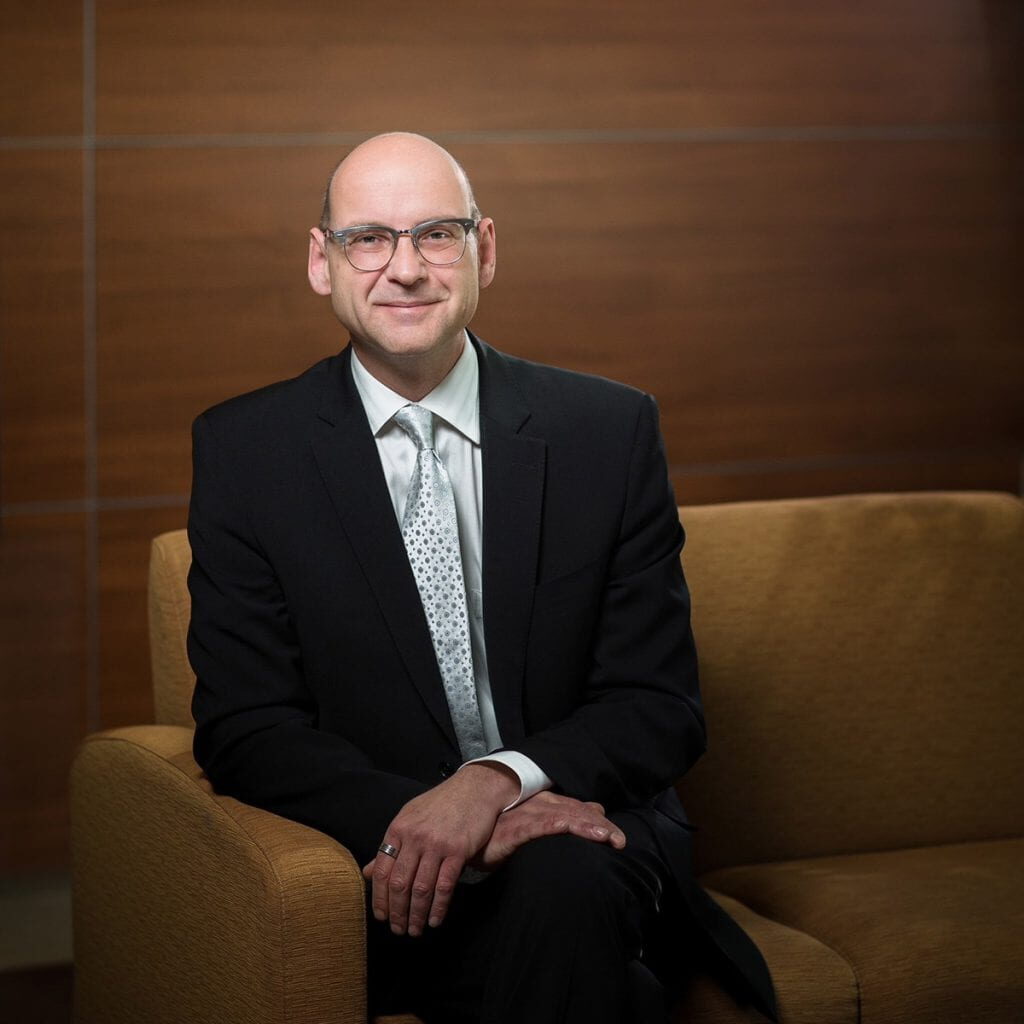 David leads the Advancement portfolio and works collaboratively to provide strategic direction on fund development, marketing and web presence, communications, and government relations.
David has nearly 30 years of Canadian post-secondary experience in external relations, advancement, philanthropic giving, and alumni and community relations, having led major university branding exercises and the successful delivery of multiple comprehensive fundraising campaigns. He's held senior executive positions at several institutions including Medicine Hat College, Brock University, and the University of Alberta.
As well, David holds Diplomas in Marketing and Business Administration from Fleming College along with a certificate in Human Behaviour.
Outside of work, David enjoys community service and has served on several not-for-profit and community boards. Additionally, he enjoys reading, chess, participating in all kinds of sports, and travel, both exploring Canada on road trips and internationally when time permits. His favourite free time is spent with family.
Conor Lloyd, CD, APR – Director, College and Public Relations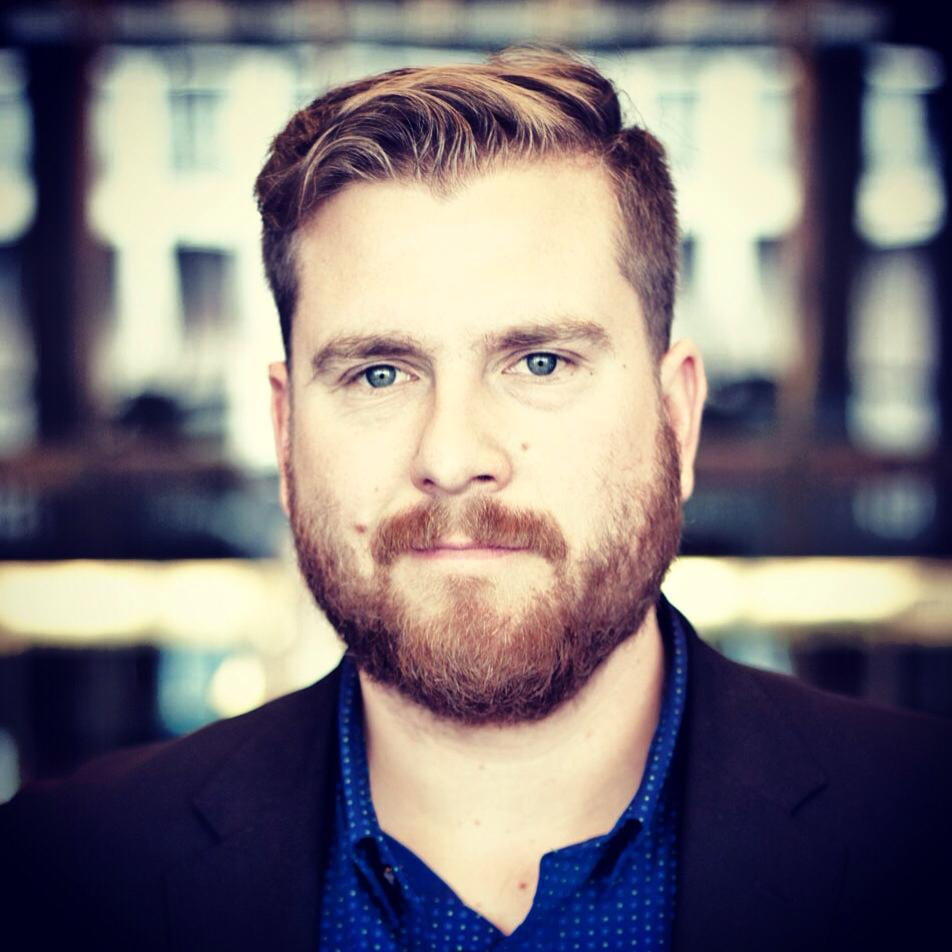 Conor Lloyd, CD, APR, is a member of the College's Advancement Team and the Director of College and Public Relations. As a Senior Leadership Team member, Conor provides strategic advice and guidance on communications, public relations, government relations, and internal and external relations.
Conor joined Red River College Polytechnic in 2013 and has helped grow RRC Polytech's external and internal relations portfolio. Conor is heavily involved in the community working with the Cadets and Junior Canadian Rangers, Canadian Public Relations Society, and is a member of the Board of Directors for The Forks.
Conor holds a diploma from Red River College Polytechnic's Creative Communications program and a B.A in Communications from the University of Winnipeg. Conor is a recipient of the Queen's Diamond Jubilee Medal.
Outside of work, Conor and his wife are busy raising their daughter. When he's not in the office, you can find him drinking copious amounts of coffee from Thom Bargen, yelling at the TV during any Formula One Grand Prix, or outdoors spending time at the lake with his family.