Recording in MS Teams
In Microsoft Teams, you can record your Teams meetings and group calls to capture audio, video, and screen sharing activity.
Stream is built on SharePoint. The new version of Microsoft Stream is launching at the end of this year. Microsoft Stream is being re-imagined and rebuilt to integrate seamlessly with applications across the suite, so you can create, share, discover, and manage video as easily as any Office document.
Until the new version of MS Stream comes out at the end of this year, all of your meeting recordings will no longer go to the current MS Stream but will be stored in either OneDrive or SharePoint and are accessible through the same. This will be the case until the new Stream 2.0 is released.
The way you use these services and how you share a recording from Teams will not have changed. Any user with the link can access the video if they have permissions and additional permissions can be assigned in OneDrive the same as any OneDrive file. In many ways this change is good as it allows a user to share an 'unlisted' link to the video and can post this video in LEARN. You would now be able to share these videos with external users who are already added to your Teams as guests, i.e. Users from domains that are allowed in our Teams/SharePoint environment.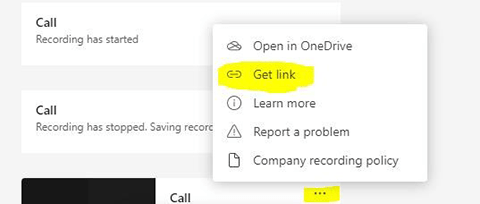 NOTE:
ITS recommends Owners have Teams specific to each group/class and add every Member into that Team. Then Owners should create Teams meetings inside those channels, so that Members would have default access to the videos.
In this way there is nothing else that Owners would have to do with permissions, unless it needs to be shared with someone who is not a Member of that Team where the meeting was held.
There are two ways to record in Teams:
---