Level UP – Powered by Riipen
Level UP is an Innovative Work-Integrated Learning program powered by Riipen and sponsored by the Government of Canada to prepare students in post-secondary education and employers to thrive in the future of work.
Red River College Polytechnic is proud to be partnering with Riipen and the Government of Canada to offer this opportunity to RRC Polytech students and industry partners.
How It Works
Eligible students, individually or in groups, connect with organizations for short term paid projects that help them gain relevant work experiences, build professional networks, gain career clarity and develop their skills.
The Level UP program runs until March 31, 2022. Applications from students and employers are being accepted on an ongoing basis.
Eligibility Criteria
To be eligible for Level UP, students must meet all of the following criteria:
You are registered as a student in a Canadian Post-Secondary Education institution
You are a Canadian citizen, permanent resident, or person to whom refugee protection has been conferred under the Immigration and Refugee Protection Act
You are legally entitled to work in Canada in accordance with relevant provincial or territorial legislation and regulations
At this time, International Students and students with temporary residency status are not eligible for Level UP. Click here to request more information as it becomes available.
Student Benefits
Fits your busy schedule. Each project takes 80 hours per person, and can be completed over 2 to 8 weeks.
Project variety. Students have their choice of projects designed to be completed 100% remotely.
Work independently or as a group. Sign up with your friends or work on projects on your own.
Get paid! Earn $1400 per person for completing a project!
How To Apply And Find Projects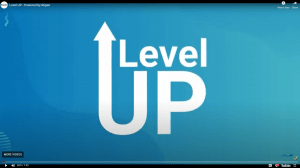 To apply:
Visit Level UP
Check your eligibility
Log into Riipen and customize your profile
Browse open projects by selecting "Level UP" under the schools list
Apply to those that interest you!
For help developing your resume or assistance with your application, email Student Employment Services to book an appointment with an Employment Advisor.
Questions?
For more information, visit Level UP or email Student Employment Services.