Partnerships
While the Red River College Polytechnic's Centre for International Education and Global Partnerships actively recruits international students, it also pursues project opportunities and partnerships outside of Canada. Red River College Polytechnic shares specialized educational services and expertise, offers value-added training components to commercial agreements and assists in the development of emerging economies through overseas development initiatives.
Chitkara University – India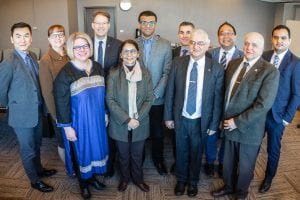 Red River College Polytechnic partnership with Chitkara University – one of India's leading teaching and research institutions – will deliver innovative programming and continue efforts to internationalize RRC Polytech and compete on the global stage.
"Red River College Polytechnic is a global operation, and growing in stature in the area of international education," says RRC Polytech President Paul Vogt.
"Over the past few years, we have significantly increased our efforts to internationalize the College, and the signing of this agreement with Chitkara University will allow us to continue to encourage academic collaboration, educational exchanges and innovative joint research projects with a leading institution in India."
The College is exploring pathways to establish a satellite campus at Chitkara that will enable RRC Polytech to deliver the two-year Business Information Technology (BIT) program to students studying in India, beginning in the fall of 2019.
The proposed one-plus-one delivery model will also create new opportunities for students to complete their final year of studies here in Manitoba, and for RRC Polytech students to study overseas – part of the College's student mobility strategy.
Last November, Vogt (shown above, fourth from left) travelled to Chandigarh, Punjab to visit Chitkara, along with Christine Watson, RRC Polytech's Vice-President Academic, and members of the BIT and International Education team.
While there, they met with faculty and students, toured the school and signed the MOU during the opening ceremonies of Global Week in front of post-secondary institutions from over 60 countries.
"Our international partnerships position our institutions to prepare our students as global leaders and researchers in order to create stronger communities," says Watson (shown above, third from left).
"Internationalization shapes our values, influences relationships and partnerships, and has a positive impact on the entire College community. This is why international partnerships such as this one with Chitkara are very important to us as a leading driver of innovation in Manitoba."
In December, RRC Polytech welcomed delegates from Chitkara to tour the College's ACE Project Space, Paterson GlobalFoods Institute, and the newest facility at the Notre Dame Campus – the Skilled Trades and Technology Centre, in hopes of expanding the partnership to new program areas in the future.
"We are stronger when we partner with like-minded institutions and work together to spark innovation, and ultimately bring change across the world," says Sangeet Jaura, Pro Vice-Chancellor, International at Chitkara University (above, fifth from left).
"We are very pleased to begin this exciting new partnership and journey between Chitkara University and Red River College Polytechnic – two post-secondary institutions committed to global academic excellence through applied research and generating new and innovative learning opportunities for our students."
Shenyang Institute of Engineering – China

Shenyang Institute of Engineering (SIE) is located in Shenyang City, a famous historical and cultural city. Shenyang City is a northeast industrial city and the capital of Liaoning Province. SIE is recognized by the Liaoning Provincial People's government and is one of the most successful universities in China, providing cutting-edge engineering education to students.
Red River College Polytechnic has a long history working with SIE and recently celebrated 30 years of working together.
In 1987, Red River College Polytechnic worked with SIE to develop the Red River Shenyang Institute of Languages.
In 2006, Red River College Polytechnic and SIE entered a new phase of their relationship by developing a combined program in Electrical Engineering. In this model, students complete two years of study in China at SIE and in the third year they have an opportunity to travel to Canada to study at RRC Polytech. These students graduate with a SIE degree and a RRC Polytech diploma.
Currently, the collaboration program between SIE and RRC Polytech has been benefiting nearly a thousand students in China. Approved by the Ministry of Education, RRC Polytech articulated those students into three different programs, including Electrical Engineering, Power Engineering and Hospitality Management. This 2+1 partnership model is not only designed to enhance the study experience and deliver the foreign credential to students in China, but also to provide them with an opportunity to pursue their education and employment achievement in Canada.
Xplora Design Skool – India
Red River College Polytechnic has launched its first international pathway program in India.
The new initiative will allow students at the Xplora Design Skool (XDS) in Ahmedabad, India to receive an International Diploma in Digital Media Design. Students take their first year of studies at XDS and are granted direct admission to RRC Polytech following the successful completion of their first year.
Students aren't required to complete their second year at Red River College Polytechnic; however, the option exists and is advantageous, as Canada has many engaging and emerging opportunities for digital media designers.
"This partnership is important for moving our strategy to create opportunities for global engagement, and it opens the doors for students from India to learn cutting-edge skills in Canada," says Christine Watson, vice-president of community development at RRC Polytech. "The new program showcases RRC Polytech and Manitoba as a world-class education destination for students."
As part of the new program, RRC Polytech has sent Chris Brower, program coordinator for the College's Digital Media Design program, to facilitate a train-the-trainer workshop for instructors at XDS. Part of Brower's visit will include an overview of DMD, as well as available career opportunities and information about Manitoba.
"Chris Brower is an excellent ambassador for the College," says Eddy Lau, interim director of International Education at RRC Polytech. "[We continue] to recruit more international students each year. Being able to offer training in digital media design makes the College highly sought after when it comes to attracting international students."
RRC Polytech's strategic plan encourages the creation of new and aggressive strategies to help recruit international students, who enrich the global learning environment and allow the College to further enhance programming for students from Manitoba.
"I came to Red River College Polytechnic through the partnership with Shenyang Institute of Engineering (in China). My extended education at RRC Polytech gave me hands-on experience and a multicultural perspective."
-Sophie Shi, Shenyang Institute of Engineering – China
International Education at RRC Polytech
Find out more about studying at RRC Polytech, life in Manitoba, work and immigration information, student supports and how to apply.