Quickstart Digital Art Camp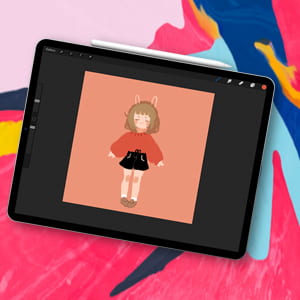 Grab your digital paintbrush and take your creativity to the next level! On your iPad, you will learn to use the Procreate app, a powerful digital illustration tool used by novices and professionals alike. Get ready to create your masterpiece with this first step into the exciting world of digital art.
This camp focuses on technology, art and creativity and is designed for younger artists, providing a step-by-step guide to using the Procreate app for digital drawing.
Each section is limited to only 15 seats.
Looking for a longer, more in-depth version of this camp? Check out the Jumpstart Digital Art Camp for 14-18 year olds.
Age
12-18 years old.
Dates and Fees
Date
Time
Hours
Cost
Jul. 4
9:00am – 11:00am
2
$29†
Jul. 11
2
$29†
Aug. 8
2
$29†
Location
Online (live).
Topics
How to set up a new document
How to navigate the Procreate interface
The most common gesture shortcuts
How to scale and manipulate your brushes
How to navigate your layers, and use them efficiently
The different layer settings and features
How to edit your colours/values and shades
How to create new colour pallets
How to import reference
Prerequisites
None.
Materials Needed
iPad and stylus, such as Apple Pencil
† Procreate app required (additional, one-time cost of $13.99)
Microsoft Teams app (included with registration)
Secondary device for use with Microsoft Teams (recommended but not required)
Internet connection
NOTE:
Only 15 seats available per section. Register for this camp while seats remain!
Refunds and Questions
Refunds must be requested at least eight calendar days before the camp start date.
To request a refund or to ask a question about RRC Polytech's Youth Camps, contact us.