Queer Coded Camp
Calling all rainbow gamers! Gather, meet your peers, create art and tell interactive stories in your own way at this fun camp offered by Red River College Polytechnic and New Media Manitoba.
Learn game development and develop new skills from 2SLGBTQIA industry professionals and allies in a safe and supportive environment. Whether your passions and talents lie in drawing, writing, animation, music or programming, you are welcomed.
This camp is limited to only 12 seats.
No previous game development experience is required. Come with an open mind, a desire to learn, and see what a powerful creative medium video game development can be.
Age
13-18 years old.
Dates and Fees
Date
Time
Hours
Cost
Week 1:
Jul. 18 – Jul. 22

Week 2:
Jul. 25 – Jul. 29

1:00pm – 4:00pm
30
$69
Our goal is to make this camp as accessible as possible so if cost is a barrier, please mention it during registration and we will work with you to find a solution.
Check Availability
Location
Manitou a bi Bii daziigae
319 Elgin Ave.
Winnipeg, MB
R3A 0K4
Topics
Character design – anatomy, composition, proportion and shape
What works and what doesn't work; what you like and don't like (exploring favourite games and genres)
Storytelling – nonlinear and traditional
Creating worlds, characters, setting and the rules for that world and how that can be turned into game mechanics
Creating sprites and backgrounds – using created images or pre-made, pen and paper images
Implementing your characters and backgrounds into a story with mechanics using a game engine
Creating narrative games and/or visual novels
Using a visual game creator
Prerequisites
None.
Materials Needed
Computer – PC OR Mac (laptops can be supplied on-site, but students are encouraged to bring their own if possible)
Mouse
Microsoft Teams app (included with registration)
Internet connection
Optional: sketchpad or notepad
About the Instructor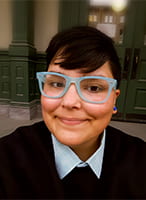 Alice RL is a professional Illustrator and Art Teacher based in Winnipeg, Manitoba. The non-binary, transgender, Ojibawe artist draws inspiration from their experiences and cultural teachings and melds it with a signature palette of bright, playful hues to create stunning juxtapositions of human brutality and emotion with hope and whimsy. Alice's range of projects includes game and comic book art, digital and traditional illustration, and graphic design.
Alice is a graduate of the University of Manitoba Fine Arts Program and Digital Media Design at RRC Polytech. Alice is deeply involved in the local art community and strives to improve themselves and others. Whether working in digital or traditional art, Alice brings a unique personal style and emotional impact into all their creations.

NOTE:
Only 12 seats available. Register for this camp while seats remain!
Rights and Responsibilities
To create a safe space, RRC Polytech embraces the rights and responsibilities shared by the Rainbow Resource Centre:
We have the right to privacy – What is said in the group, stays in the group
We have the right to our own opinions and the responsibility to respect other's opinions
We have the right to be listened to, and the responsibility to listen
We have the right to make mistakes, and the responsibility to learn from our mistakes
We have the right to choose our identities (name, pronouns, labels), and the responsibility to honor one another's identities
We have the right to feel safe in a non-judgmental space, and the responsibility to keep personal disputes out of programming
We have the responsibility to respect staff, volunteers, guests and youth participants
We will not tolerate:

Verbal, emotional, physical, or sexual harassment of any kind
Racist, sexist, classist, homophobic, transphobic, fatphobic, ableist, xenophobic, or any other type of oppressive behaviors or language
Refunds and Questions
Refunds must be requested at least eight calendar days before the camp start date.
To request a refund or to ask a question about RRC Polytech's Youth Camps, contact us.