Reclaiming Well-Being: A Lunch and Talk with Olympian Waneek Horn-Miller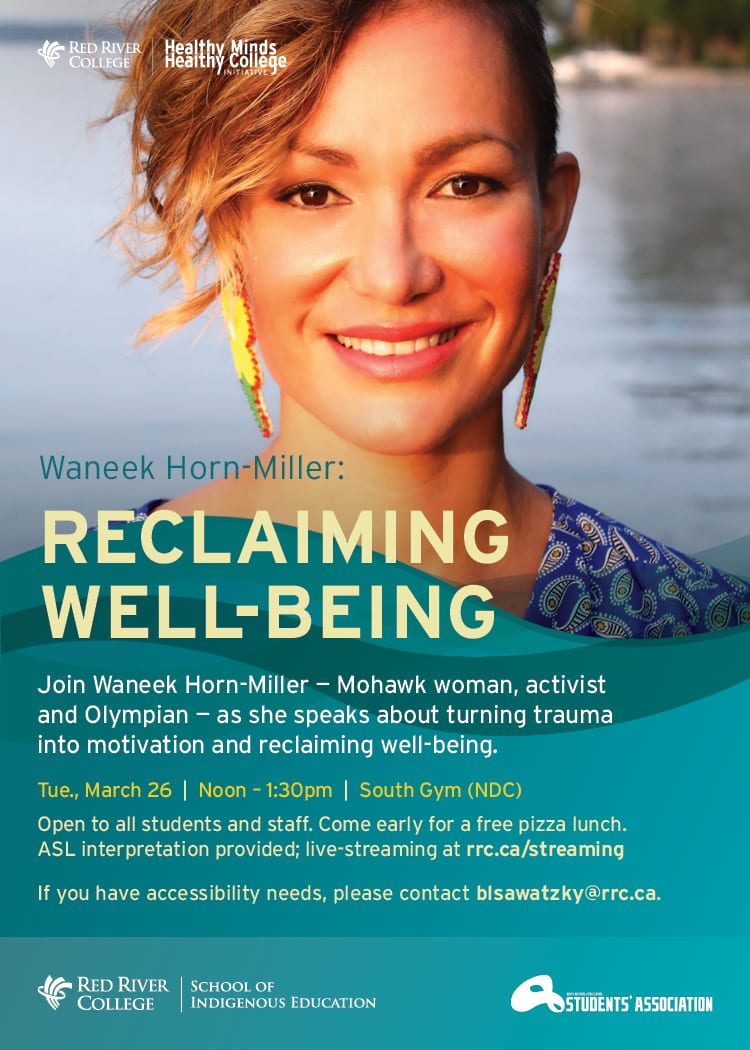 You're invited to attend a lunch and talk featuring Waneek Horn-Miller – Mohawk woman, activist, and Olympian. She'll be speaking about turning trauma into motivation and reclaiming well-being. All students, staff and faculty are invited to attend.
Date: March 26
Time: Noon – 1:30pm
Location: South Gym
Come early for a free pizza lunch. If you have accessibility needs, please contact Breanna.
ASL interpretation will be provided. If you can't make it in person, catch the livestream at rrc.ca/streaming.
Throughout her life, Waneek Horn-Miller has always stood up for what was right—as a mother, an activist, an athlete, and an entrepreneur. This has entailed hard choices, pain, and sacrifice. But this commitment has also made her one of Canada's most inspiring figures.
Horn-Miller's public life began in 1990 at the age of 14. During the Oka Crisis, she protested the planned development of condos and a golf course on traditional Kanien'kehá:ka (Mohawk) lands and burial grounds near Montreal. After nearly 80 days of stand-off with the RCMP and armed forces, she was stabbed in the chest by a Canadian soldier wielding a bayonet.
This near-death experience marked a turning point in her life. Instead of succumbing to very real traumas, including PTSD, she found the strength to pursue, and achieve, incredible things. "I come from people who have gone through horrific things in history," she says. "War, death, famine, genocide. How many times did my ancestors want to give up, lay down, and die? But they didn't. They fought to continue. You have to keep going forward."
One of Horn-Miller's greatest achievements has been in athletics. "Sport in the Native world is more than just something to be physically active," she says. "It's a suicide preventer. It's a self-esteem creator. It's a leadership developer." She was the first woman to be named Carleton University's Athlete of the Year, which she won four years in a row. After winning gold with her water polo team at the Pan Am Games in 1999, she became the first Mohawk woman from this country to ever compete in the Olympic games, co-captaining Team Canada in Sydney in 2000. That same year, she appeared on the cover of TIME magazine.
As one of Canada's few Aboriginal Olympians, Waneek has used her passion and experiences in sport to influence Aboriginal and non-aboriginal leadership towards making Sport and Wellness a community building priority.
RRC's Healthy Minds Healthy College Initiative, along with the Students' Association and School of Indigenous Education are so pleased to welcome Waneek.