Cupcakes, Condoms, and Consent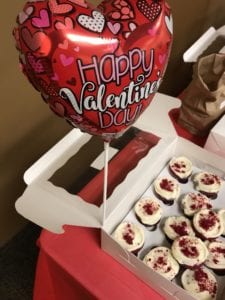 On Tuesday, February 13th we helped prepare students for a healthy and positive Valentines day by hosting a workshop from the Sexuality Education Resource Centre (SERC). Red velvet cupcakes from Lilac Bakery and safer sex supplies were distributed to all in attendance.
Check out the CTV Morning Live video clip below, where Bren from SERC and Breanna from RRC discuss attributes of healthy relationships and why these are important to the mental health of college students.
https://winnipeg.ctvnews.ca/video?clipId=1330002&binId=1.1206882&playlistPageNum=1
According to SERC, these are ten qualities of a healthy relationship.
The partners in the relationship value themselves and each other. They understand each other's differences and they treat each other with respect and courtesy.
The partners are equal. They make decisions together. If they have children, they parent together.
When the partners disagree, they know that it's okay to talk about their differences. They work it out together. They find ways for both partners to get what they need.
The partners listen to and respect each other's viewpoints. They express their feelings and opinions. They do not make hurtful comments about the other person.
Each partner takes responsibility for themselves. They do not expect the other person to solve all their problems or always make them happy.
The partners each feel comfortable taking time alone if they need it. They feel okay about doing some things separately.
There is no fear in their relationship. Healthy relationships are built on love, respect, caring and happiness.
The partners do not try to restrict or control each other. They encourage and support each other's growth.
Even when the partners are busy, they make time for one another and their relationship.
The partners have a circle of people who know them and support them as a couple. They spend time with others who have strong and healthy relationships
To learn more about sexual health, consent, and healthy relationships please check out SERC's website. Stay tuned for more Healthy Minds Healthy College events in future.
Breanna Sawatzky, Mental Health Coordinator