Paint Night at Exchange District Campus December 7th
Let's keep THRIVE going all year round! On December 7th, Painting on the Prairies is returning to RRC to instruct a Paint Party at the Exchange District Campus. Join us for 2 hours of step-by-step painting, no experience necessary, and you will take home your very own version of Winterscape (pictured right).
The therapeutic benefits of painting are both mental and physical and will help you to manage any stress you have in your life while you explore your creative side. Owner and Artist of Painting on the Prairies, Amber Van Ma'iingan, has been leading paint parties for 2 and a half years and, with over 300 paint parties under her belt, she will give you all her best tips and tricks so that your painting will turn out it's best! (and include any other information about the party you want them to know).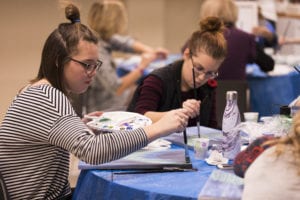 This event is FREE and open to all staff and students. Snacks will be provided. You may want to wear a shirt that you wouldn't mind getting some paint on.
Date: Thursday, December 7th
Time: 4:15 – 6:15 pm
Location: Cafeteria of the Roblin Centre, Exchange District Campus
Contact person: Amanda, saevents@rrc.ca
Arrive early as there will be limited spots.