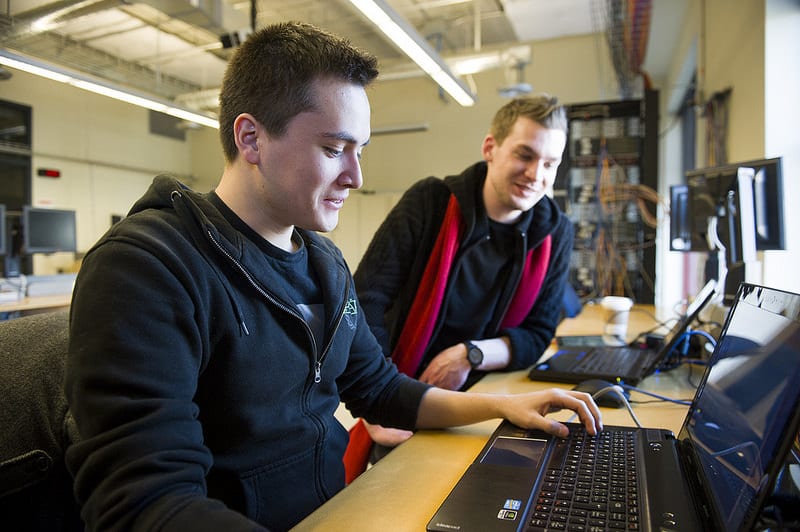 After submitting an application to the Business Information Technology program (BIT), applicants are contacted to write an assessment called the Computer Programmer Aptitude Battery Test (CPAB). This is a well-established and valuable tool that helps both the College and the BIT applicant to assess the applicant's aptitude for the BIT program.
Let's take a look at how the CPAB works:
What does it measure?
The CPAB measures an applicant's problem-solving abilities. Please note it is not a test about computers or IT concepts. Instead, an applicant is presented with five different sub-tests:
*Verbal Meaning (you will be given a vocabulary word and then choose which of 5 other words means the same as the first word)
*Reasoning (a test of ability to reason and express problems in a simple form using conventional mathematical symbols).
*Letter Series (each problem represents a series of letters according to a pattern. You will find the pattern in the series and decide which letter comes next in the sequence).
*Number Ability (you will quickly estimate reasonable answer to computations)
*Diagramming (also known as 'flow charting'- this test looks at your ability to analyze problems and determine solutions in a logical sequence).
Is it possible to study for the CPAB?
Not really, as this is a measurement of aptitude, so it is designed to assess the problem-solving skills you have developed over your lifetime.
What does the test score mean?
The College has been using the CPAB for several decades now. Over that time, it has built up a sample size of thousands of test writers. When you take the CPAB, your final score is measured against all the others, and if it falls into the 59th percentile or better, you are offered admission directly into BIT.
What if my score is too low?
If your test falls below the 59th percentile, you can contact the Assessment Centre to get feedback. Test writers who fell just a little short (a few percentage points) off the standard might consider enrolling in Introduction to BIT, a one-semester alternative entry to BIT. Intro to BIT can help students sharpen their problem-solving skills while getting started on courses in the BIT diploma.
If an applicant's score fell several points below the standard, this may require some careful thought and consideration. It does not mean the program is out of the question, but it may mean the BIT program is not the right choice for the applicant. Academic Advisors are available to discuss other options if necessary.
If you have any questions about applying to these or any other RRC programs, please contact us at 204-632-2327, or advisor@rrc.ca.