Empowering students to rewarding careers in marine and powersports industry
To learn more about RRC's Marine and Powersports Technician program, attend our online information session on Wednesday, July 8, at 1pm. Visit our events calendar to register and see all upcoming program information sessions.
It's been around for close to 25 years, but there's nothing stagnant about RRC's Marine and Powersports Technician program. In fact, armed with a new name and improved flexibility thanks to course-based registration, the program is ready to make waves in Manitoba's thriving marine and powersports industry.
The one-year certificate was previously known as the Outdoor Power Technician Program, but the new name leaves no doubt what exactly the program will cover: fast and furious marine and powersports vehicles and equipment such as motorcycles, snowmobiles, ATVs (all-terrain vehicles), personal watercraft, and more.
"We get the industry the technicians they need, and get the students the experience they need," says instructor Dustin Blackwell.
The name isn't the only change. The new and improved program now gets students out of school and into industry two months earlier — exactly when many dealerships and companies are looking to hire.
"Industry couldn't wait for students to graduate," says Blackwell. "We had dealerships who were ready to hire by April, but by the time students had graduated in June, jobs were filled."
While the program will now end earlier, students can expect to receive the same high-quality instruction to prepare them for their future. Along with hands-on training, students strengthen their power skills through 45 hours of sciences, math and communications — developing communications skills and strategies that will benefit them in customer service situations that often go hand-in-hand with their careers.
"There's lots of opportunity across the program," says Blackwell, noting grads find work in a variety of areas, including dealerships, construction companies, marinas, outfitter camps, golf courses, government agencies and standalone repair facilities.
"We're here to get these students jobs. Through the Work Experience Elective, students will get valuable workplace exposure in a marine and powersports business — like dealerships or fishing lodges," he says, adding that many students often bring in their own gear to work on, using the skills they've learned and the equipment available in the Vehicle Technology & Research Centre.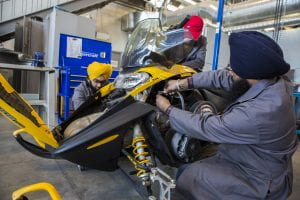 A number of original equipment manufacturers (OEMs) have supported the program over the years by providing equipment, tools and technical information.
"Yamaha and Polaris offer a really great opportunity for students in the program," says Blackwell. "Students are able to complete their Bronze Level factory training with both manufacturers. This training certification really stands out on a resume!"
The program is now streamlined to better reflect the needs of industry. Instead of being season-based, Marine and Powersports Technician is now systems-based — meaning students learn the similarity of electrical systems across a broad range of products.
Blackwell notes the program is "far from small engines," and that the new name was chosen based on dealer associations. While marine and powersports are the main components, students can choose electives such as lawn and garden equipment to give them a fuller skillset upon completion of the course.
He knows first-hand the wide benefits the program offers. After completing the program himself, Blackwell was hired at the same dealership where he completed his work experience, and stayed there for close to 10 years before returning to RRC to teach.
"It's a domino effect," he explains. "I wouldn't have gotten the job opportunity without the work experience and the work-integrated learning. The work experience is the best job interview a student could ever have — the employer can really see how the student will perform."
As the College shifts to course-based registration, students enrolled in the program could transfer almost a full term of courses towards a dual certificate with another transportation program. And since the program has a lot of crossover between RRC's Automotive Technician and Heavy Duty Equipment Mechanic programs, there's plenty of opportunity for students to further boost their portfolio.
"This industry is large and interconnected," says Blackwell. "It's such a desirable industry for people to get into. As an employee at these shops or dealerships, the connections you make and the opportunities afforded to you are astonishing."
The programming has also been rearranged to accommodate students' busy schedules. While the Marine and Powersports Technician program is still full-time, the schedule is much more flexible, allowing students to have more time for studying.
"The key benefits to the updated program are that it's streamlined, it gets students job-ready sooner, and they leave armed with the most current skills and technology."