Making The Most Of Your Open House Visit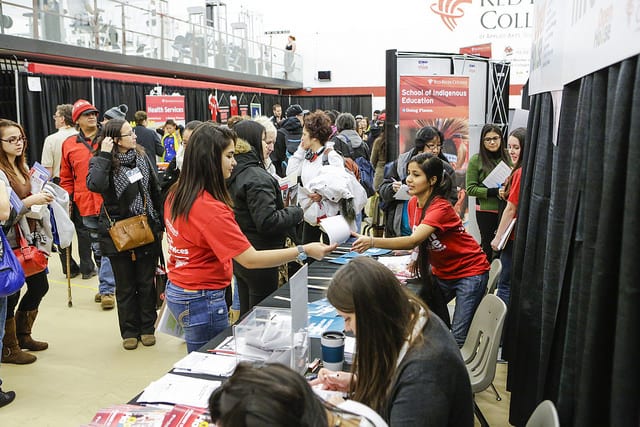 RRC Open House
February 16: 11am – 2pm and 5pm-8pm
February 17: 9am – 2pm
RRC's annual Open House is an opportunity for prospective students to experience the college environment. Here are some suggestions that can make your visit informative and valuable:
Take a tour
Campus tours will be offered throughout both days, at both the Notre Dame and Exchange District Campuses. This is a great chance to see the campus, and to focus on labs and classrooms specific to your interests. Even better, tours are led by current RRC students, so you have an opportunity to get an insider's perspective on life as a college student.
Go to an information session
Several RRC programs will be offering information sessions. This is your chance to hear it from the experts, and find out what the day-to-day realities are for students in program x, y, or z. Consider these sessions a great way to dial into a specific area of interest.
Visit the information booths
For your convenience, all RCC programs, regardless of campus location, will be set up with information booths at the Notre Dame Campus. For anyone who is still in an exploratory stage of their decision-making, this allows you to gather as much information as you want in one convenient location.
Use the shuttle service
While info booths will be located in one place, there is still an easy way to get to the Exchange District Campus. A free shuttle service will take you back and forth on both days. Student-led tours will be offered, and a team of ambassadors will be on hand to provide directions and answer questions.
Plan ahead
Visit our Facebook event page to get the latest updates about the Open House! Planning in advance will enable you to make the most of your visit.
We look forward to seeing you!
*On all the days around Open House, if you have questions about any RRC programs, contact an Academic Advisor. Advisors can help you better understand what is required of you at the application stage, and beyond.