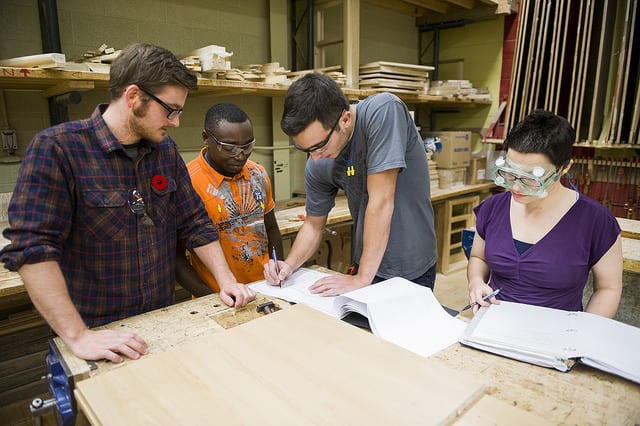 Red River College is a proud partner and supporter of apprenticeship training in Manitoba. In this blog post, we will focus on three RRC pre-employment trades programs – Carpentry, Electrical, and Plumbing – to explain how starting at RRC can set you on a path to earning a Red Seal, emblematic of having mastered your chosen trade.
What is a pre-employment trades program?
A pre-employment trades program is a short-term certificate program, focused on providing the student with a base of skills that will enable him or her to secure a Level 1 Apprenticeship in their chosen trade. While these programs are not mandatory for entering a trade, industry leaders have indicated they would much prefer to hire someone with a base of skill over someone with no skill at all.
What are the entrance requirements?
For Regular Admission, applicants must have completed, or be completing, a high school diploma that includes English, Math, and Science. Please consult the specific requirements in each program to determine the exact credits required.
What will I learn in a pre-employment trades program?
In all three of the programs highlighted, students will attend RRC full-time for five months. In that time the students will learn applied math, science, and communications, and they will spend significant time in training labs, learning and performing a range of hands-on activities. In Carpentry, for example, students will spend time learning how to operate a variety of hand tools related to construction.
What have I gained at the conclusion of a pre-employment trades program?
Upon completion, students will have earned a certificate from RRC. More importantly, they will have gained a base of industry-relevant skills designed to qualify them for employment as a Level 1 Apprentice in their chosen trade. Depending on how well the student performed, credit transfer into their apprenticeship might be possible. This could potentially speed up their time to completion.
What happens once I become an apprentice?
In these highlighted trades, apprentices will work through four levels toward earning a Red Seal, the top credential in their trade. Apprentices spend 1800 hours on the job in each level, with short stints in school to acquire relevant math, science, and communication knowledge as they progress.
Want to learn more? To find out more about pre-employment trades programs at RRC, contact us at advisor@rrc.ca. To learn more about apprenticeship opportunities in this province, contact Apprenticeship Manitoba at apprenticeship@gov.mb.ca.