Indigenizing Teaching and Learning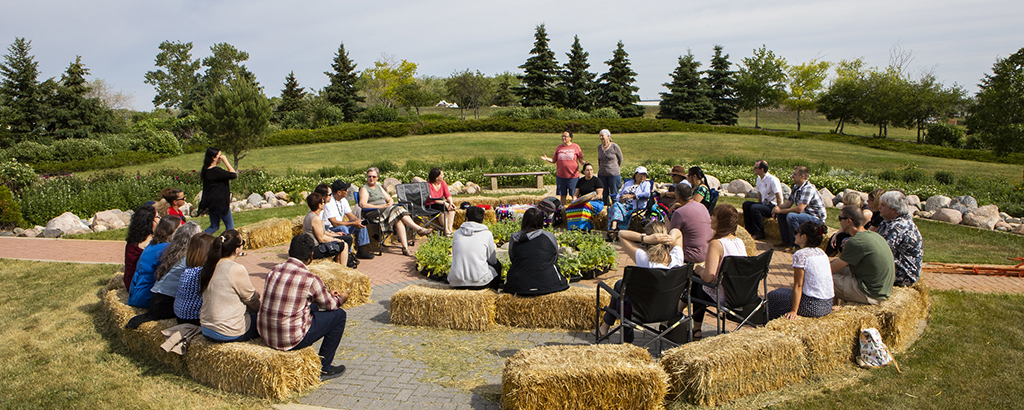 Red River College Polytechnic campuses are located on original lands of Anishinaabe, Cree, Oji-Cree, Dakota, and Dene peoples, and on the homeland of the Métis Nation.
Red River College Polytechnic is committed to a renewed relationship and dialogue with First Nations, Métis, and Inuit peoples based on the principles of mutual trust, respect, and reciprocity.
We respect the Treaties that were made on these territories, and we dedicate ourselves to move forward in partnership with Indigenous communities in a spirit of reconciliation and collaboration.
RRC Polytech is committed to the work of Indigenization. Indigenization is the practice of "creating a shared understanding that opens the way toward reconciliation between Indigenous and non-Indigenous people… [and] counters the impacts of colonization by upending a system of thinking that has typically discounted Indigenous knowledge and history" (Antoine et al, 2018). Two-Eyed Seeing is required to move Indigenization forward. A Two-Eyed Seeing approach involves learning the strengths of both Indigenous knowledges and ways of knowing and Western knowledges and ways of knowing—and using them together to complement one another.
Learn more about Two-Eyed Seeing from the Institute for Integrative Sciences and Health at Cape Breton University.
Indigenous world views are centered on relationships and their value – relationships which connect us with ourselves, each other, our environment, and our Creator. It is through our interactions with one another that we are able to form good relations and share valuable life teachings. Elders have always held positions of high esteem and importance; they are the living libraries that hold the wisdom, history, and cultural knowledge of our Nations. Indigenous Education is stronger at Red River College with the support of our Elders and Knowledge Keepers and through partnerships with the broader Indigenous community.
TRC's Calls to Action
RRC Polytech has actively taken on the responsibility to embed the Truth and Reconciliation Commission of Canada's 94 Calls to Action. These calls were developed "In order to redress the legacy of residential schools and advance the process of Canadian reconciliation" (Truth and Reconciliation Commission of Canada, 2012, p. 1). Reading and familiarizing yourself the 94 Calls to Action is an important step toward educating yourself about truth and reconciliation in Canada.
The 94 Calls to Action are grouped into the following categories:
Legacy
Child Welfare (1–5)
Education (6–12)
Language and Culture (13–17)
Health (18–24)
Justice (25–42)
Canadian Governments and the United Nations Declaration on the Rights of Indigenous People (43–44)
Reconciliation
Royal Proclamation and Covenant of Reconciliation (45–47)
Settlement Agreement Parties and the United Nations Declaration on the Rights of Indigenous Peoples (48–49)
Equity for Aboriginal People in the Legal System (50–52)
National Council for Reconciliation (53–56)
Professional Development and Training for Public Servants (57)
Church Apologies and Reconciliation (58–61)
Education for Reconciliation (62–65)
Youth Programs (66)
Museums and Archives (67–70)
Missing Children and Burial Information (71–76)
National Centre for Truth and Reconciliation (77–78)
Commemoration (79–83)
Media and Reconciliation (84–86)
Sports and Reconciliation (87–91)
Business and Reconciliation (92–94)
Resources
RRC Polytech Resources
RRC Polytech has several resources available:
External Resources