How It Works
New vs Old
Fixed Menu (The Old Way)
Students register, pay for and complete an entire program on our timeline and our terms, with little room to explore. Communication courses are not always taught by subject matter experts and do not always achieve the outcomes sought by employees. Not all programs offer work integrated learning.
VS
A la Carte Menu (The New CBR Way)
Under Course-Based Registration, students enrol in and pay for courses within a program at their own pace. They have the option to explore courses outside their program. (e.g., An Automotive student could also earn a Business certificate to open up his or her own shop.) Students take communications and other human skills courses common to all programs, and they have a meaningful work integrated experience before graduation.
Download a printable infographic explaining CBR >
New Program Design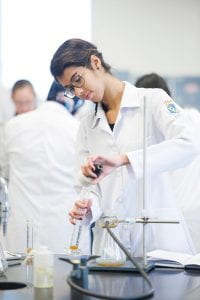 For CBR to work, our programs must standardize across the College. This means adhering to the Program Design Guidelines, which are:
A maximum weekly student workload of 25 hours
15-week semester length, inclusive of exams
Three semesters per year:

Fall (August–December)
Winter (January–April)
Spring (May–August)

Maximum six courses per semester
45-hour course length for 3 credit-hour courses OR 90-hour course length for 6 credit-hour courses
All programs will include a Work Integrated Learning component
All courses will be on LEARN
All courses will adopt the Common Communications Framework
New and Improved Tools
Student Planning – a new software tool that will enable students to plan, select and schedule courses, receive advising support, monitor credential progress, and register – all in one place. We also call it "self-serve".
Here are testimonials from two students who used Student Planning in Spring 2021:
"I found the Student Planning was easy to understand and use. It helped when I was planning the upcoming semester and (see) what course I could take."

"I personally found RRC Polytech's student planning tools very useful and extremely user friendly… As a student who is balancing a work schedule during the day, Student Planning allows me to see all of my schedule course options and make sure I can easily choose my schedule and complete my program in a timely manner."
Curriculum and Catalogue Management System – this comprehensive new system will:
Connect website and campus systems through Catalogue, resulting in an enhanced student user experience to explore programs and courses
Automate, track and document academic approval workflows so managers and faculty can focus on educating and leading, instead of administrating
New Roles
Student Advisors will play a larger, more focused role helping students choose the correct courses to achieve their credentials at the pace they want. Our plans are to develop new positions that will be assigned to specific schools. These advisors will use Student Planning to assist students with informed choices.
For more information about the new Student Advisor roles we have planned, check out this update, which also contains WIL information.
Note: The Advisor section starts at 6:00.
By the Numbers
48 sections of COMM 1173 (a common communications course) will be delivered to students in Fall 2021
37 programs are using Student Planning in Fall 2021
1/3 of programs have converted, or are converting, through CBR
110 staff and leaders are directly involved in CBR Phase 3
Phases
Phase 1: 4 programs (complete)
Phase 2: 19 programs (in progress)
Phase 3: 25 programs (Launching Fall 2021)
Phase 4: 11 programs (Launching Fall 2022)
Phase 5: To Be Determined
Phase 6: To Be Determined