Course-Based Registration
Why CBR?
Watch this short video to hear from staff who have been impacted by CBR and why they are proud to be part of this transformation.
Overview
Faculty Impact
As an RRC Polytech faculty member, you may be involved in optimizing your program for CBR in the following ways:
Re-designing courses
Adapting your teaching/classroom management style to out-of-program students
Using LEARN in all courses
Student and employers are increasingly looking for a flexible student experience, a focus on both technical and human skills, and authentic experiences with industry before graduation. As always, RRC Polytech is ready to respond.
However, offering students more flexibility requires changes to our academic, enrolment and fees models, as well as standardization of our program design and business processes. It means dismantling our concepts of cohort-based programs, fixed schedules, variable term dates and program-based fees. In their places, we are creating new approaches.
This is transformative work. We call it Course Based Registration, but it's so much more – it's a new experience for students at Red River College Polytechnic, and it's also everything that goes into creating it behind the scenes.
The results? A sustainable business model for RRC Polytech that attracts and retains students from all over the world, provides meaningful work integrated learning and human skills training across all programs, and opens up learning paths to meet the need of each student.
Goals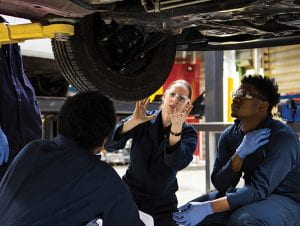 Course-Based Registration balances two aims:
To make education more accessible, relevant and flexible for our students — today, tomorrow and into the future.
To make program delivery more effective, consistent and sustainable for Red River College Polytechnic through an effective academic, enrolment and fees model.
Benefits
For students
An enhanced online student registration user experience
School-specific advising support
More schedule options including evenings and weekends
More program start dates
Interdisciplinary courses and projects that teach students from complementary fields and disciplines how to collaborate and work together (as they would in the real world of work)
Increased recognition for prior learning
Removal of financial barriers that will enable students to have more options to take courses part-time or pay for courses as they take them
Offering greater choice for students interested in upgrading or re-skilling – focusing on competencies or specific skills rather than taking an entire program
Better accommodation of interrupted learning: as students' lives change, they will have greater flexibility to adjust their pace and pathway
Greater choice based on employer's needs. Learners will now have more options to take necessary courses to gain a skill or competency required by their employer
Wider range of electives to satisfy personal interest, professional goals, and employer needs
Human skills courses, including communication courses, across all programs to ensure consistency, quality, and transferability to other programs
For faculty
Greater flexibility for instructors interested in teaching evenings, weekends, or over the summer
Opportunities to help students explore multi-credentials
Opportunities for faculty to teach into Human Skills (conditions apply)
For Red River College Polytechnic
Greater sustainability of business model
Automation of multiple processes across multiple roles and functions
Stronger alignment of roles, responsibilities, and practices
Centralization of Work Integrated Learning hub
Greater agility in responding to changing industry and student learning needs
Catalogue and curriculum management systems to manage and document our core business
Questions
Contact your Chair for more information, or reach out to the Course-Based Registration team at cbr@rrc.ca.