Learning Outcomes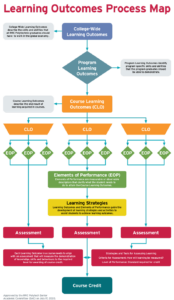 Learning Outcomes are specific, measurable and attainable statements of learning that describe what a student should know and be able to do at the end of the learning process.
Learning Outcomes communicate clear, consistent and transparent expectations. They are written from a learning perspective to identify the knowledge, skills and behaviours to be demonstrated at the end of a course, program and/or college education.
Download the Learning Outcomes Manual ›
College-Wide Learning Outcomes describe the skills and abilities that all RRC Polytech graduates should have to work in the global economy.
Program Learning Outcomes (also referred to as Graduate Profiles) identify program specific skills and abilities that the program graduates should be able to demonstrate.
Course Learning Outcomes describe the result of learning acquired in courses.
Elements of Performance are measurable or observable descriptors that clarify what the student needs to do to attain the course learning outcomes.
Programs include a number of courses that collectively contribute to meeting the program learning outcomes. Courses align with and integrate into the program at an appropriate level. Courses may be Foundational (introducing students to concepts and skills), Reinforcing (building on or reinforcing concepts), or Culminating (integrating and applying learning). Articulating outcomes at the program and course level ensures alignment and contributes to curriculum development and planning. Developing unique learning statements minimizes duplication and overlap of learning outcomes.
Learning Outcomes integrate knowledge, skills and abilities. A learning outcome statement includes three parts:
Action verb: identifies the measurable/observable behaviour or action
Learning statement: identifies the learning focus, what the student will demonstrate
Purpose or condition: provides the context for the action/behaviour
Elements of Performance add specific details to:
Clarify the learning outcome statement
Identify components of the performances necessary to demonstrate the learning outcome
Indicate the standard or level that students will be assessed against
Guide selection of lessons/units, instructional activities and assessment strategies
Course Learning Outcomes
What does a student need to know and be able to do at the end of your course? Are there key concepts, skills, behaviours or abilities that a student needs to learn, practice and apply? What level of learning is appropriate for the course and its placement in the program? The course description may include information that will help to guide development of your learning outcomes.
Learning outcomes use action verbs to indicate the complexity of learning appropriate for the course and its level in the program. The action verb used in the learning outcome is important in setting the level of expectation.
Elements of Performance are the descriptors that provide additional detail to describe specific and measurable components of learning. They also indicate the level or standard of performance required.
Learning Outcomes and Elements of Performance guide the development of learning strategies and activities, assessment methods, criteria for assessment and level of performance required for course credit. Each Learning Outcome in a course needs to align with an assessment that will measure the demonstration of knowledge skills and behaviours to the required level for awarding of course credit.
Guidelines to assist you to develop your learning outcomes:
Identify what a student should know and be able to do after completing your course
Identify how you would know a student was successful in demonstrating the learning
Begin your learning outcome with an Action Verb, include a Learning Statement, and provide the Purpose or Condition
Use one action verb for each learning outcome to describe the appropriate cognitive, affective, psychomotor or digital level (Blooms Taxonomy)
Use plain language and words that are easy to understand to ensure transparency
Develop 10 – 13 learning outcomes for a 45-hour course
Include objective criteria and standards to guide assessment strategies
Identify the minimum acceptable standard a student would need to demonstrate
Ensure learning outcomes align with the course level (Foundational, Reinforcing, Culminating) and are observable, measurable and attainable
Avoid using verbs such as know, understand, learn, and recognize that are not observable or measurable
Ensure the course learning outcome aligns with or contributes to achievement of a program learning outcome
Use Learning Outcomes and Elements of Performance to guide development of learning strategies, assessment methods, criteria for assessment and level of performance
Learning Outcome Guidelines were approved by Senior Academic Committee July 17, 2020.