Promoting Integrity
Start From Day One
Promote academic integrity in your course from day one.
Discuss what integrity means in your industry, your course and your assessment. We cannot assume that students know or have considered this before, and the information in the course syllabus is not enough for students to meet specific expectations for academic integrity.
The following are ideas to help you build a culture of integrity in your course.
Talk about and model what students should be doing, using positive language that builds rapport.
Give specific examples of what students should not be doing during classes, and when they are completing assessments, tests and exams.
Provide examples from industry help make integrity relevant to professional studies.
Create case studies relevant to your course and industry to analyze the best options.
Focus on teaching the students who are in your class to learn, and avoid assumptions or stereotypes about potentially 'dishonest students'.
Integrate the Discussion in your LEARN Shell
Embed the Hybrid LEARNing Module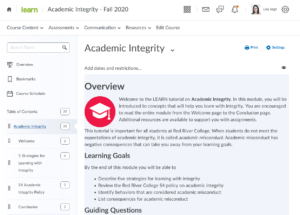 The Academic Integrity Hybrid LEARNing Module, integrated in your LEARN site, will spark the discussion on what academic integrity means in your course. The tutorial uses positive language that encourages students to build their reputation in the classroom to prepare for their future careers.
Instructors can use this module in a number of ways. The complete tutorial can be assigned as an asynchronous independent learning activity, or the instructor can walk students through content in a synchronous classroom setting and lead the discussion. To boost the effectiveness, instructors are recommended to review the content of the tutorial and use a similar vocabulary when discussing integrity in class and in industry.
Request access to the module ›
Need More Strategies?
Dr. Kristie Rae Dukewich, Educational Consultant, discusses how to help students avoid violating academic integrity at Kwantlen Polytechnic University in this 8-minute video.