Diversity Champions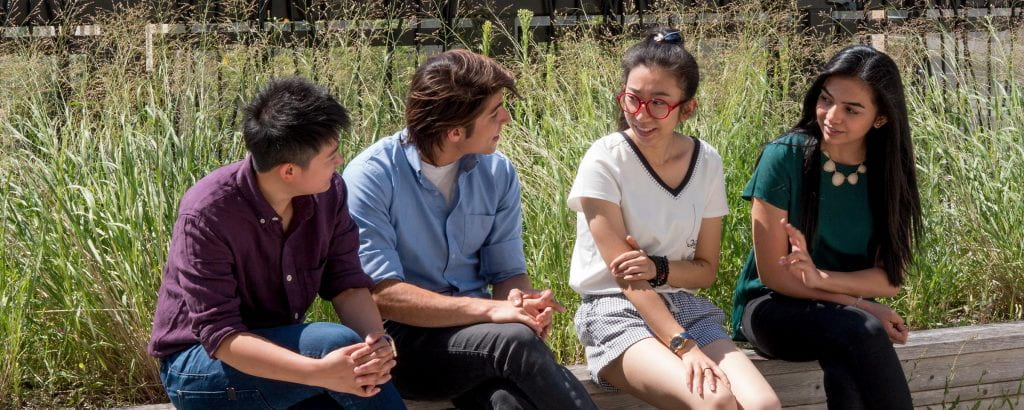 We believe diversity is one of our greatest strengths and makes us stronger and drives innovation. We also believe we can and must do more to expand, enhance and celebrate our unique differences that makes Red River College Polytechnic so special.
Become a Diversity Champion and help us build a more diverse, inclusive and equitable campus where all staff and students are set up for success!
Why do we require Diversity Champions?
The development of Equity, Diversity and Inclusion (EDI) Action Plans will combine the data gathered from the Self Identification survey with the EDI Strategy for the College. In order to ensure the ownership of this work as a College, we are developing a Diversity Champion network to help effectively and sustainably lead this initiative.
We will develop an EDI Action Plan for each Executive Director/Dean and ask that they select one Champion representing their area.
A Diversity Champion will:
Be responsible for supporting the development of EDI Action Plans for their respective department/program areas (in conjunction with Senior Management and HR).
Act as a liaison between their team and Human Resources by engaging in continuous dialogue, and reporting on progress made on the Action Plans, as per an agreed upon cadence.
Advocate for EDI and help disseminate information related to future initiatives throughout the College.
Participate in quarterly meetings of the Diversity Champion Network in order to come together as a group and build on successes.
Liaise with HR to identify emerging EDI trends/needs for the College.
Hold the College accountable for progress related to EDI goals, strategies and initiatives.
A Diversity Champion will not:
Be executing this work alone. They will ensure action items are being owned by each Director/Chair and will monitor progress of the action items over time.
Be expected to problem solve alone. If you are running into any obstacles, please reach out to the Diversity and Inclusion Specialist for support and guidance.
Make decisions for their respective areas alone. Instead, Action Planning and decision making will be a collaborative effort between the Management Team, HR, and the Diversity Champion.
2020-2022 Diversity Champions
Diversity Champion
Area of Representation
Anita Best
School of Health Science and Community Service
Simon Potter
Research Partnerships and Innovation
Christian Robin
Advancement
Dierdre Shore
Carley Misanchuk
School of Continuing Education/Regional Campuses
Marilyn Dykstra
School of Indigenous Education
Jenny Wang
Student Services and Global Partnerships
Eric Richardson
Vassan Aruljothi
School of Skilled Trades and Technologies
Lora Van Loewen
School of Business, IT and Creative Arts
Jillian Hoogland
Lauren Joyce
School of Education, Arts and Science
Yogendra Bhattarai
Sukhjot Singh
Human Resources, Safety, Security, Corporate Legal, CLPE
Landen Johnson
Lisa Tustin
Information Technology Solutions, Finance and Campus Services
Jonathan Royal
School of Hospitality and Culinary Arts
Frequently Asked Questions
Who can become a Diversity Champion?
Any individual with a passion for Equity, Diversity and Inclusion can apply to become a Diversity Champion. If you have questions, please contact Vera Godavari at vgodavari@rrc.ca.
Why become a Diversity Champion?
To make a meaningful impact at RRC Polytech by enhancing the working and learning experience of our fellow students and staff.
To obtain greater literacy and understanding of EDI-related topics.
To take advantage of a developmental opportunity that will allow you to enhance your communication, problem-solving, analytical, interpersonal, and leadership skills.
What supports will be provided?
The Human Resources Department and the Diversity and Inclusion Specialist in particular will provide continuous consultation and subject matter expertise to the Diversity Champions in successfully developing and executing your Action Plans.
Training on the EDI Action Plan template and the EDI Strategy for the College will be provided.
Do I need to be an expert on EDI to be a Champion?
The subject matter expertise will be provided by the Human Resources department. Having a passion for EDI and commitment to creating meaningful change is important.
What is the time commitment required for a Diversity Champion?
The Diversity Champion will put in about 1-2 days of cumulative work over a month towards this initiative. In the beginning, as we build the foundation for our work, the time commitment might be higher. The Diversity Champion Network will meet as a group every quarter to share progress and to build on success as a team.
Please work with your manager to ensure that this workload can be reasonably accommodated in to your schedule prior to applying.
The Diversity Champion term will last two years (2020-2022).
How will a Diversity Champion be selected?
The management team will jointly appoint a Diversity Champion for their area.