Succession Planning
Succession planning is a strategic action for Red River College Polytechnic. Our current employee demographics highlight the importance of succession planning – we can expect a steady rate of retirements in key leadership positions and subject matter areas in the coming years. These changes present long-term risk to the college – including loss of knowledge and continuity, loss of talent, and competition for talent.
Succession planning is about knowing our risk and instituting proactive strategies to mitigate the risk. It is about securing our future together.
The vision for succession planning at Red River College Polytechnic will enable:
Proactive leadership development, essential to achieving strategic goals.
A stronger understanding of employee development requirements.
A more informed approach for managers to use when developing employees.
Employees to pursue career goals and development opportunities which are aligned with their needs/interests and current and future organizational needs.
Using a set of approved succession planning principles, a five-step pilot process was developed, implemented and evaluated in collaboration with college stakeholders in 2012-13. Employees and leaders identified many benefits to participating in the process along with areas where the process could be enhanced. Updates have been made and are scheduled for rollout to select areas of the College in 2015.
Focus
Succession planning has both an organizational and people focus, and:
Is a strategic process for attracting, developing, and retaining the diverse work force needed to sustain and renew Red River College Polytechnic.
Supports the College's business strategy by ensuring the right people are in the right positions at the right time and doing the right things.
Demonstrates the College's value of supporting our employees in their career growth.
Serves to identify and prioritize positions at risk so information and knowledge essential to the continuity and stability of the College is preserved, essential practices and procedures are learned, and knowledge is transferred.
Is integral to recruitment and retention, new employee development, workforce diversification, performance management, and personal career development.
Requires the participation of the College community to develop leadership at all levels and encourage individual learning and development.
The process acknowledges that…
We are a diverse organization with cultures within cultures
There are varied paths to growth and development…advancement
There are different ways of knowing and sharing
Different approaches to the process of having a development conversation
We want to discover what works best, what fits within a particular work context
We pay attention to the personal issues or group dynamics, whether they be safety, comfort, vulnerability
Guiding Principles
Staff development is valuable to the College
Consistent with Collective Agreement, where applicable
Career development = mutual responsibility
Transparency, openness and impartiality
Must be long-term and sustainable
Solution may not always be internal
No guarantees to employees of a new position
Reflect Manitoba's diverse population
Five-Step Model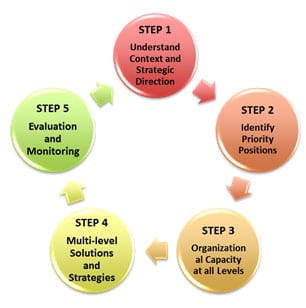 Prior to the start of the pilot, the College was operating without any succession process.
Benefits to employees (*as identified by pilot participants during pilot training workshops)
Support for career plans and developmental aspirations.
More opportunities for relevant prof. development.
Fairness – providing more opportunities to develop toward positions of interest.
More management/employee conversations.
Benefits to employer
Continuity, stability, and transfer of knowledge.
Operational benefits.
RRC Polytech's reputation as an employer of choice, ability to retain high quality employees and accurate position descriptions.
For more information, please contact Human Resource Services.