CCDI Employer Partnership
RRC Polytech is an Employer Partner with the Canadian Centre for Diversity and Inclusion (CCDI) which provides us with a number of benefits that will support us on our individual and organizational equity, diversity and inclusion (EDI) journey.
The following benefits are available to RRC Polytech Staff:
CCDI Monthly Webinars
CCDI offers free EDI educational webinars.
How to Register
Once you select an event and start registration, choose "Register as an Employer Partner".
In the next page you will be prompted to enter registration information.

When appropriate make sure to select "I work for a CCDI Employer Partner" and then select Red River College Polytechnic from the drop down.
Please use your Red River College Polytechnic email account to register.

If you have technical difficulties, please email diversity@rrc.ca
After registering for a webinar, you will receive a thank you email. A link to the webinar will be provided approximately one day prior to the event.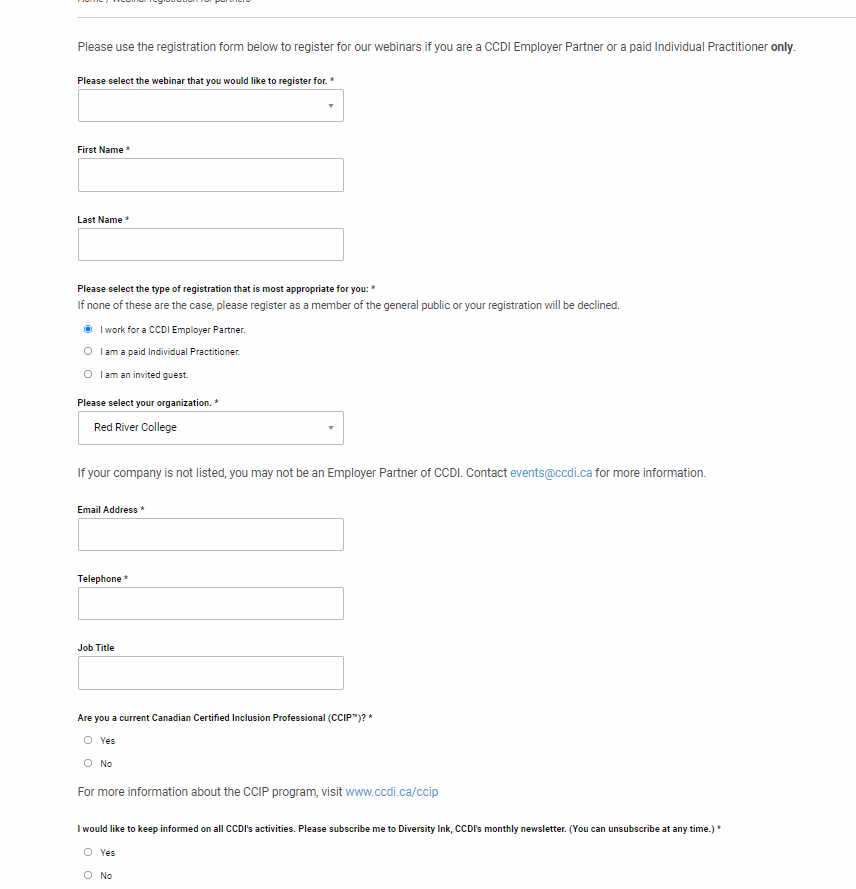 CCDI Knowledge Repository
As part of the "Members Only" portal on their website, CCDI has an e-library with over 1,000 documents containing Canadian-specific and international diversity and inclusion research, reports, toolkits and news, which are indexed and searchable by multiple parameters (e.g. by keyword, by topic, etc.). This e-library is an evergreen resource and new content is continually being added.
How can I access the CCDI library?
To access the Knowledge Repository, self-register here.
Where can I find CCDI past webinars?
In the Knowledge Repository drop down select CCDI Research and you will find past webinars as displayed in the screenshot below.
Previously recorded webinars can be accessed via the Knowledge Repository.
New webinars will be posted in the Knowledge Repository approximately 2 weeks after the event date.
Are there recommended Webinars to watch as I get started in my learning journey?
We recommend that you watch the following webinars to develop a fundamental understanding of Equity, Diversity and Inclusion.
Once you sign into the Knowledge Repository please click on Download to watch the webinar.
CCDI Monthly Newsletter
Diversity Ink – CCDI's monthly newsletter provides information about CCDI events and research, and other pertinent news from the Canadian diversity and inclusion realm. Click here and provide your contact information to subscribe. You can also view past editions of the Diversity Ink newsletter here.
Questions? Please email diversity@rrc.ca