This morning at the Notre Dame Campus, I was joined by RRC Polytech staff and students to raise the Progress Pride flag, recognizing and celebrating the start of Pride Week.
The new flag adds a five-stripe chevron, indicating forward momentum, and includes the baby blue and light pink colors of the Trans flag, brown and black stripes representing people of colour, and white to represent those who are transitioning, intersex, or identify outside of the gender binary.
At RRC Polytech, we have committed to embedding equity, diversity, and inclusion into everything we do. I am proud of our College community's forward thinking and enthusiasm to embrace change. While progress often requires education, self-reflection, and time to organize resources or add new infrastructure, we must strive to evoke meaningful change every day. Even a relatively simple gesture can make a significant impact and inspire others to follow our lead.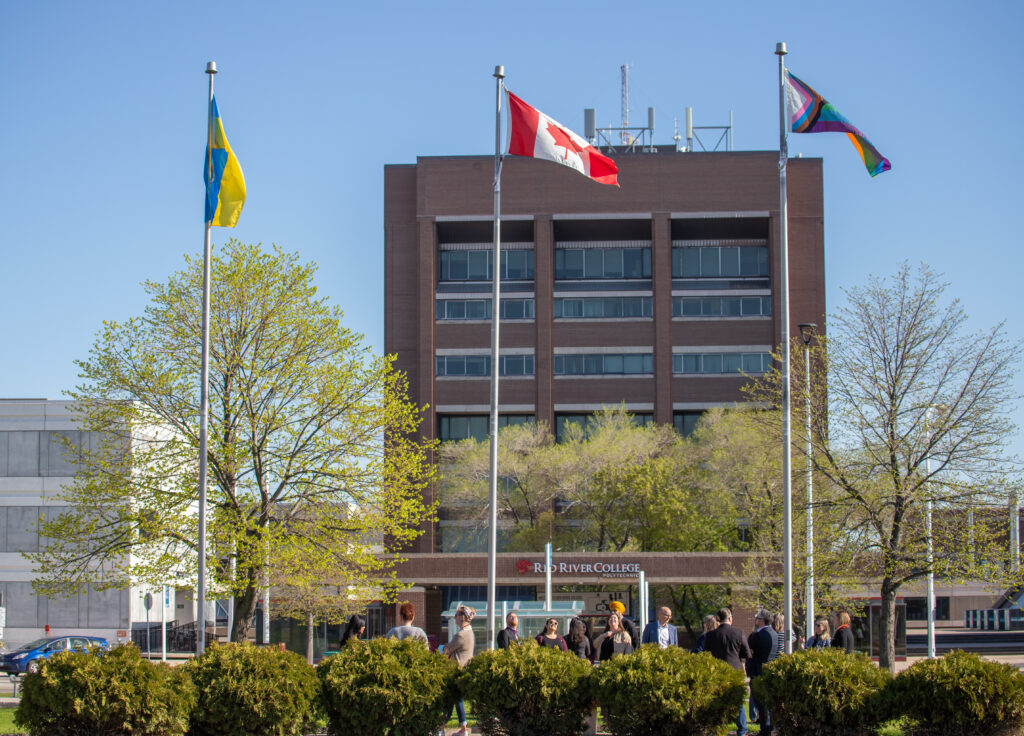 One change I am pleased to bring forward today is that RRC Polytech will now officially use the acronym 2SLGBTQIA+ to respectfully acknowledge members of the Two-Spirit, Lesbian, Gay, Bisexual, Transgender, Queer and/or Questioning, Intersex, Asexual communities and the countless affirmative ways in which people choose to self-identify.
Done in collaboration and consultation with the College's Elders in Residence and Knowledge Keepers Council, this change includes, honours, and celebrates all self-identifying people while demonstrating a willingness to work together towards Truth and Reconciliation. Leading with 2S reflects the importance of Two-Spirit people in Indigenous cultures, which was an identity that was stripped from Indigenous people through colonization and the residential schools system.
The Pride Movement is about constant change and acceptance so as we pause to consider our allyship under this new flag, I want to acknowledge we are currently working with the Knowledge Keepers Council to create an even more inclusive emblem to represent RRC Polytech's support for the 2SLGBTQIA+ community in the future.
Earlier this week I also had an opportunity to speak with Dr. Dick Smith, who for over 50 years has served disadvantaged groups in Winnipeg, as an incredible leader, tireless advocate, and trailblazing role model. As an openly gay doctor and activist, he helped lead the fight against AIDS and HIV in our city and across the world in the 1970's and 80's, and founded a local practice that provides gay, lesbian, bisexual, and transgender patients with a safe space to address specific health issues and access specialized care.
I was thrilled to extend the news that he is being recognized as RRC Polytech's Honorary Diploma recipient for 2022 and we look forward to formally honouring him at convocation in a few short weeks.
His work teaches us if something doesn't yet exist in the world but is necessary and positive, then be fearless and pursue it. Understand that even imperfect attempts will still help along the way, and others will eventually see the benefits, be inspired, and join your mission.
If you have not already registered, I hope to see you at the Pride Parade on June 5. Along with the Pride Parade, Pride Winnipeg is also hosting the second National Fierté Canada Pride (FCP), the national association of Canadian Pride organizations which will include the FCP Human Rights Conference among other exciting events.
I hope you all have a relaxing weekend and a great start to Pride Week.