The College will move to increasing the delivery of programs through blended learning for the fall 2021 term. Blended learning involves a combination of online and on-campus (face-to-face) delivery within a program. All public health guidelines must be followed in considering a blended learning delivery.
RRC's Academic Program Delivery Guidelines Fall 2021 identify the requirements for increased blended learning opportunities. All programs should have at least some on-campus opportunities for students based on the guidelines for essential and enriched learning. Visit the Fall 2021 Planning FAQ page for more information and/or watch a recorded information session hosted by RRC discussing the fall academic and operational plans.
RRC defines Blended Learning as:
Blended Learning combines face-to-face instruction with online learning in the delivery of a course, program, or micro-credential. Blended learning can also be used in the delivery of training sessions, workshops and other learning opportunities.
Companion to the Fall Planning Guidelines 2021
The Companion to the Fall Planning Guidelines for 2021 outlines several instruction and assessment ideas to support instructors in the delivery of online, essential and enriched learning experiences.
---
On Campus Hands-On Delivery Guidelines
Essential Learning
In-person delivery of courses or parts of courses is considered essential:
The physical use of tools or equipment is required and alternatives are not possible;
Learning outcomes cannot be delivered in alternative forms, and the learning outcome is required for graduation, is a critical piece of the program, or required for accreditation;
Barriers to education exist that can only be addressed through in-person delivery;
External regulators require learning to take place on-campus – as is the case in the Aerospace sector;
Programs are unable to run if they are not delivered with at least some on-campus activity campus based on the needs of students (low enrolment, significant retention concerns) and/or government regulation (such as IRCC regulations for International Students – see below).
If learning is deemed "essential" then it is required that all students be able to take part in face-to-face learning on-campus. Requests for accommodation need to be considered on an individual basis.
---
Essential: Learning outcomes cannot be delivered in alternative forms and/or are required to meet external regulations/accreditation, or to meet needs of at-risk populations.
EXAMPLES:
Face-to-face activities
Activities required to meet external regulation and/or accreditation such as: physical labs, demonstrations, tutorials, practical applications
Enriched Learning
In-person delivery of courses or parts of courses considered enriched:
The quality of student learning is enriched by face-to-face delivery, even though it is possible to deliver the same content in alternative format (e.g. online).
Rationale can include: Improved student learning outcomes, particularly where face-to-face learning helps to reinforce applied learning.

Improved student retention particularly among at-risk populations.
Improved student wellness (i.e. physical and mental health) by fostering engagement between students, and between students and faculty.
If learning is deemed "enriched" students are not required to be on-campus and must be provided an opportunity to meet the same learning outcomes through other means (i.e. virtually / online / through simulation, etc.). If students are required to be on campus, then the activity should be deemed "essential".
---
Enriched: In-person learning activities provide opportunities to connect with their instructor and peers, enhancing student engagement, achievement of learning outcomes and retention.
EXAMPLES:
Group work
– Assign students to collaborate on case studies and projects

– Create simulations of real-world scenarios for group work
Teaching complex content
– Demonstrate complex content during face-to-face time with students: introduce foundational or introductory information to review online, and expand on concepts during in- person sessions

– Provide time for students to ask questions about assignment guidelines and rubrics

– Offer formative feedback on student work, assignment drafts, answer questions and review challenging topics
Face-to-face activities
– Explore active learning activities such as: think-pair-share, debates, brainstorming, role play, mock interviews

– Check out UWestern CTL's site for short videos on active learning and descriptions of the activities above, or Durham College CAFÉ's site for more active learning activity ideas

– Set up a gallery walk to share and respond to student work

– Host class discussions for students to engage with course content or present in small groups to the class
---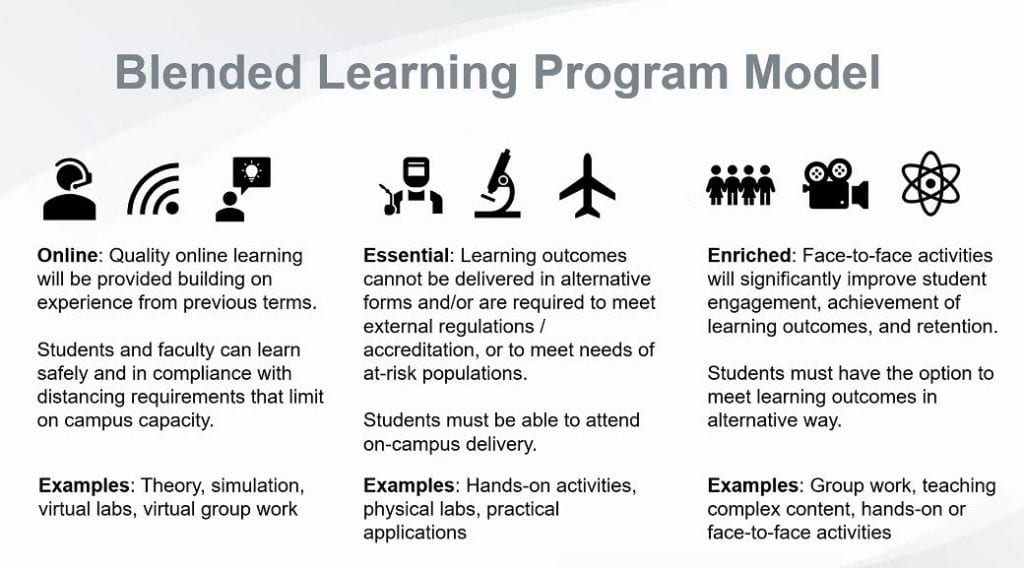 ---
Blended Learning Experiences
Blended learning experiences that combine face-to-face instruction with online learning provide opportunities for enhanced student learning. There are many ways to choose the right blended learning model. One way is to think of when students will benefit from face-to-face learning experiences and when they may benefit from online-learning.
Opportunities for both Essential and Enriched learning in a blended learning model may include face-to-face instruction, hands-on skill development, social interactions, relationship building and collaborative experiences. For the portion of the course that is theoretical, you may incorporate asynchronous and synchronous activities to allow students to engage with the content at their own pace.
Blended Delivery Recommendations
Face-to-face and online activities are integrated together in course design so that they reinforce, elaborate on and complement one another, instead of treating the online component as an add-on or duplicate of what is taught in the classroom.
Online activity aligns with course learning outcomes and fosters engagement between instructors, students and content.
Online content and activities comply with web accessibility standards and use responsive design (display on laptops, tablets and mobile devices effectively).
Online learning represents 25% to 80% of course delivery time. In exceptional circumstances, the College may revise the amount of online course delivery time.
Visit the Flexible Online Delivery Model on the Staff Forum site for more information.
Additional Blended Learning Resources
---
CLPE in Conclusion
Please contact us if you have questions and/or would like support. Request a Teaching and Learning consultation with a CLPE Educational Developer.
If you have a story to share and innovative work to highlight for a future CLPE News piece, contact Kristi. Subscribe to our future CLPE News posts or view past features. Please share your topic ideas and comments with us at CLPE's email.