Knowledge Keepers Council
The Knowledge Keepers Council advises senior leadership on strategic initiatives as the College strives towards responding to the Truth and Reconciliation Commission of Canada's Calls to Action.
The Council aligns with the Commission's principal number seven to support reconciliation between Indigenous and non-Indigenous peoples: the perspectives and understanding of Indigenous Elders and Traditional Knowledge Keepers of the ethics, concepts, and practices of reconciliation are vital to long term reconciliation.
Paul Guimond
Paul Guimond is part of the Turtle Clan and his spirit name is Okonace (Little Eagle Bone). He and his wife Kim have three children, 16 grandchildren and four great-grandchildren. Paul is a Sundance Bundle Carrier (Chief), Sweat Lodge Bundle Carrier (Water drum) and Dark Room Bundle Carrier. He studied Counselling Skills at the University of Manitoba. In Sagkeeng, Paul sat on Chief & Council for 20 years and served as the School Board Chairman for ten years. He is an active elder with Addictions Foundation of Manitoba and Sagkeeng Child & Family Services, offering healing, spiritual growth and personal development through ceremony, programming and establishing healthy relationships. Paul is also a certified coach in hockey, baseball and lacrosse. Paul joined the Elder-in-Residence Program at Red River College Polytechnic in 2018.
Una Swan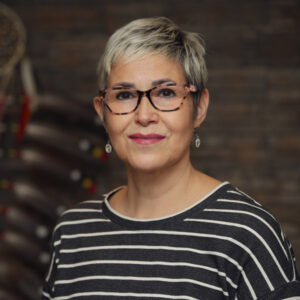 Una Swan is a band member of Fisher River Cree Nation. She is 53-years-old and has three boys and one grandson. She says she is very close to her culture, both from a physical and spiritual aspect. She has worked at various grassroots organizations over the past 20 years as Aboriginal Cultural and Spiritual Liaison and as an Elder. She is a teaching and healing Elder. She has found this work to be giving, receiving and extremely rewarding. Of her various places of employment, she says one of her more memorable places was St. Amant Centre. Working there gave her a new perspective on her own life and the lives of others.
Allen Sutherland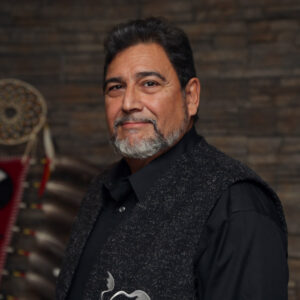 Allen Sutherland, Waabishki Mazinazoot Mishtaatim (White Spotted Horse), Anishinaabe, of the Bizhiw Doodem (Lynx Clan), Skownan First Nation, Treaty 2 Territory.
Allen Sutherland is currently the Life Long Learning Lodge Keeper, Government of First Nations Treaty 2 Territory. Allen is also an independent consultant and provides facilitation and training under his own company, WHITE SPOTTED HORSE. In 2014, he was the recipient of the Aboriginal Circle of Educators 'Researcher and/or Curriculum Development' award for developing the Canadian Indigenous Historical Timeline poster that is now currently being utilized in the Treaty Kits of Treaty Relations Commission of Manitoba. Allen is an Anishinaabek Traditional Knowledge Keeper, providing traditional ceremonies, teachings, spiritual advice, and healing.
Barbara Bruce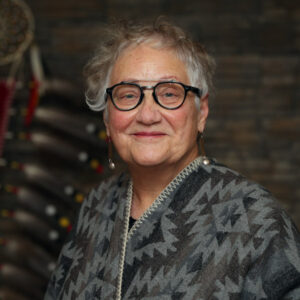 Barbara Bruce is a citizen of the Metis Nation – Michif aen Otipemisiwak, and Two-Spirit. Her beliefs of Metis and other Indigenous traditional teachings are reflected in all of the work she takes on. With more than 35 years of experience in consulting, Ms. Bruce has developed extensive networks and working relationships with the Metis Nation and other Indigenous and non-Indigenous leaders, organizations and governments across Canada.
Her dedication to advancing the rightful place, recognition and acknowledgment of the Two Spirit community, Metis and other Indigenous women, and children are an integral part of her life.
Some of her past and current board appointments include: National Aboriginal Economic Development Board, Manitoba Communities Economic Development Fund, Canadian Council for Aboriginal Business, Top 40 Under 40, University of Winnipeg Board of Regents and Chair of the Metis Child and Family Services Authority.
Barbara has been recognized and honoured for her work by the Human Rights Commission of Manitoba for her significant contributions to promoting Indigenous rights and equality. Barbara was honoured by 'Keeping the Fires Burning' as a Kookum/Grandmother for her contribution of the wellbeing of Indigenous Peoples. Sageeng First Nation honoured her for her extensive contribution to economic development in Metis and First Nation communities. In recognition of her lifetime of work, she was inducted into the Order of Manitoba in 2018. Recently, she was recognized by the Nellie McClung Foundation as one of 150 Manitoba Women Trailblazers for her work in social justice and culture.
Albert McLeod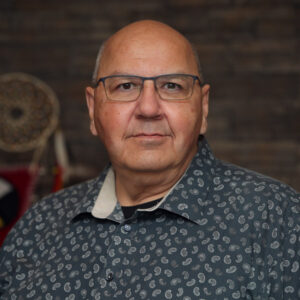 Albert McLeod is a Status Indian with ancestry from Nisichawayasihk Cree Nation and the Metis community of Norway House in northern Manitoba. He has over thirty years of experience as a human rights activist and is one of the directors of the Two-Spirited People of Manitoba.
Albert began his Two-Spirit advocacy in Winnipeg in 1986 and became an HIV/AIDS activist in 1987. He was the director of the Manitoba Aboriginal AIDS Task Force from 1991 to 2001. In 2018, Albert received an Honorary Doctorate of Laws from the University of Winnipeg.
Albert lives in Winnipeg, where he works as a consultant specializing in Indigenous peoples, cultural reclamation, and cross-cultural training.
Martha Peet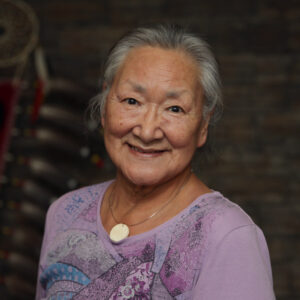 Martha Peet, Inuit elder and storyteller from Taloyaok, Nunavut, telling stories is about sharing her own experiences and the traditional Inuit way of life.
Taloyaok was founded in 1948 when the HBC established a trading post. Five nomadic families moved in, including hers. Peet was born in 1950. "I was there from the beginning. I lived in an igloo in the winter and a tent in the summer. My job as a child was collecting cotton in the summer, for the wick on the seal oil (soapstone) lamp (fueled by blubber). I always had chores. I carried water twice a day from the lake. I made bannock and tea. We boiled our meat, seal and caribou," she says.
A storyteller for over 30 years, Peet enjoys sharing stories about her life, where she is from, and the Inuit way of life of years ago including the importance of animals and traditions.