Our Commitments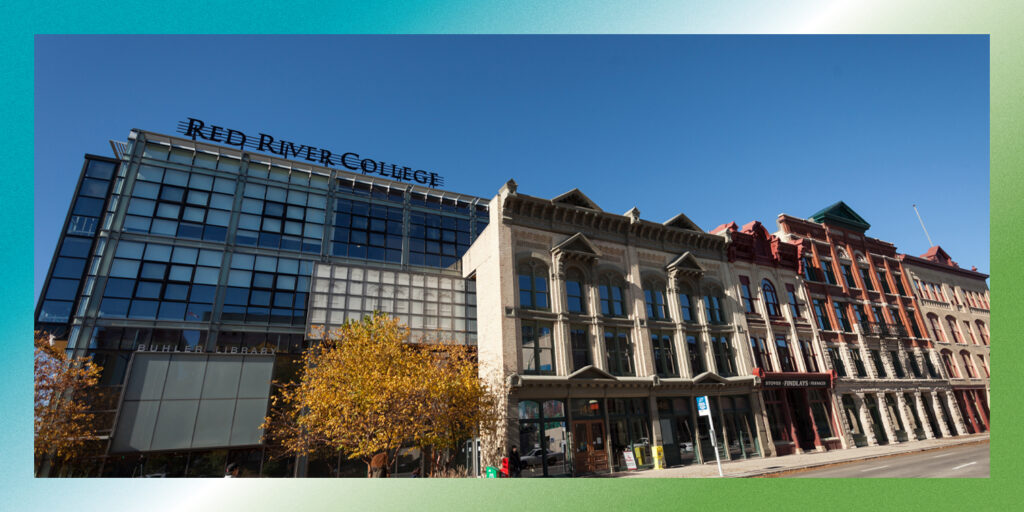 Staying in front of what's ahead requires RRC Polytech to align our efforts across all our priorities. As the needs of industry, employers and communities evolve, so must we: by shaping the future of learning, building the collaborations that drive shared outcomes and deconstructing colonial and biased assumptions that have broken trust in post-secondary education, employment and administration.
Commitment 1: Transform our learning model to meet emerging needs.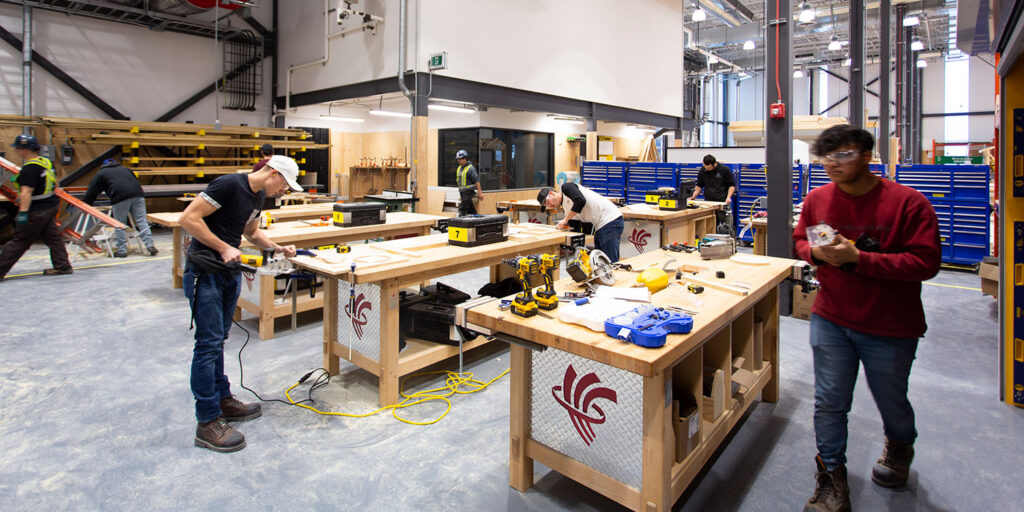 Priorities
Create learning opportunities to meet the current and emerging needs of students, employers and communities
Enhance student experiences in their journey to, with and beyond RRC Polytech
Strengthen academic pathways to and from RRC Polytech
As Manitoba's polytechnic, we support our economy by providing the right learning opportunities to students at the right time. We excel at preparing students in environments that replicate the current pace of change to ensure they are learning from industry-trained faculty, on the latest equipment, and in similar conditions that they'll find on the job.
But post-secondary education is not immune to disruption — which is why we are meeting disruption head-on by transforming our learning model into one that is nimble and supports the changing needs of industry and employers.
Our new learning model will put the needs of students first, embed flexibility across all our programs, and leverage our strengths as a polytechnic to adapt to the changing needs of industry and employers and meet the requirements of rapidly changing labour markets.
Instead of delivering most of our academic learning through cohort-based, full-time programming, our new model will maximize our strength as a polytechnic, providing students with exceptional experiences through a wider variety of credentials, expanded work-integrated learning, and applied research opportunities. The new model will transform our academic programs and provide students with what they need, when and how they need it.
Key Outcomes
RRC Polytech will lead the way in producing job-ready graduates through work-integrated learning opportunities
Students at every level will have access to more flexible learning options
More industry partners will turn to us to create programs designed to meet their workforce needs
Over the next five years, we will design and offer a variety of flexible, novel course-delivery mechanisms to manage the increasing demand for retraining and job transitioning among those already working in the province. We will enhance our community-based learning to introduce new avenues and pathways, providing learners with alternative means of entry into post-secondary education.
We will grow our outstanding community of instructors, who have the experience and research acumen to translate knowledge and provide career guidance that best reflects Manitoba's emerging labour market opportunities.
The result will be greater flexibility, more on-demand micro-credentials to support the needs of our partners, and the integration of human skills and cultural competency development across our programs.
Our students will experience improved pathways to, from and between RRC Polytech and other post-secondary institutions. We will walk alongside students from recruitment through employment, and provide wrap-around supports while they are studying. We will expand opportunities for reskilling and upskilling, increase recognition of prior learning and eliminate barriers to entry. We will work toward a student body that reflects Manitoba's diverse population and welcomes the valuable perspectives of Indigenous and international students.
Commitment 2: Commit to Truth and Reconciliation. Pursue equity, diversity and inclusion in everything we do.
Priorities
Continue to walk the path together towards Truth and Reconciliation
Address systemic barriers
Foster a culture of inclusion
We are renewing our commitment to addressing the Truth and Reconciliation Commission of Canada's Calls to Action within our operations and in our work to advance Indigenous education in Manitoba. Our commitment reflects on the harms of the past and focuses our path forward in partnership with Indigenous Peoples. We are dedicating ourselves to reconciling a broken trust in our education system and supporting the key role Indigenous Peoples must play for our province to realize its fullest potential.
This commitment is a critical foundation for our work in pursuing equity, diversity and inclusion (EDI) within our institution and our partnerships — because those goals cannot be advanced without doing the work of reconciliation. While our commitment to reconciliation is distinct from, and important to advancing EDI, we bring them together in this commitment to demonstrate that the work is parallel and mutually reinforcing.
Key Outcomes
Progress on all of the TRC Calls to Action that relate to post-secondary education
Increased partnerships with Indigenous students, businesses and communities
Increased employee development and engagement opportunities to advance RRC Polytech priorities
Our students, graduates, staff and committees will reflect the diversity of Manitoba's population
The Truth and Reconciliation Commission of Canada calls on us to create a more equitable and inclusive society by closing gaps in social, health and economic outcomes between Indigenous and non-Indigenous communities and people. Our work will begin with listening. We will work in partnership with Elders and First Nations, Métis and Inuit members of the RRC Polytech community. Guided by principles from the United Nations Declaration on the Rights of Indigenous Peoples (UNDRIP), we will create opportunities for collaboration and engagement to support the integration of Indigenous knowledge and teaching methods into student and faculty supports, to inform our administrative processes, and to build partnerships that elevate reconciliation.
Our pursuit of EDI will seek to support students and staff to reach their learning and employment goals. This will involve removing barriers to access and participation, and establishing or revising systems, policies and practices that ensure alignment to our commitment to EDI. One of RRC Polytech's greatest strengths is that we care deeply about the people who work and study here. We will ensure a respectful atmosphere that is diverse, inclusive and equitable to our students, staff and partners — a place where we understand, embrace and uplift each other's culture, and a place where all are welcomed for who they are, and for what we can build together.
Commitment 3: Deepen partnerships to maximize prosperity across industry and community.
Priorities
Maximize new and current strategic partnerships to realize mutual benefit
Elevate applied research in Manitoba
Build a culture of philanthropy to increase strategic partnership potential
RRC Polytech plays an important role in Manitoba's economic success. As our economy grows and our community diversifies, we will leverage our partnerships to help communities thrive and power Manitoba businesses to help them compete on a global stage.
Our partnerships are the core of our success. They enable us to extend our resources, leverage our partners' strengths, accelerate progress in innovation and research, and expand our reach.
By strengthening and deepening our strategic relationships, we will create reciprocal value that drives Manitoba forward economically, environmentally, socially and culturally. Through our partnerships, we will reinforce our prosperity and sustainability by diversifying our revenue sources, maximizing private investment, and engaging our alumni and stakeholders in the future of the institution.
Key Outcomes
Increased applied research partnerships and integration of applied research within academic programming
Expanded partnerships and relationships with donors to drive strategic growth and deliver mutual benefits
RRC Polytech plays an elevated role in strengthening Manitoba's economic, social, environmental and cultural prosperity
Our applied research enterprise is one of RRC Polytech's best-kept secrets. We will build our capacity to deliver applied, solutions-focused research that can help Manitoba stay steps ahead of the incoming changes — positioning us for success in a globally competitive environment in the decades ahead.
Over the next five years, we will expand the opportunities for applied research across our schools and in areas that are important to our partners and our future economy. This will elevate opportunities for students to participate in solving practical problems, support entrepreneurs to launch and grow their businesses, and further strengthen our relationships with our partners and funders across all sectors.
The foundation of this future is a strong culture of philanthropy — one that we will cultivate inside RRC Polytech and with our valued partners. Our first comprehensive campaign will be the vehicle that helps us strengthen relationships with our donors and reach our full potential. Together we will meet the inevitable disruption facing our economy and create the change that we want to see in Manitoba.
Our Journey
A strategic plan is a map that guides our way forward — even in the midst of uncertain circumstances. To create this map, we drew on our strong culture of connection with industry, employers and community.
Read about the journey