Academic and Research Plan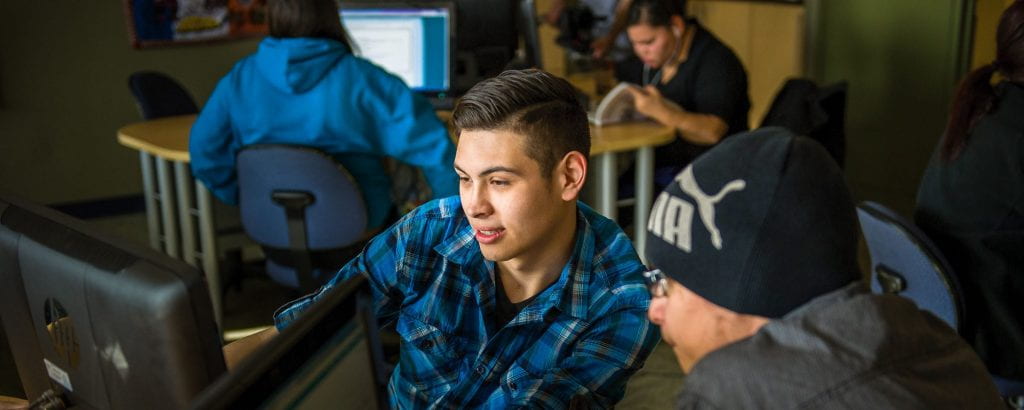 Overview
Our new Strategic Plan 2022-2026, In Front of What's Ahead, charts a bold course forward for RRC Polytech over the next five years and sets the themes of our Academic and Research Plan.
Our mission is to elevate people, industry, and community in Manitoba through future-focused polytechnic education, research, and partnerships. By leveraging our strengths, we prepare students for the future of work, we support industry and communities through innovation and collaboration, and we transform disruption into opportunity.
Valuable insights from our stakeholders helped shape this plan. It tells us where we need to go, and why we need to go there.
Our Academic Plan and Research Plan defines how we will undertake this journey together.
Learning and Research, Focused on the Future
We're developing our academic and research themes and objectives together to ensure they align with our three strategic commitments – and with each other.
Woven together in this way, learning and research enrich one another. They create more opportunities for our faculty and researchers to discover each other's work, explore, and collaborate. They open new pathways for our students and amplify the outcomes we achieve for our students and partners.
Our new academic and research plans allow us to build on our successes in academic transformation – for instance, course-based registration – and to expand work-integrated learning across all our programs.
These plans will also define how we address our commitment to truth and reconciliation. They will also address how we will pursue equity, diversity and inclusion.
Why now?
Timing is critical. As Manitoba's only polytechnic institution, we play a key role in driving economic and social growth in Manitoba. We're developing these plans now to build on the momentum created by our Strategic Plan.
Your voice matters
Your guidance is essential. No one knows better than our faculty, researchers, and staff how to support the greatest needs of our students and industry partners. These plans will shape our work for the next five years. We are calling on your expertise and experience to design a learning model and an approach to applied research that lives up to our mission by putting us in front of what's ahead.
To capture your insights we will be creating several on-site and virtual opportunities to engage in the consultation process, including online conversations using ThoughtExchange software and virtual one-on-one strategic conversations to gather your input.
What to Think About
Think of RRC Polytech's new Academic Plan and Research Plan as frameworks for action that:
Builds on RRC Polytech's recognized strengths and achievements;
Grows out of a critical understanding of the College's environment and context;
Reflects institutional realities, while offering new vision, energy and focus to lead the College to greater levels of achievement and performance; and
Provides a compelling, high-level framework for departmental and operational planning, with clear objectives and measurable outcomes.
Then ask yourself:
What are we doing well at RRC Polytech that I want to see continue?
How can we best serve our students?
Are their opportunities for us to bring more applied research into your program or courses?
Are there any relationships with employers or industry partners we need to strengthen?
What new opportunities do I see that I think should be explored by RRC Polytech?
Timeline
Our work will proceed in three phases. We are currently in Phase 1.
Phase 1
Current Phase
Internal Consultation (November – December 2021)
We've already started engaging with Deans, program and chairs and leadership to hear their views on what is needed in both plans. Now we're expanding our consultation to ensure we hear from faculty and students. Upcoming engagement events and opportunities are listed on the sidebar to the right of this page and will be posted in Staff News.
Phase 2
Early Validation and Sharing of Results (January – February 2022)
That phase will focus on sharing preliminary results and validate the direction we're taking as we create both plans.
Phase 3
Release of Academic and Research Plans (March 2022)
The third and final phase will happen mid to end of March when we launch both plans and share them with the College community and our external stakeholders.
Steering Committee
Dr. Christine Watson, Vice President Academic and Research (Chair)
Jojo Delos Reyes, Research Program Manager
Aileen Najduch, Executive Director, Student Services and Global Partnerships
Nadine Ogborn, Director, Centre for the Learning and Program Excellence
Dr. Simon Potter, Director, Research Partnerships and Innovation
Valerie Shantz, Senior Strategic Advisor
Dr. Jeanine Anne Webber, Executive Director, Academic
Lynn Zapshala-Kelln, Vice President Finance and Administration