May Wellness Champion is Marc Lebrun
Congrats to Marc Lebrun on being selected as our May Wellness Champion!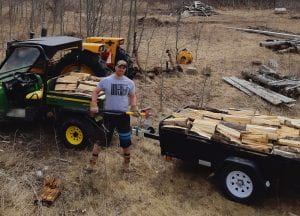 Marc is a graphic designer in the Marketing and Web Presence department. He also happens to be the artist behind our current Rebels logo! Marc is full of creative ideas and always goes above and beyond to help others.
Prior to covid19, Marc prioritized his fitness in 2 ways: daily commutes on his bike to work (every day from April to November!), and daily strength training work-outs at what he calls his 2nd home – the LOFT! Marc is a no-excuses type. He never misses a date with the gym and it doesn't matter what kind of storm is happening outside – he will still show up on his bike.
Just like everyone else, Marc's day-to-day routines have been disrupted with the hit of the pandemic. It has forced him to adapt to working from home and find new ways to stay active while also home schooling his 4 kids. When asked how covid19 has affected his overall wellness, he had the following to say:
"Ahhhh, a lot less happy face emojis in my text messages," He says with a laugh. "This has forced me to adapt to new ways of working out which has been frustrating because I was very happy with my routine I had in place. Also I enjoy feeding off the energy of my fellow Lofters so It's been tough. I feel like my power bar has not been at max strength. Mental and Physical wellness are totally intertwined."
That being said, Marc has found some creative ways to adjust and stay active!
"I'm very fortunate to have 80 acres of property out in South Eastern Manitoba. It's farm country. I didn't have to look far to find everything I need there to perform a solid workout. We have a lot of machines to make our lives easier but because I'm not going to the gym right now, I'm leaving the machines parked in the shed but doing all the heavy LOFTING myself. A really good example is this past Saturday – I didn't use our log splitter machine. I instead grabbed an 8lb maul axe and split wood the old fashioned way for 6 hours straight."
Clearly he has been able to adapt and make the most out of this new way of life. But what will be the FIRST thing Marc does when the bans are lifted?
"I'm sprinting over to The Loft and I can finally be reunited with all the 45 plates and the 100lb. dumbbells!"
To leave you with some wellness tips from Marc, he has the following to say:
"You really need to keep things simple and now that the weather is warming up, take your exercising outdoors! Nothing feels greater than a full day in fresh air. You will sleep like a rock. Also my friends and I stay connected and we constantly motivate each other by sharing what we are doing to stay active."