Health Care Support Worker
Red River College Polytechnic has launched a new micro-credential course to help improve staffing and resident support in personal care homes and long-term care facilities across Manitoba.
The week-long, tuition-free course, consisting of online theory and an in-person lab, will train qualified individuals to work as Uncertified Health Care Aides (UHCAs) and create immediate employment opportunities for Manitobans including students currently enrolled in a health sciences faculty or program.
Course Information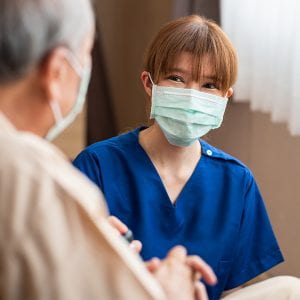 This micro-credential focuses on supporting all members of the resident care team, assisting with resident care and support under the general supervision of a manager or nursing supervisor. This may include activities of daily living like mobility, feeding, bathing; assistance with activities or close observation of residents in need of constant care, including those who may wander; cleaning and maintenance of equipment as directed; stocking of supplies.
The course is being offered to meet the immediate need of hiring trained individuals to assist in personal care homes and long-term care facilities, playing an important part in the outbreak response. It is designed to be delivered in its entirety over one week, including the theory and skills components.
The course consists of five days of online theory and two days of an in-person skills lab to demonstrate competency in performing the skills required.
Sections are currently offered in Winnipeg, Selkirk, Steinbach, Winkler and Portage la Prairie beginning November 30, 2020. Future sections may be offered in additional communities in rural and northern Manitoba.

What are Micro-credentials?
Eligibility
The course will be available to students over the age of 18 who possess a minimum of a grade 10 education. Experience in direct care is not a pre-requisite.
Physical Requirements
The position involves extensive physical activity such as lifting, transferring, and transporting patients and equipment and individuals may encounter aggressive and/or agitated individuals.
English Language Assessment
The minimum required levels outlined on the English Language Assessment page must be met in order to begin the course.
Employment
The course is being offered tuition-free with a commitment to provide service in a personal care home for a period of three months following completion.
The province also announced immediate Health Care Support Worker opportunities available to first- and second-year students in a health sciences faculty and programs, without the requirement for additional education. Students will be hired directly into the COVID-19 Casual Pool and assigned to a personal care home. Opportunities exist throughout the province.
The first group of students will be ready to enter the workforce as early December 8, 2020.
For more details about the job, including shifts and salary, visit the Shared Health Manitoba website and look for the section titled Health Care Aide – Uncertified Opportunities.
Apply
Interested individuals must apply to the COVID-19 Casual Pool and select the location where they prefer to complete the training. Look for the section titled Health Care Aide – Uncertified Opportunities.
Check Availability With Shared Health Manitoba

Additional Information
Questions about the course can be directed to Red River College Polytechnic by calling 204.694.1789 or emailing cde@rrc.ca.