COVID-19 Vaccine Administration
Red River College Polytechnic has launched a new micro-credential course to train professionals to properly administer the COVID-19 vaccine and help immunize Manitobans.
The eight-hour, tuition-free course, consisting of online theory and an in-person lab, runs throughout the fall and winter and will train qualified individuals to administer the vaccine and create immediate employment opportunities for Manitobans.
Course Information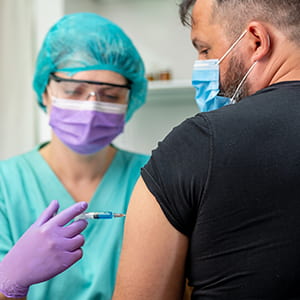 This micro-credential focuses on COVID-19 vaccine administration. Vaccine administration is an important part of preventing the spread and reducing the impact of COVID-19 and assists with the pandemic response. Students will become familiar with safe COVID-19 vaccine procedures through a review of the COVID-19 virus, its causative agent, immunization, related anatomy and best practices when vaccinating clients.
The course is being offered to meet the immediate need of hiring trained individuals to assist in the administration of the COVID-19 vaccine, playing an important part in the outbreak response. It will ensure that professionals hired to administer the COVID-19 vaccine have the opportunity to upgrade or extend their skills.
The course consists of five hours of self-paced online theory, followed by a quiz (with a passing score of 80%) and three hours of an in-person skills lab held at RRC Polytech's Notre Dame Campus in Winnipeg and Assiniboine Community College in Brandon to demonstrate competency in performing the skills required. Skills lab dates will be assigned.
What are Micro-credentials?
Student Learning and Modules
Student Learning
Modules
Register
.