Side Hustle 101 Course
Back by popular demand, The Maker's Collective and Red River College Polytechnic are once again offering Side Hustle 101, a six-week online course that provides the steps to starting your own successful side business and a community that offers support, from getting started to getting ready to scale.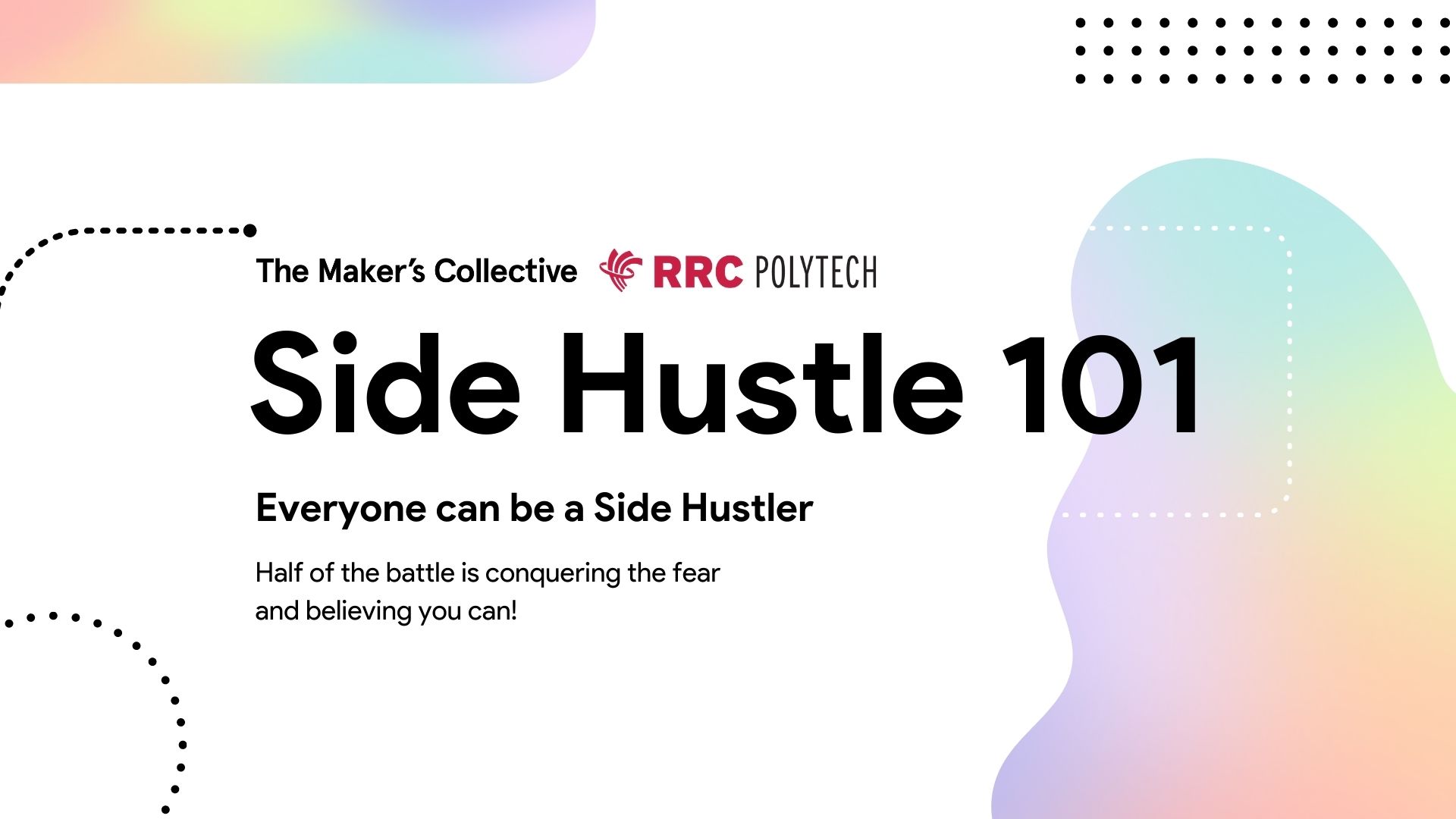 The course is especially helpful for soon-to-be entrepreneurs, freelancers, recent graduates looking to explore entrepreneurship and create more autonomy, newly retired individuals looking to turn a hobby into a new line of income, and mid-career professionals in search of meaningful work and an opportunity to make a career change.
At a Glance
Six live online training sessions via Zoom running each Tuesday from 7:00pm to 9:00pm CST, starting February 1, 2022.
Panel of guest expert coaches and an open "ask the expert" segment at two of the sessions.
Access to the online training session recordings to support self-directed learning.
Access to the Side Hustle 101 workbook and templates to support applying learnings to grow your business.
Access to weekly coaching support via office hour availability (two hours per week).
24 total hours of instruction and access to a community of side hustlers and expert coaches.
Full refund if not satisfied within the first 30 days.
"It was live over Zoom and you could speak in real time to real experts who were there to support you and give help. When they learned the kinds of things that students in the course were going towards, they would find experts in that field to talk to us, whether it was product-based or service-based."

Heidi Friesen, owner of Heidi-and-Seek Boutique and Side Hustle 101 alumnus
Register
About The Maker's Collective

The Maker's Collective is an online business community and education network for fellow entrepreneurs and side hustlers to ignite their passion, create their dream life and level up in business.
Whether you are just getting started turning a passion/skill into a side hustle, growing your portfolio as a freelancer, or growing and scaling your business, The Maker's Collective is your trusted resource and support network.
The Maker's Collective is a movement dedicated to supporting and educating the next generation of professionals who are ready to transform their life and career through entrepreneurship.