The program with the highest participation in the online Student Evaluation of Instruction/Course (SEI/C) will earn the most Engaged Program Cup.
Systematic student feedback about their courses and instructors provides a critical feedback mechanism to help programs improve the experience for students. Indeed, for some programs this feedback is a required submission item to accreditors. Up until 2013, students in a fraction of all courses were asked to complete a paper based in-class instrument. The logistics of distributing the questionnaires as well as the processing costs, made expansion prohibitively expensive. In 2013, SAC approved a plan to replace the paper based approach with an in-class online process and the system was implemented by November 2014 for all courses which ended by December of that year. Based on the experience at other institutions, it had been assumed the student participation would be somewhat lower than the paper process but satisfactory enough to warrant the expansion. However, it quickly became apparent, that the response rate was well below expectations. A number of communications measures were implemented with limited success.
It turned out we were not alone in having this challenge. In environmental scans of other institutions, one element stood out – participation increased if students perceived that their feedback was valued and would be acted on.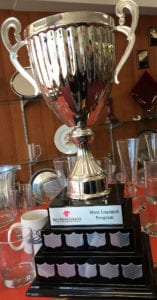 We want to build on this positive experience by establishing a trophy, "RRC Most Engaged Program Cup", for the program with the highest online participation across all their courses. The winners will be able to display it for the year.
The annual winner would be announced at Red Forum – a high profile acknowledgement in front of peers.
All full-time programs with at least five courses in a year and that use the online course evaluation system will be eligible. Red River programs come in many shapes and sizes. The number of courses in a program varies as does the number of students in a course. To equalize across these factors, we took all them all into account to develop a combined rating. We will offer the program a framed photograph of the winning team as a permanent memento.
For further information, please contact Ashley Blackman ablackman@rrc.ca.