What do you know about first-year RRC International and Immigrant students?
Every year, Red River College invites first-year, full-time students to participate in the Paths to Success initiative. Now in its eighth year, the initiative engages over 1,750 students each year from over 55 programs across the college.  This post will look at some characteristics of International and Immigrant students who participated in the initiative during the 2012/13 academic year. These statistics are not "official" numbers as they are based on self-reported information from Paths and do not account for all students.
Just over one in five students who participated in Paths to Success are International or Immigrant students
Among the 1,767 students who participated in Paths last year, just over one in five was an Immigrant student (12%) or an International / Visa student (10%).  These numbers vary considerably by program, reflecting differences in the types of previous education and experience that those students have compared to Canadian born students. It also reflects  the College's policy to target marketing / recruitment of some programs toward International students and limit access to some programs to Manitoba residents only (such as the Nursing program and many pre-employment trades programs which have waiting lists).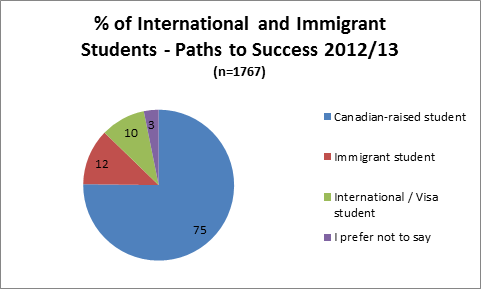 International and Immigrant students are more likely to be university graduates
International and Immigrant students are more likely to have a university degree prior to coming to college, as almost one in five are university graduates, while a similar proportion had taken some university.
By comparison, Canadian raised students also have a high university and college participation rate pre-entry, but there are relatively fewer university grads (7%).
Given the programs that students often apply to, we know that some of the International students are educated in the health sciences or engineering technology, and may be looking for similar credentials in Canada.
 

 

College

University

Some

Grad

Total

Some

Grad

Total

Canadian raised

16%

10%

26%

30%

7%

37%

Immigrant

12%

15%

27%

17%

21%

38%

International

8%

10%

18%

24%

19%

43%
International and Immigrant students can benefit from a range of supports
The Paths to Success survey is used to help inform and connect students with supports and services from the Diversity and Immigrant Student Support Centre to help them be successful in their transition to the College and their integration into the Canadian labour force.
As you can see in the chart below, International students are more likely than Immigrant students to identify a need for social and cultural supports, particularly "learning about Canadian workplace culture" (40%) and "meeting other students and participating in social and recreational activities and events" (38%).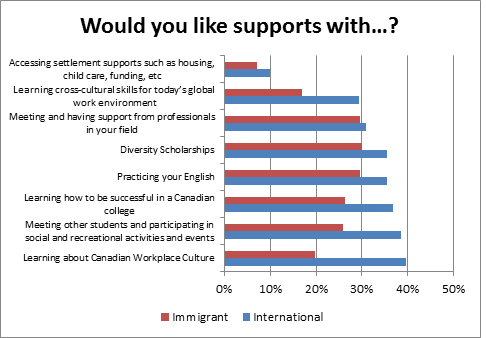 Immigrant and International students are relatively similar when it comes to getting more information about "diversity scholarships" and "meeting and having support from professionals in their field" – both items coming in around 30%.
Relatively few students identify "accessing settlement supports" (about 10%) as a need. This likely reflects the considerable work that goes into helping International students with these supports before coming to Canada. Recall, the Paths survey is completed during the first few weeks of the program, while many of these supports are taken care of pre-entry.
Final Thoughts
This profile of international and immigrant students is just a snippet of what can be learned from the Paths to Success information.  Given that the emphasis of International Education in the Strategic Plan and the already growing enrolments at the college, it will be increasingly important to build on what we can learn from this information.  Keep your eyes on the Know Your Numbers blog for the next chapter(s) of this interesting story.