What's the Grad Survey and why does it matter?
The Graduate Satisfaction & Employment Survey is one of the tools used in Red River College's quest to provide applied education that gets people into the workforce. The college contributes to Manitoba's economy by graduating people who are ready to step into a career. Graduates of RRC's programs have experienced many aspects of their chosen career from hands-on training, as well as the on-the-job work experience options available in many programs.
There is considerable value in the effort that respondents put into a survey. People completing this survey are using their own time to give us their opinion, to help us understand what is working well and what isn't. They are letting us know how their time at Red River College has affected their lives. Whether or not it was a perfect experience, a graduate can let us know through this survey. We show everyone what the graduates said in the annual Graduate Satisfaction & Employment Report.
Who uses the survey information?
Prospective students, high school and college counselors, academic advisors, faculty, employment agencies, and many others involved in career planning use the Graduate Satisfaction & Employment Report. This is the public view of the survey data that helps people learn about our programs and see how they connect to the labour market.
The report includes tables and charts at a college-wide, school, and program level providing employment, satisfaction, and salary information. The Occupation chapter provides a listing of graduates' job titles and related programs that is an easy-to-use tool for determining which program will lead a person to their desired career.
The data collected from this survey is also used in various formats by the College to improve programs and satisfy the Council on Post-Secondary Education (COPSE) reporting requirements.
What do graduates say?
Graduates are generally pleased with their time at the College. That's been pretty consistent over the years.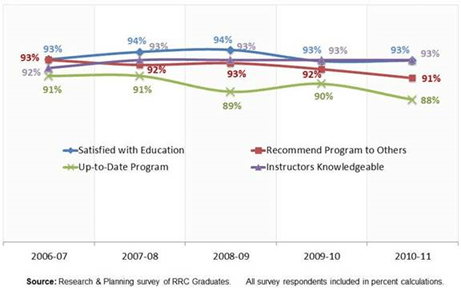 The majority of graduates are employed and of those employed/self-employed people from the 2011-12 survey, most (82%) are working in jobs related to their RRC education. If we look at the Employment Rate, which includes people who are in the Labour Force (working or looking for work) 94% are working.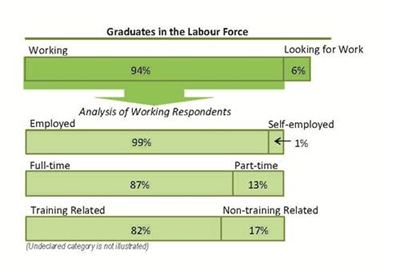 What's next?
One of the key challenges is to continue to find ways to share information and communicate results with the various people who want and need it.  This blog is one example of trying to increase the general awareness of the survey and the associated report, and to make people aware of the ongoing importance of the research.
The other major challenge is engaging our graduates so they have an interest in sharing their feedback so the College can continue to improve. This involves simple things like effectively promoting the survey and making students aware of it, as well as the more complex challenge of fostering a relationship with our graduates that encourages them to be active College alumnus who remain engaged after graduation.