Red River College is the province's largest post-secondary institution for diploma and certificate programs. In the 2011/12 academic year, the College had 9,135 students enrolled in full-time programs, 16,530 part-time registrations, and 3,408 apprenticeship students.
Not surprisingly, the college's website generates a significant amount of web traffic on a daily basis from staff, students, prospective students, industry and employers and the general public.  Looking at a snapshot of the last 3 months, the RRC website had almost 200,000 unique visitors viewing more than a million web pages.
To help the college get a glimpse of what's going on, Research and Planning uses tools like Google Analytics as well as other web analytic tools to help understand what pages people are looking at, how they discover the website, and how long they stay.
The Wellness Blog: A Case Study
While there are many ways that web analytics are used to understand the RRC website, one interesting case study has been using these tools to get a better understanding of the College's blogs – particularly the Wellness blog.
The Wellness blog was created in January 2012 to provide a collaborative communication hub for the Wellness Committee, other wellness stakeholders at the college, and for staff and students.  Over the past fifteen months, the blog has featured 130 posts from twenty-five authors on topics ranging from recipes and recreational activities to meditation and mental health.
Along the way Google Analytics has been used to help answer three main questions:
Who is visiting the blog?
What drives traffic to the blog?
What posts are people reading?
Who is Visiting the Blog?
Since January 2012, the Wellness blog has had 3,630 unique visitors, of which two-thirds originated from within Manitoba. Among the Manitoba visitors, most (97%) are from Winnipeg, while the remainder are from Winkler, Steinbach, Portage-La-Prairie, Dauphin, and Morden.
Over the past three months, the blog has averaged about 400 visits per month, of which  62% are new visitors and 38% are return visitors. Most of the visitors are viewing the blog from desktop computers (about 93%), with the rest using a mobile device (primarily Apple iPods or iPads).
What Drives Traffic to the Blog?
There are four main ways that people come to the blog – via a search engine (e.g. Google, Yahoo), through referrals (e.g. a link on a Facebook page), through direct traffic (typing in the url or bookmarking a page), or via a campaign (e.g. using AdWords).
Internally, the main tool for driving traffic to the blog is the daily Staff News email bulletin, created 4 years ago to help consolidate staff communications.  Approximately 80% of staff frequently read the Staff News, while 13% occasionally read it (Staff Survey, April 2012).
With this in mind, the Wellness Committee provides a regular update through the Staff News called "Wellness Wednesdays", which is proven to drive traffic to the blog.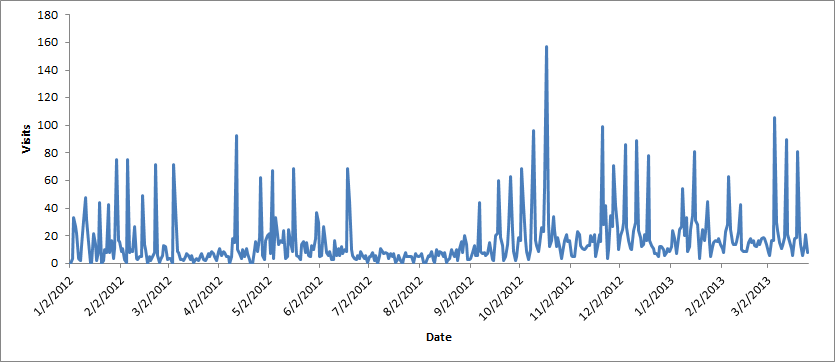 As you can see in the chart above, the peaks on the chart are related to Staff News promotions, coinciding with the weekly news blast. On a few occasions, there have been other traffic drivers such as having the Wellness Blog promoted in the President's Email update, referrals via social media, or when there has been "viral" interest in a topic.  While each of these has occurred on occasion, there hasn't been much effort yet to drive traffic using these methods.
What blog posts are people reading?
In total, visitors have checked out nearly15,000 pages – a "page" is basically any link that can be clicked on the web page and includes exploring posts by author or by category – and Google Analytics has been used to gauge what posts people are most interested in.
The top hits of 2012 were summarized in the post "Top 10 Wellness Blogs of 2012".  This helps illustrate the types of topics that people find most interesting, which authors people are most interested in reading, and what particular posts (e.g. such as healthy chocolate chip cookies) catch their eye.  For 2013, the leading contenders for blog of the year are Working Out – A Journey from "Ugh!" to "Woo Hoo!", Top 5 Things to Love About Winter Bonfires, and Mental Health in the Workplace.
Final Thoughts
There are many applications for Web Analytics, beyond using them to understand blog readership. However, the core idea of making data-driven decisions in real-time is easily illustrated using the Wellness blog as an example.  It is easy to gauge what people are doing immediately, and adjust what we are doing accordingly.  While this is a fairly basic application of web analytics, it illustrates what can be done using a free analytic tool and relatively little effort. In the future, more effort will go into using these and other tools and techniques to help optimize the College's other web properties.