Student success is a crucial focus at Red River College. Their success is our success. So how do we learn about student success? One way is to ask them. That's what we do when we ask students to complete the Student Evaluation of Program Survey (SEPS) just as they are finishing their program.
A few thousand students are asked to provide their opinions about different areas of their college experience, from facilities and services to instruction and program quality. They are also asked to share their comments on their experience at RRC – what they like and what they think could be better. This wealth of information is used annually to improve programs, facilities, and services to students.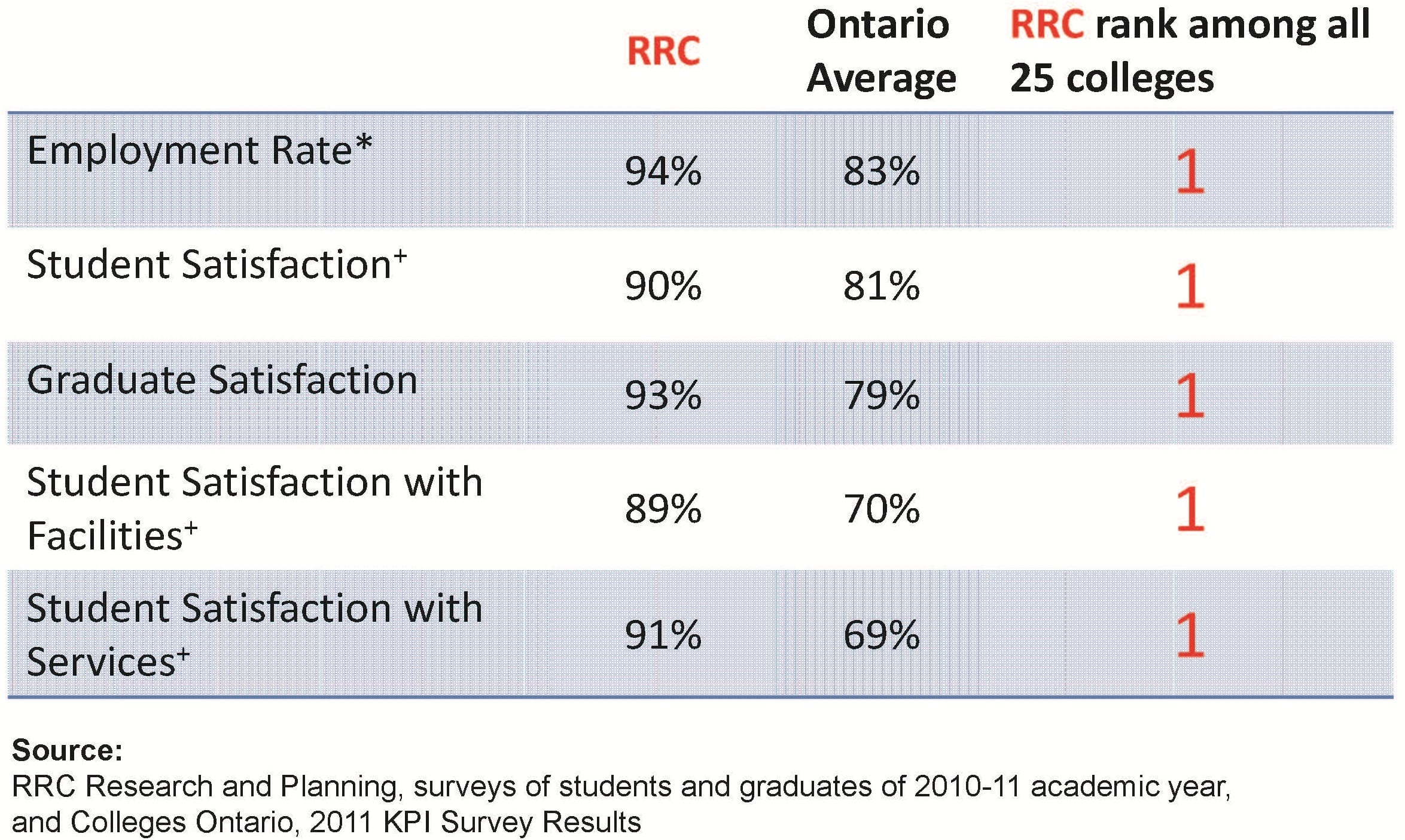 *RRC Employment Rate is calculated for those in the labour force.
+RRC Student Satisfaction includes only those expressing an opinion.
Note: Comparisons should be viewed with some caution. Different survey techniques and variations in questions can produce misleading results. In addition, college to college comparisons can produce misleading results due to a variety of factors, such as college size, local employment conditions, program mix and respondent demographics. Ontario colleges use a five point scale while RRC uses a four point scale for Student Satisfaction in this table.
What the heck do you do with all that Data?
"All that Data" is the definitely the right phrase to use. The survey questionnaire is rather lengthy. This is necessary in order to cover as many factors affecting students at RRC as possible. And the thousands of students surveyed provide us with a great deal of data. The information collected is used as a customer service tool to evaluate whether the College is giving students what they need to get where they want to go and how well we are doing so.
Internally, the SEPS results are used in program renewals, benchmarking, accreditations, strategic planning, and various presentations.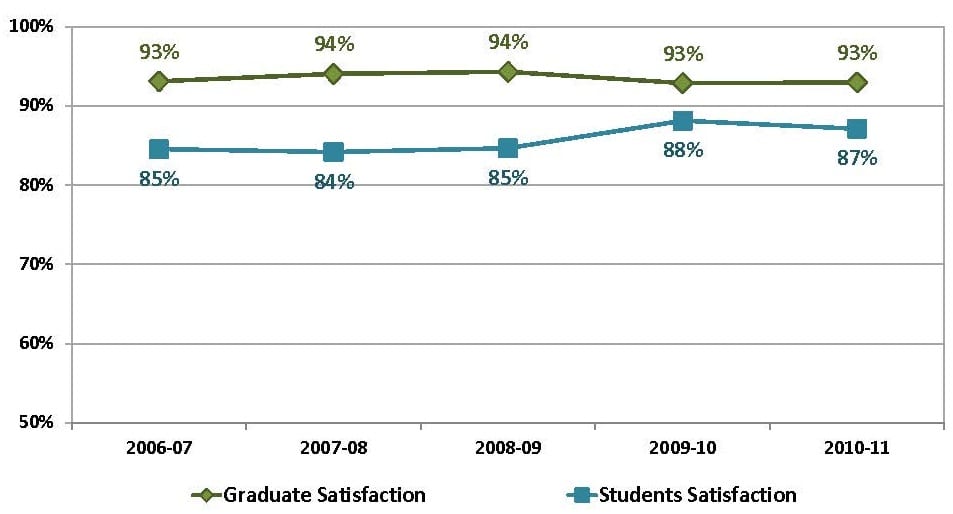 Note: All survey respondents (including No Opinion) are used in these percent calculations.
The chart above shows us that graduates are happier with their program than students are, whether it's because graduates use what they've learned and realize how well prepared they are or not.
A Student Evaluation of Program Report is published annually with the results of this survey. It is available online, and in book form sharing a cover with the annual Graduate Satisfaction & Employment Report.
The Student Evaluation of Program report includes summary findings of student attitudes about their experience at the College, School, and program level. These charts provide an at-a-glance opportunity to see the strengths and areas needing improvement.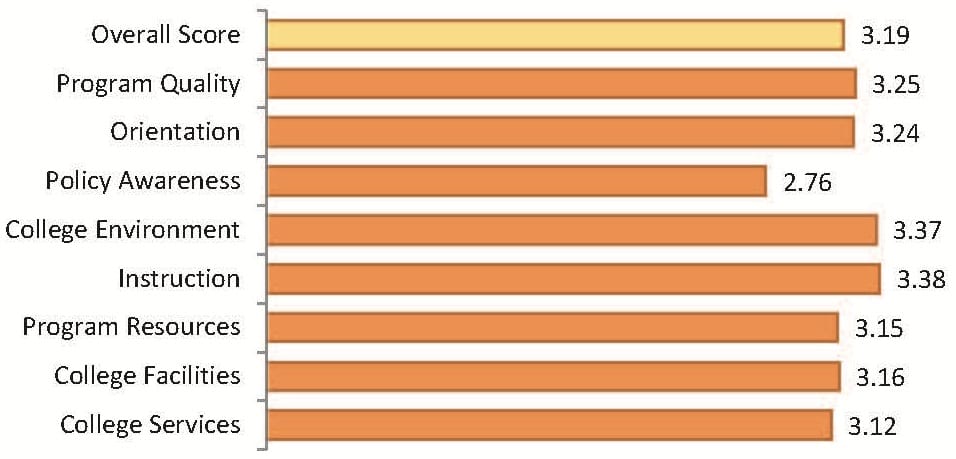 Note:This chart illustrates the College overall averages of student attitudes presented in a four point scale from 1 – 4, with 1 indicating strong dissatisfaction and 4 indicating strong satisfaction. Each bar in the chart represents multiple questions combined into related categories. Overall Score shows the average of the eight categories below.
Externally, the SEPS results are reported to the Council on Post-Secondary Education (COPSE). This report is used along with the Graduate Satisfaction & Employment Report by employment agencies and high school Guidance Counsellors to help people make the best education choice for their future careers. The Manitoba and Winnipeg governments, First Nation Education Authorities all over Manitoba, Metis Federation offices, newspaper publishers, other Manitoba post-secondary institutions, the RRC Board of Governors, and RRC staff are all lucky recipients of this report.
How we collect the Students' attitudes and opinions
SEPS is conducted annually during or close to the last term of each program using a paper or online version of the questionnaire.
This survey, like all of the surveys conducted by Research and Planning, is voluntary. But a survey of students conducted in class is much more likely to be completed – typically only 1 in 10 students will complete a survey on their own. And the more surveys completed, the more reliable and useful the data will be. To assist with this, reminders are emailed to program areas on doubtless annoyingly numerous occasions throughout the year.
The online data is collected and accessed directly by Research and Planning while the paper version is scanned and the handwritten comments are typed – interpreting all of that handwriting is an adventure in itself.
SEPS in the Future
At some point, it will make sense to conduct this survey using the more economical, ecological, online method only. We are almost there but a few programs experience difficulties accessing the online version of the survey. We are working on a solution to this, so stay tuned!
On the survey results side of things, we've developed a new tool for data reporting. Tableau is visual analytics software that makes it easier for people to explore the data. These Tableau dashboards* allow users some freedom to generate different views of the data themselves. *Note: Currently access to SEPS on Tableau Server is available only to Deans and Chairs due to licensing restrictions.