What is it reputation?
Reputation is a measure of the beliefs, opinions and impressions that one generally has about something.  In the case of Red River College, reputation can be based on many things:
one's experience as a student, or as the parent or friend of a student at the College;
hiring or working alongside RRC graduates;
advertisements, such as the billboards found around the city that celebrate College alumni; and,
what one reads in the newspaper or discusses in casual conversation.
Why is it important? 
Having a strong reputation is important for a number of reasons. Most importantly, it can influence the decisions of potential students as they weigh out their post-secondary options. Similarly, it affects which staff and instructors the college is able to hire, in its quest to build a strong and competitive workforce and be an employer of choice.  Finally, it can affect the views of our stakeholders – including industry and employers, government, and the general public – and how they work with us.
How do we measure reputation?
Research and Planning measures reputation in a variety of ways, including surveys of staff and students, employers, and the general public. This piece focuses on our general reputation, which we gauge using two surveys: a survey of the general public and another of private sector organizations.
The General Public has a Favourable reputation of the College
Once a year, RRC places a handful of questions on the Probe Research Omnibus Survey to gauge its reputation and collect some other comparative information about the college relative to the other post-secondary institutions. This survey is based on a random sample of 1000 adult Manitobans.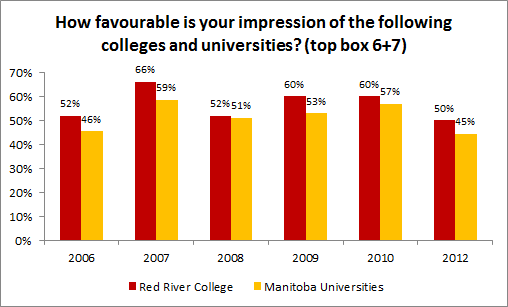 As noted in the chart above, an average of 57% of respondents had a favourable impression of Red River College over the past 6 years, based on a rating of "6" or "7" on a seven-point scale. While there is some year to year variation in ratings, and the differences aren't always outside the margins of error, RRC is consistently on par with or slightly above the other institutions.
Manitoba private sector organizations are also positive about RRC
We also survey private sector organizations to gather the opinions of senior business officials from across the province, including CEOs, presidents, business owners and designated senior corporate officers from small, mid-sized and large commercial establishments.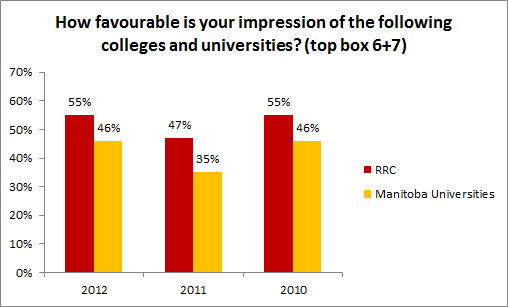 The private sector survey has results very similar to the public rankings, showing that Red River College's reputation ranks slightly above Manitoba Universities (though differences may not be outside the confidence interval). This is an interesting outcome, given that RRC is about a third the size of U of M in terms of full-time enrolments, and roughly equivalent to the U of W.
Final Thoughts on Reputation
The first take away from these results, is that Manitoba's post secondary institutions are generally held in high regard by the public and private sector organizations. This positive disposition is important – it would be difficult for any of these institutions to make their contribution to the well-being of Manitobans without that support.
The second take away is that reputation is an "outcome" measure that depends on the College continuing to deliver quality education and skilled graduates. Both the College and other post-secondary institutions are continually trying to improve their organizations and equally their reputation. So while the current results are very encouraging, the quest to remain at the top and even build upon this reputation is ongoing.