First Steps
In September 2005, Red River College began piloting the Freshman Integration and Tracking System (FIT), an innovative student retention initiative developed by staff from Humber College. The College has since adapted and customized this model into the current Paths to Success initiative, starting in 2007.
After eight years, the Paths initiative has involved over 250 College faculty and just over 8000 students. In the most recent year, more than 1,700 first year students participated in the initiative from 56 diploma, certificate, and degree programs.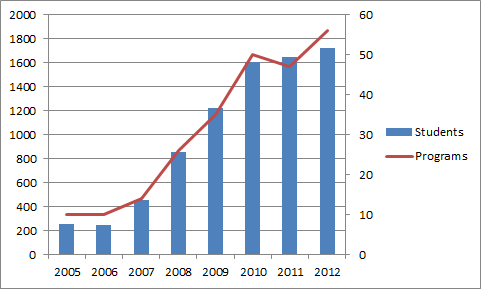 The Paths to Success model
The Paths model has three main components:
Assessment – students complete an in-class online survey within the first two weeks of starting their program. The survey enables students to identify supports that they would benefit from and captures their opinions about being a first year College student.
Communication – Feedback is provided to students and faculty based on the survey via an electronic Success Plan / Faculty Report, which lists all the College supports that match with the students' self-identified needs.
Faculty Academic Advising – a faculty adviser from the student's program meets with them to discuss the Success Plan and any other academic concerns. Where appropriate, advisors will refer students to College supports for assistance.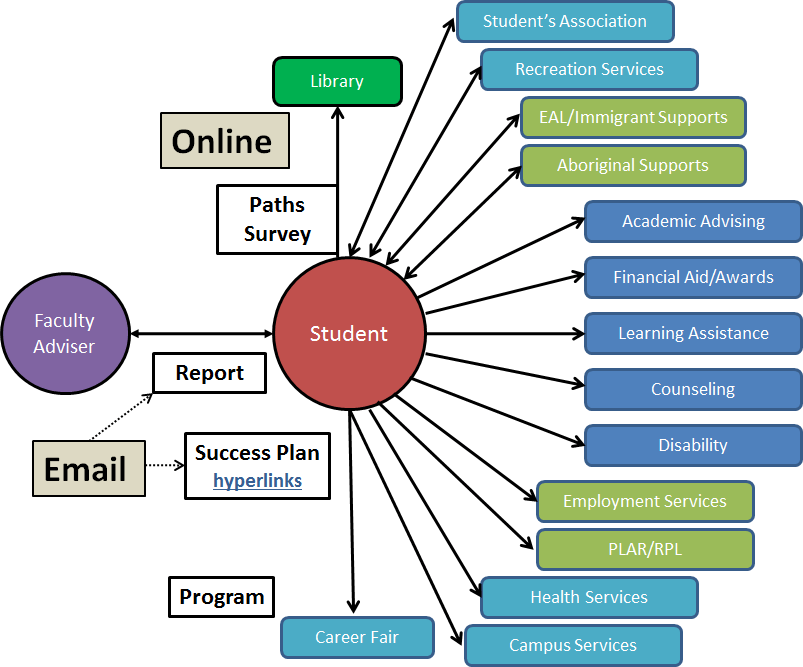 Functioning alongside Paths are the College's Support Services, which include:
The Academic Success Centre
Personal and Disability Counseling
Advising – Academic, Career and Employment, and Financial
The Aboriginal Student Support Service Centre
The Diversity and Immigrant Student Office
Business Intelligence
While the Paths process is primarily focused on the student, the survey also provides valuable information to supplement what is gathered through the application process. In particular, the College gets additional information detailing:
Whether a student attended post-secondary prior to enrolling at RRC;
Fact: Among Paths participants, 17% are College or University grads, while a third (34%) have completed some post-secondary training.
If students expect to work during their program;
Fact: 70% of students expect to work for pay while in school – of which 58% intend to work less than 20 hours a week and 12% say they'll work more than 20 hours a week.
 If a student's parents/guardians had previously attended college or university;
Fact: Just under a third of students (29%) are from a family where neither parent/guardian went to post-secondary.
From a planning perspective, this information helps with recruitment, student supports, and strategic planning. It also aids with analytic modeling aimed to identify at-risk students, and triage supports as needed. Furthermore, the Paths model is often integrated into other student retention initiatives.
The Initiative is Working!
From 2005 to 2008, the FIT/Paths to Success initiative has helped increase Term 1 student retention by and average of 4.2 percentage points, ranging as high as 7.3 percentage points in 2008. The Term 1 period was chosen because of the "critical" nature of first term when it comes to student success – almost half of all withdrawals happen during this period.
Faculty Academic Advising
As described in the model overview, faculty academic advising is intended to reach out to students to create proactive, preventative and timely intervention. Faculty Academic Advisors help students become successful by clarifying their goals and objectives, answering their questions, listening to their concerns, and referring them to additional services as needed.
The Faculty Academic Advisor and the student are a team in which both work together to form a meaningful, achievable academic plan that is:
consistent with the student's educational goals; and
congruent with their skills, abilities and interests.
A student's decision to participate in faculty academic advising is voluntary.  Students can refuse advising and/or a referral.
A Faculty Academic Advising Handbook has been prepared to assist instructors with the advising process.  In addition, workshops are provided for new faculty and program instructors who would like additional background in this area.
The Success of Paths
There are several features of the Paths to Success initiative that has made it successful:
Student-focused / Success driven – at the core of the model is the student, and the College's commitment to see them succeed
Building Partnerships – By involving approximately 85% of first year students, the initiative provides a means for bringing academic programs together, and connecting them with support services at the College.
Actionable Business Intelligence – the survey is not meant to generate "research for research sake" but rather to support business decisions and the strategic planning process.
Flexible / Adaptable – Taking a flexible approach has enabled the College to adapt the model on yearly basis to increase effectiveness.