The term social media refers to a variety of internet-based applications that people use to create and share content (ideas, information, art) with each other, and foster networks and connections with friends, colleagues, and the general public.  The most commonly known applications include online "newspapers" (very generically any news or informational hub online) and blogs (such as this one), as well as Facebook, LinkedIn, Twitter, YouTube and Flickr.
Many of these applications are being used by millions of people, or in the case of Facebook – billions of people worldwide (1.2 billion to be precise). The photo sharing website Flickr has over 5 billion images on it, while there are some 490 million unique users of YouTube users every month.  Crazy!
So how does RRC staff and faculty stack up?  In September 2011 and again in April 2012, Research and Planning asked a random sample of 100 staff and faculty (each month) how often they used social media tools for work and for personal reasons.  The six categories offered ranged from "daily" to "never".  The gap between the end of the bar and the 100% marker represents those who never use these tools.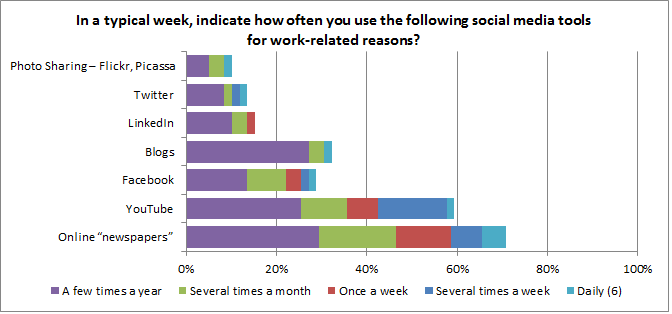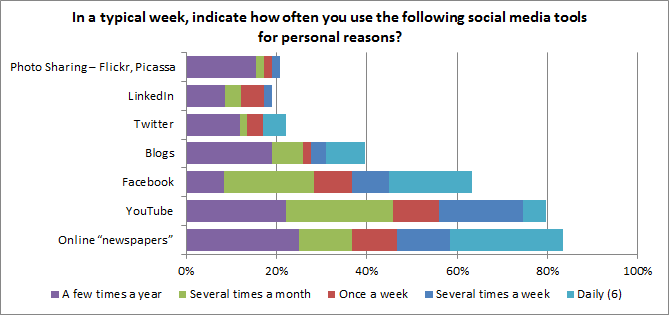 To summarize this information, we rolled up results to look at those using social media at least several times a month.
As you can see, just over 50% of staff/faculty use online "newspapers", YouTube, and/or Facebook for personal reasons several times a month.
Blogs are used by only a fifth of staff (21%) whereas one tenth (10%) use Twitter and/or LinkedIn for personal reasons.
Work usage is lower across the board, with online newspapers (41%) and YouTube (34%) leading the way.
Many of the other tools, like blogs, are used by only 5% of staff for work reasons.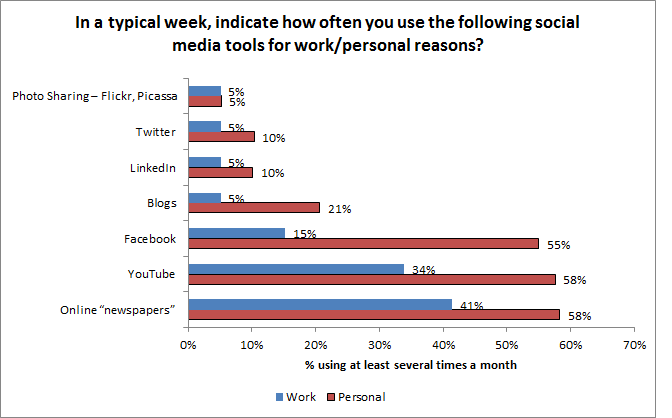 The Future of Social Media at Red River College
In September and October 2012, Research and Planning again used the staff survey to delve a bit deeper into social media usage by asking staff – "What is your opinion of the College's use of social media channels like LinkedIn, Facebook, Twitter, and YouTube?" and secondly – "What is your opinion of the Colleges" blogs?".
Staff divided into two camps – those who were generally positive (with a few enthusiasts along for the ride) and those who were neutral – largely because they never use social media and/or have no opinion of the college's use of these channels. A few people considered social media to be a complete waste of time. So how can we explain the high level of indifference and low levels of engagement?
The first challenge is Time.  Most staff and faculty are quite busy with their jobs, and some say they don't have time to explore these tools.  As well all know, learning new things can be challenging without a guide, and sometimes we don't want to climb up the learning curve.
The second challenge is finding material that is valuable.  When discovering content, we ask ourselves – What does that have to do with me? What does that have to do with my job?
The third challenge is the effort required to seek information.  For example, many RRC blogs are infrequently or irregularly updated.  As a result, people never know when to look, and they eventually can become disinterested.
For the College, the challenge is to continue to build a social media strategy that results in regular, high quality content that is linked across the various social media platforms.  Secondly, the college needs to help provide some simple strategies to flatten that learning curve.
Here's are a few simple strategies for flattening the curve
Begin at the beginning.
You can access most of the College's social media channel from the main website, by scrolling down to the bottom right of the page and looking for the Connect with RRC header. The links include the RRC YouTube channel, links to RRC blogs, and to the RRC Flickr account. It's a bit hidden, but it's all there without having to search.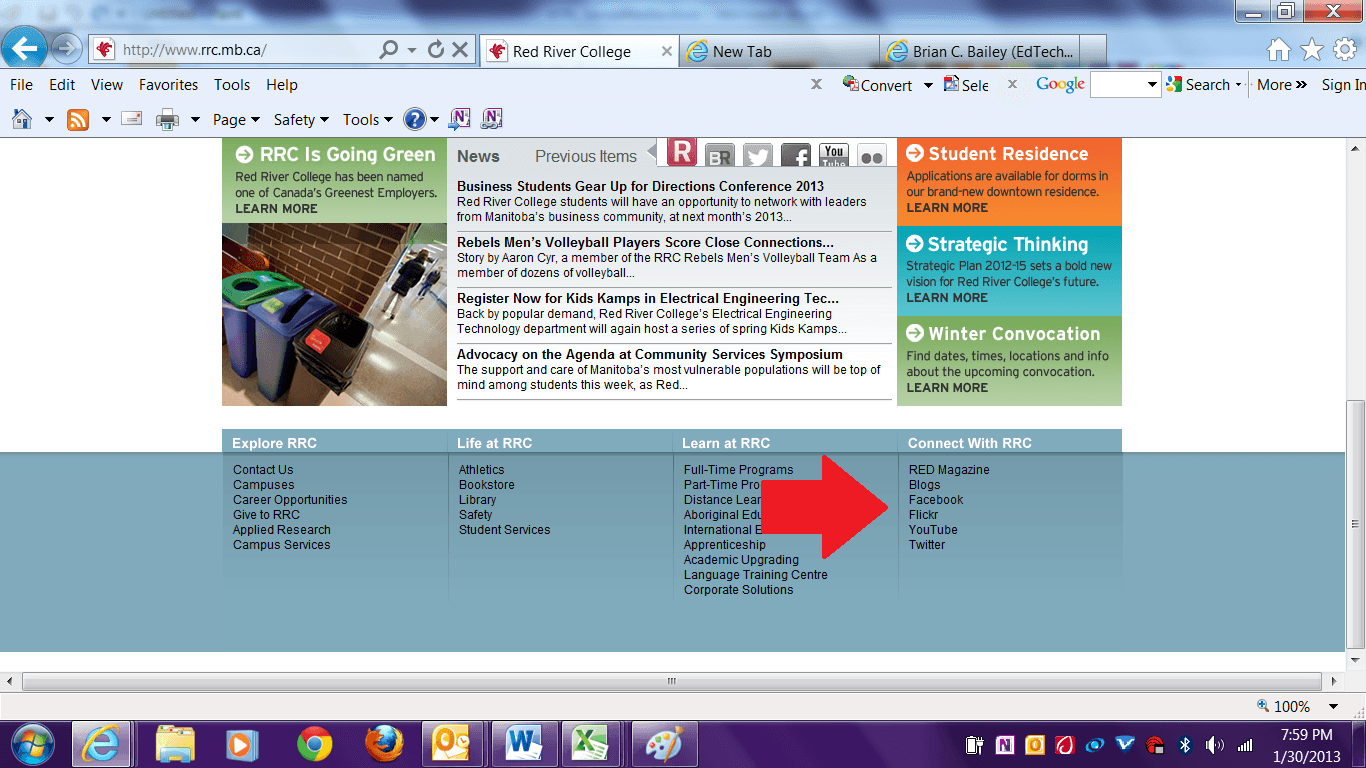 Develop your Personal Learning Network on LinkedIn and Twitter
A Personal Learning Network (PLN) is an increasingly common term used to describe the networks of friends and colleagues that one develop via social media.  Two of the more common "hubs" for these networks are through tools like Twitter and LinkedIn.  If you want to understand the value of Twitter for higher ed folks, check out my good friend Brian Bailey, who curates a really great Twitter feed under the handle @EdTechEmpowers.  If you're an educator, then check out @TomWhitby or his blog My Island View.  The piece he wrote on Smartblogs on Education has an excellent overview blogging and the value of developing your own PLN among other educators.
Red River College also has a LinkedIn group with over 600 members. While the posts are often informational, LinkedIn has the potential for being a vibrant conversation hub for staff, students, Alumni, and industry if there are enough people who choose to use it that way. If you're on LinkedIn, join the RRC group and begin a thread of your own and get the party started.
Use Facebook to get updates on College news and events
The College has a main RRC Facebook page, as do other areas like Aboriginal Student Support & Community Relations, International Education, and the RRC Alumni. If you already use Facebook for personal reasons, head over to the RRC pages, "like" their page, and Voila – you'll get regular updates.
If you find something you like, share it with others
For example, if you happen to like this blog post, there is a share button just below.  Find a network that you're part of and share it to that group. It's that simple.
The "knowledge" economy has changed, and you gain "currency" by being a good curator of content. The more valuable ideas you share with others, the more you will be valued. People are looking for others to help them manage the glut of information that is out there. This is much easier to do, if you find, follow, and connect with a few people who are good at sifting through it all, and sharing it to those networks.  Find some good curators and become one yourself by sharing what you find interesting. There's a good chance that if you find something interesting, the people who are your friends will find it interesting too.