Student Interviews
Workplace Placement Holy Family Nursing Home
By Roba Charcharah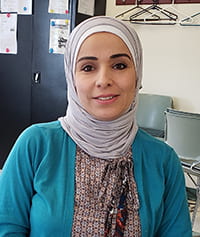 As part of the training at the Language Training Centre I had to complete a Workplace Language Exposure program. My work placement was at the Holy Family Nursing Home for 3 weeks. I was interested in working here because of my background and it was a good fit for me.
This working environment was good for me because some of the qualifications and skills I already had from my country, Sierra. I have experience working as a school counsellor. I did a lot of research and this was an area that interested me. When my teacher wrote down the name of this placement I told her this would be a good fit for me.
My supervisor at my placement gave me many instructions on how to start working in some of the units. The first and second days were very stressful and difficult; I was working with adults and felt I had to always smile and be very patient with them. I am a very sociable person who is conscientious and I respect everyone.
After my manager found out about my background, she suggested 2 different units. The first was a unit where everyone can work, the second was a locked unit. I saw many things in this unit and I told myself I need to be strong and improve myself. I need to improve my English language. It was hard at first but I gave comfort to patients.
There were many areas to work. I introduced myself and had to keep going back to build confidence with the patients. I would sit and talk to them as they need companionship and support. It was hard at times. Over time I started to notice a change in the patients as I stayed and worked with them.  Sometimes the patients would ask where I was if they did not see me. I found it to be a good environment but stressful. You have to be patient and speak all day.
Everything was good at the Holy Family Nursing Home; very organized and the staff care about their patients. This is a good place for students to go to do their placements. It helped increase my English skills. I would like to be able to apply for a part-time position.
I want to finish my term at school and when I finish here at LTC I know there are many opportunities at the Holy Family Nursing Home. I appreciated the comments and support the staff gave me. They definitely helped me increase my communication skills; they gave me instructions so I could do my job. I did not worry if I spoke wrong; this is how you learn. This program is good for the students to complete as it builds your confidence while speaking English and teaches you to be really strong.
I appreciate Red River College Polytechnic because they give support to students to go outside to work and find something that is suited to us. I want to continue my studies; I have started Level 6 at LTC and would like to learn more so I can work in the social work area.
Workplace Exposure Program at the Language Training Centre
By Huimei Chan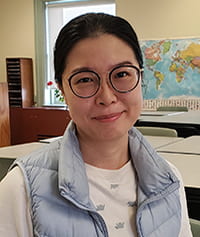 I came to Canada from Guangzhou, China in 2016. It was totally different here and when I arrived here in Winnipeg and I found my first week was hard. The weather was cold, I did not know how to drive and the bus system was different; you have to plan ahead. I found my language was a problem. I had to adjust my life to make it suitable and comfortable. My children go to school and are learning to speak English. All the people here are friendly and respectful and they helped me to learn.
When I came to the Language Training Centre my teachers helped me to speak. They taught me one word at a time and then slowly I started to make sentences. Every day my teacher would start her class with small talk and when the class ended she would stand at the door and shake our hands. This helped me to communicate while learning how to do small talk and to make friends which is an important step. My second term teacher pushed me to work harder. It was hard to express my feelings to people because I was scared. I found it hard to understand the other students when they talked. She could tell I was uncomfortable and adjusted her methods with me so I could understand.
As part of my classes at the Language Training Centre I did the Workplace Language Exposure Program. I was scared to do my placement but I wanted to continue with my studies. My teacher pushed me and after a while I asked her to help me find a work placement.
I did my work placement at Ikea for 3 weeks last November. I worked in the Kitchen and Appliances department. Since I like to cook it made me feel very comfortable.
It was a great experience and all the staff were very friendly. They were told I was coming to do a work experience from Red River College Polytechnic Language Training. They always gave me small talks so I could practice my language. After I finished my work placement I asked my Manager why everyone knew me. They told me that HR had emailed the staff to explain who I was and why I was coming to do this. They wanted to help me improve my English skills and make my work experience good.
When I worked in the kitchen and appliances area it made me feel like I had a part-time job similar to a job I had held when I went to University. I already knew how to place the appliances, speak to customers, label items and was able to do it very quickly. It was a good work environment. They gave me hours that were suitable for my home life as I have children. It was the perfect experience.
After completing my work placement I realized I would like to apply for a part-time job. I got my learning certification at LTC. I have experience in different industrial companies but still need to learn to work with different types of work styles.
I am working on my CPIM (Certification in Production and Inventory Management) and once I complete this I can challenge my CSCP (Certified Supply Chain Professional) certification. I really want to continue with my education.
Ikea built my confidence back up. I became a new person and am more comfortable speaking to other people and can now talk in class. Olesea taught me the importance of taking a chance. I am more comfortable and confident.
Informational Interview
By Gerard Urbina Vega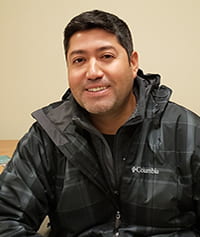 My instructor at the Language Training Centre was an excellent teacher. She related real life to our studies and as part of the program we have to complete Informational Interviews.
I found the interview with Leonardo Bustos to be quite interesting as he is from Chile and came to Canada to start his life. In Chile he was a tutor but could not meet the needs of their families.  Coming to Canada allowed him to give a better future to his family.
The person I interviewed at Lisbon Bakery is from Columbia. He also took courses here at the Language Training Centre and continued on to take the Informational Management program at Red River College Polytechnic. Unfortunately he could not find employment in this field so he decided to buy an older business which was a bakery.
After completing 3 different informational interviews I wanted to know if you can change your career. In my country I was an interpreter and it is hard to find a good job. I realized I had to make a decision and take a risk. I finished my last term which is a Level 8 and will now be looking for a job and an opportunity to start my own business. I need to be able to work and continue to practice my English skills. I will try to identify a business that has already started and see if it fits into my experience.
Being an immigrant you need to continue to study and practice every day. I would like to continue studying at night. In my country you work during the day and study at night. Here I have tried to find courses that I can continue to take at night. I need a chance to study so I can improve my life for me and my family.