Studying From Home? The Library can help.
In this wave of the COVID-19 pandemic you may find yourself with less time on campus and more time studying at home. The RRC Polytech Library is here to help. This post will cover some of our supports and some tips to keep you on track with your studies.
This Library is Open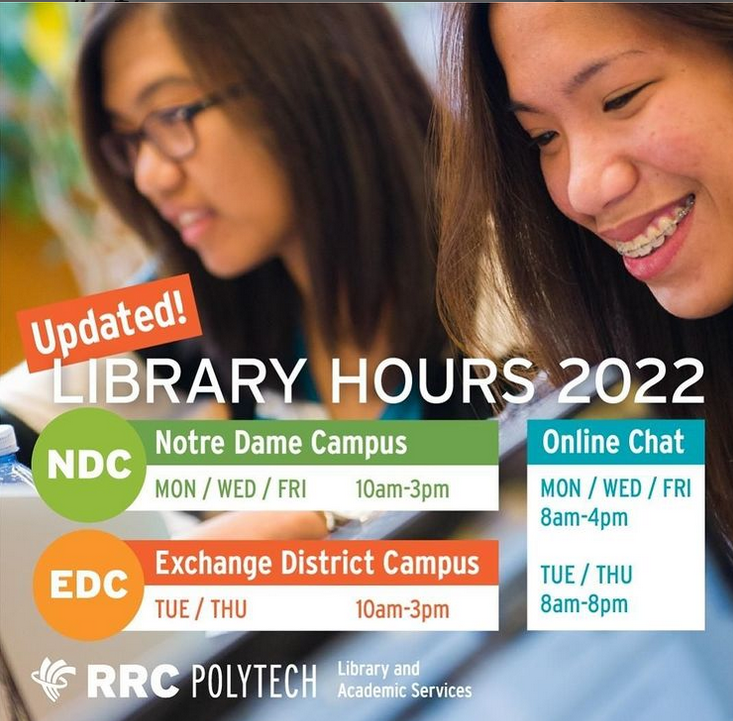 The library is open at the Notre Dame Campus: Monday, Wednesday, and Friday from 10 AM – 3 PM
The Library is open at the Exchange District Campus: Tuesday and Thursday from 10 AM – 3 PM
Always check our updated hours
Get Library Help Remotely
Library Chat
Staying home? No problem you can connect with a Library Staff member on chat. Just visit the web page and click on the "Ask us" chat bubble.
Chat Hours are:               Monday, Wednesday, Friday 8 AM – 4PM
                                           Tuesday and Thursday 8 AM – 8 PM
You can Ask Us a Question any time using our Contact Form
The ASC offers online tutoring and additional support for students to see all their Supports For Students here
Get your library materials Remotely
Need access to library materials at home? Try…
RRC Polytech Libraries have an extensive collection of ebooks allowing students from all campuses (including regional ones) to access our collection via the internet.
When searching for a journal or article, from the results page, you can use the filters to limit by ejournals or online article by selecting (available online).
Need something that is only available in print from our collection? We are happy to make a partial copy for you. You can request any print article from our collection or a chapter from a book through the Digitization service. Our library team will make you a copy.
Did you know that the library has streaming video services? Our collection is designed to serve our students. Explore our video databases as well as curated collections for special topic areas.
Adjusting your Study Habits
Studying is hard at the best of times. Just like your instructors, your routines may have to adjust during this wave of the pandemic. Here are some sugges­tions for how to swap your old habits for new ones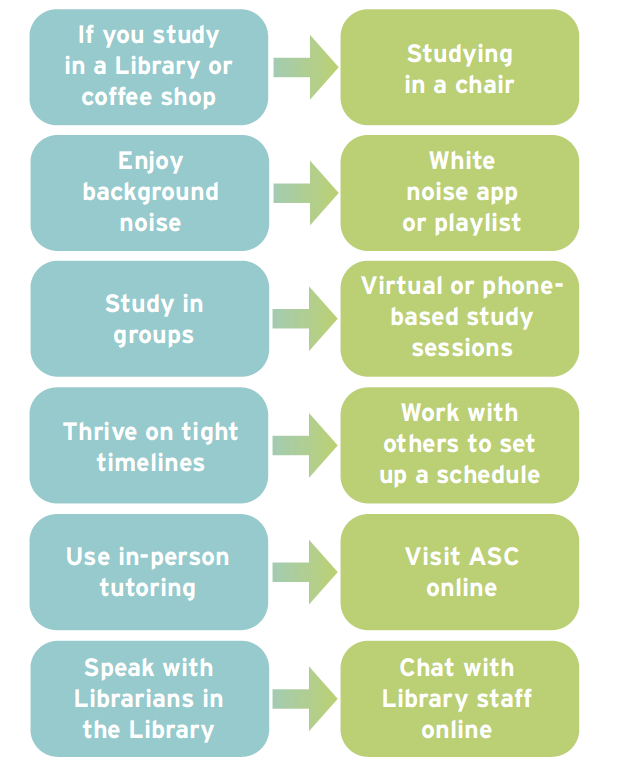 For more information, resources, tips and tricks for study at home view our:
Working From Home Guide for RRC Polytech Students
Stay Active
Campus Well-Being is now offering fitness and lifestyle consultations to staff and students.
Looking for some expert fitness advice? Not sure where to start on your journey to better overall health? Book a free, virtual session with one of our certified fitness professionals.
Your consultation will will take 30 to 40 minutes and can be done over the phone or via MS Teams. Your coach will ask you some questions about your current health, fitness, and lifestyle before collaborating with you on a plan to take concrete, actionable steps to better your health.
Take Care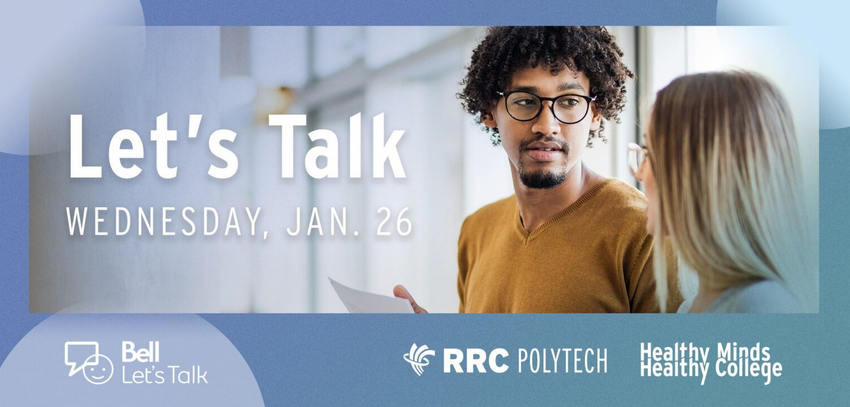 Your well being and mental health matter. January 29th is Bell "Let's Talk".  The day focuses on destigmatizing, building awareness, acceptance, and action in mental health. Of course, events will look slightly different this year, but continuing conversations about our mental health is more important than ever. To engage with RRC events for Bell visit the Campus Well-Being website.