Tap into your inner #RRChomechef and make pizza tonight!
With our new reality of working and learning at home due to the COVID-19 pandemic, we are tapping into the RRC spirit of innovation to bring you culinary and hospitality inspiration with our Hospitality at Home video series.
Is there anything better than homemade pizza? Try out RRC Instructor Chef Gordon Bailey's pizza dough recipe and have fun experimenting with the toppings!
Classic Pizza Dough
by Chef Gordon Bailey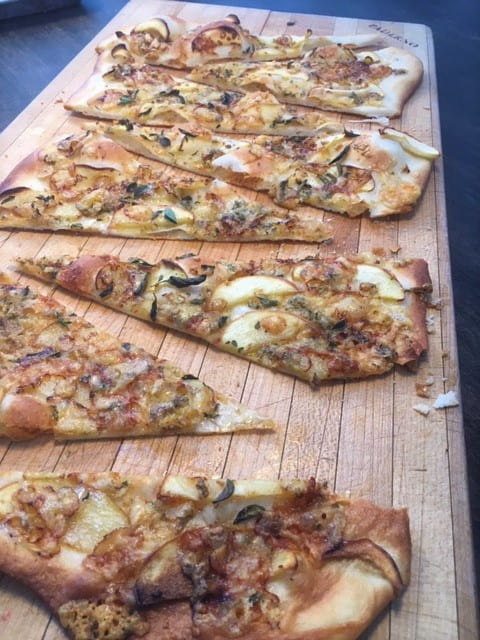 Ingredients:
1 cup warm water
1 tsp sugar
1 tsp instant yeast
2 cups all-purpose flour
1 tsp salt
Sauce and toppings: your choice! As Chef Bailey says, "remember, this is your pizza."
Method:
Add yeast and sugar to the warm water, and let stand 5 minutes to allow yeast to activate. Make a well in the flour and add the water-yeast mixture. Once the dough comes together, knead until smooth and elastic in consistency. Place dough in a lightly oiled bowl, and cover for 1-2 hours or until it has doubled in volume. Remove dough from bowl, divide in half, and roll out to desired thickness. Add your favourite sauce and toppings, and bake at 400˚F  until crust is golden brown. Enjoy!
Tips for a crispy crust:
Lightly oil your pan prior to dough placement.
Make it a thin crust pizza and don't be too generous with the sauce. More sauce = more moisture = less crispy.
Use the bottom rack.
If using a non-convection oven, increase the temperature to 425 F.
---
You can find the full video of the method up on our Instagram. Follow along and post your own recipes! Tag us @redrivercollege and use the hashtag #RRChomechef.