Weekday dinner inspiration
Hospitality at Home – bringing out your inner #RRChomechef!
With our new reality of working and learning at home due to the COVID-19 pandemic, we are tapping into the RRC spirit of innovation to bring you culinary and hospitality inspiration with our new Hospitality at Home video series.
Wondering what to make for dinner this week? Here's a tasty, quick and easy recipe from RRC Instructor Chef Karl Oman – try it out and let us know what you think!
Greek Chicken Pasta
by Chef Karl Oman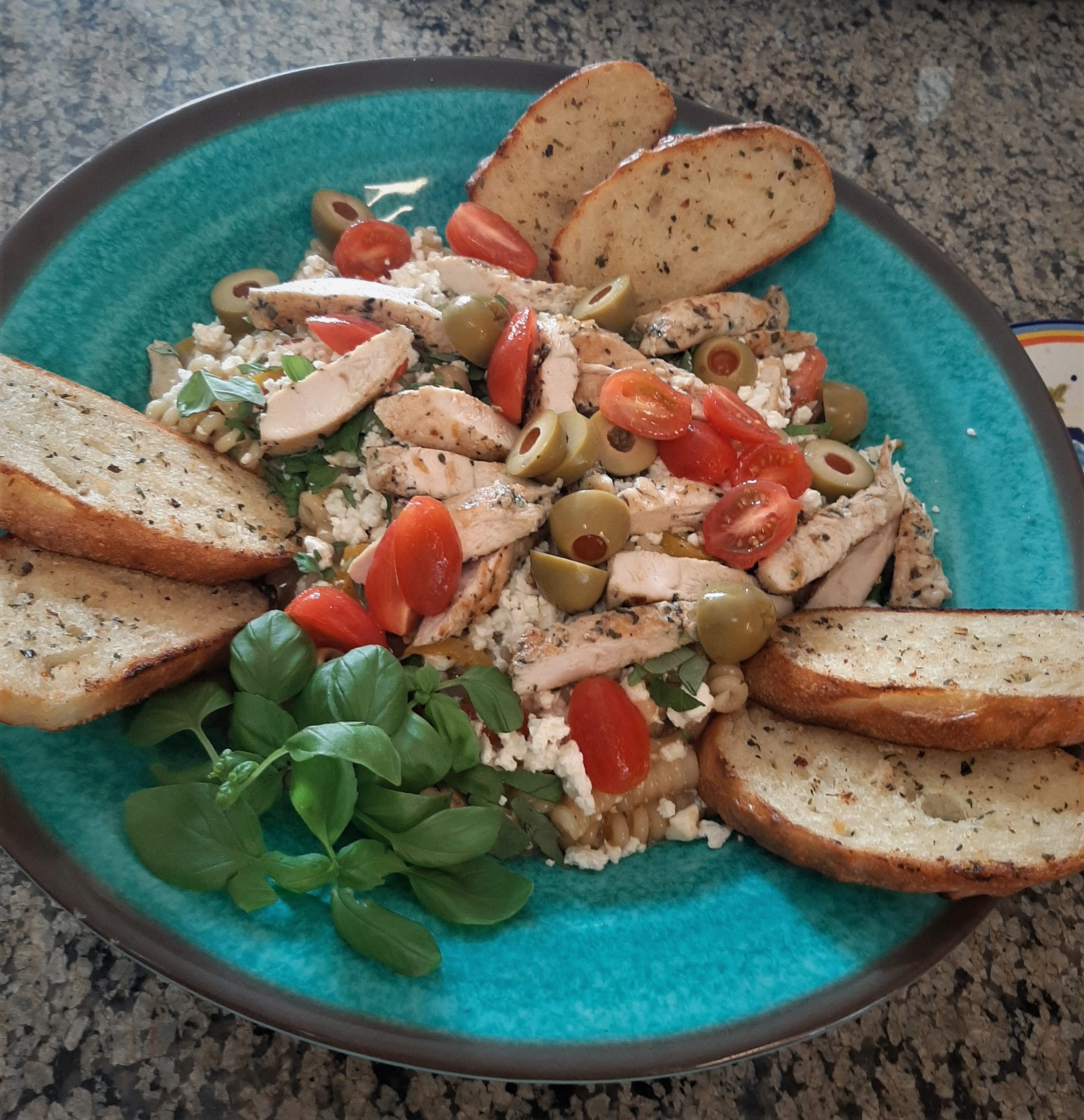 Ingredients:
240 g / 8 oz. dried pasta (try Rotini, Penne, Gemeli, or Bow Tie)
9 chicken tenders (can also use breasts)
Pasta Sauce
500 mL / 2 cups chicken stock
30 mL / 2 tbsp corn starch
10 mL / 2 tsp oregano
5 mL / 1 tsp basil
2.5 mL / ½ tsp thyme
*To taste: hot sauce – your choice
*To taste: salt and pepper
15 mL / 1 tbsp olive oil
2 cloves garlic, minced
½ a medium-sized onion, julienne or diced
¾ of a large pepper – colour(s) of your choice
2 tomatoes, blanched and diced (or, a handful of cherry tomatoes)
160 g / 5 ½ oz. feta cheese, crumbled
15 olives (Kalamata or Green), halved
*Serves 3-4
Method:
Marinate chicken for 1-2 hours. Use your favourite Greek marinade – Chef Karl used olive oil, garlic, lemon zest, oregano, salt and pepper.
Saute chicken until cooked through and set aside. Slice into strips if desired.
Prepare all vegetable ingredients so they are ready before cooking.
Make the pasta sauce. Add corn starch. Heat until thickened and then add additional seasonings. Set aside until needed.
Cook pasta in salted water. Drain when done.
Saute garlic, onion, and peppers until soft. Add warm sauce, half the tomatoes, feta cheese, and olives.
Add in the cooked, drained pasta and half of the chicken. Toss to coat. Place in serving bowl and top with remaining ingredients.
Chef Karl served this dish with some fresh, homemade garlic toast – yum!
---
You can find the full video of the method up on our Instagram. Follow along and post your own recipes! Tag us @redrivercollege and use the hashtag #RRChomechef.