Red River College launches new video series
With our new reality of working and learning at home due to the COVID-19 pandemic, we are tapping into the RRC spirit of innovation to bring you culinary and hospitality inspiration with our new Hospitality at Home video series.
First up is RRC grad and instructor Chef Gordon Bailey, who sent in a video of how to make these delicious chewy chocolate cookies.
Chewy Chocolate Cookies
by Chef Gordon Bailey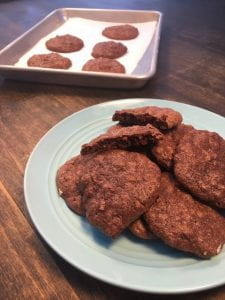 Ingredients:
2 cups icing sugar
1/3 cup cocoa powder
3 egg whites
1 tsp vanilla extract
½ tsp salt
1 ½ cups chopped nuts (any nut will work)
Method:
Sift icing sugar and cocoa together. Combine egg whites, salt, and vanilla in separate bowl. Add the wet ingredients to the dry and mix well. Fold in the chopped nuts and scoop / spoon batter onto parchment paper lined baking sheet and bake at 350˚F for 5-8 minutes.
---
You can find the full video of the method up on our Instagram. Follow along and post your own recipes! Tag us @redrivercollege and use the hashtag #RRChomechef.