Dr. Patricia Gregory and Team Receive a Million Dollar Research Grant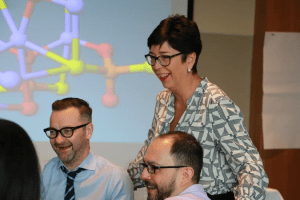 The Nursing Department would like to congratulate nursing instructor, Dr. Patricia Gregory, on receiving a research grant totaling just under one million dollars over the course of four years! Dr. Gregory and team received the Canadian Institutes of Health Research (CIHR) Team Grant: TiC – Stream 1 – PHSI Solutions for Transitions in Care Gaps for their research project "Facilitating transitions and access across the pregnancy continuum of care – A Health System Intervention for Indigenous Women Living in Northern Manitoba." The grant is for $236,111 per year for four years, totaling $944,444! It is also the first time Red River College has been awarded a CIHR grant.
Dr. Gregory, principal investigator, along with her team Susan Kobliski, Wanda Phillips-Beck, Dr. Jonathan McGavock, Dr. Nathan Nickel, Helga Bryant, Lorraine Laroque, Rhonda Campbell, Nancy Vystrcil, Dr. Sarah Ahmed, Dr. Claire Betker, Dr. Marnie Brownell, Dr. J. Cidro, Dr. Cindy-Lee Dennis, Dr. Alan Katz, Dr. France Legare, Pam Noseworthy, Dr. Kellie Thiessen, and Dr. Julia Witt developed this project to determine if "a pregnancy continuum care network, led by an Indigenous health systems navigator, will improve pregnancy care and neonatal outcomes among Indigenous women and their children in Northern Manitoba". The multi-disciplinary team of researchers and stakeholders seek to improve the health of Indigenous women and their babies in Northern regions of Manitoba through the development and evaluation of an intervention to improve health systems transitions and enhance continuity of care, the first intervention of its kind in the province.
For more information on this research project, check out the Northern Pregnancy Collective Impact Net.

Post written by Meagen Chorney – Nursing Instructor
Photos from the Northern Pregnancy Collective Impact Net