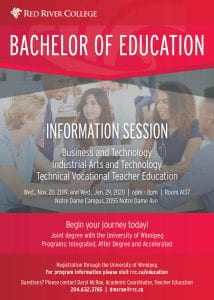 Red River College is hosting a Bachelor of Education Information Session for prospective students interested in the Business Technology, Industrial Arts and Technical Vocational Teacher Education programs.
Learn about the five-year Integrated, three-year After Degree and one-year Accelerated degree programs that are delivered jointly with the University of Winnipeg.
Information Session Details
Date: Wednesday, January 29, 2020
Time: 6-8pm
Location: Room A137, RRC Notre Dame Campus (2055 Notre Dame Ave.)
For more information, contact Daryl at 204-632-3765 or dmcrae@rrc.ca.