Innovation Centre Project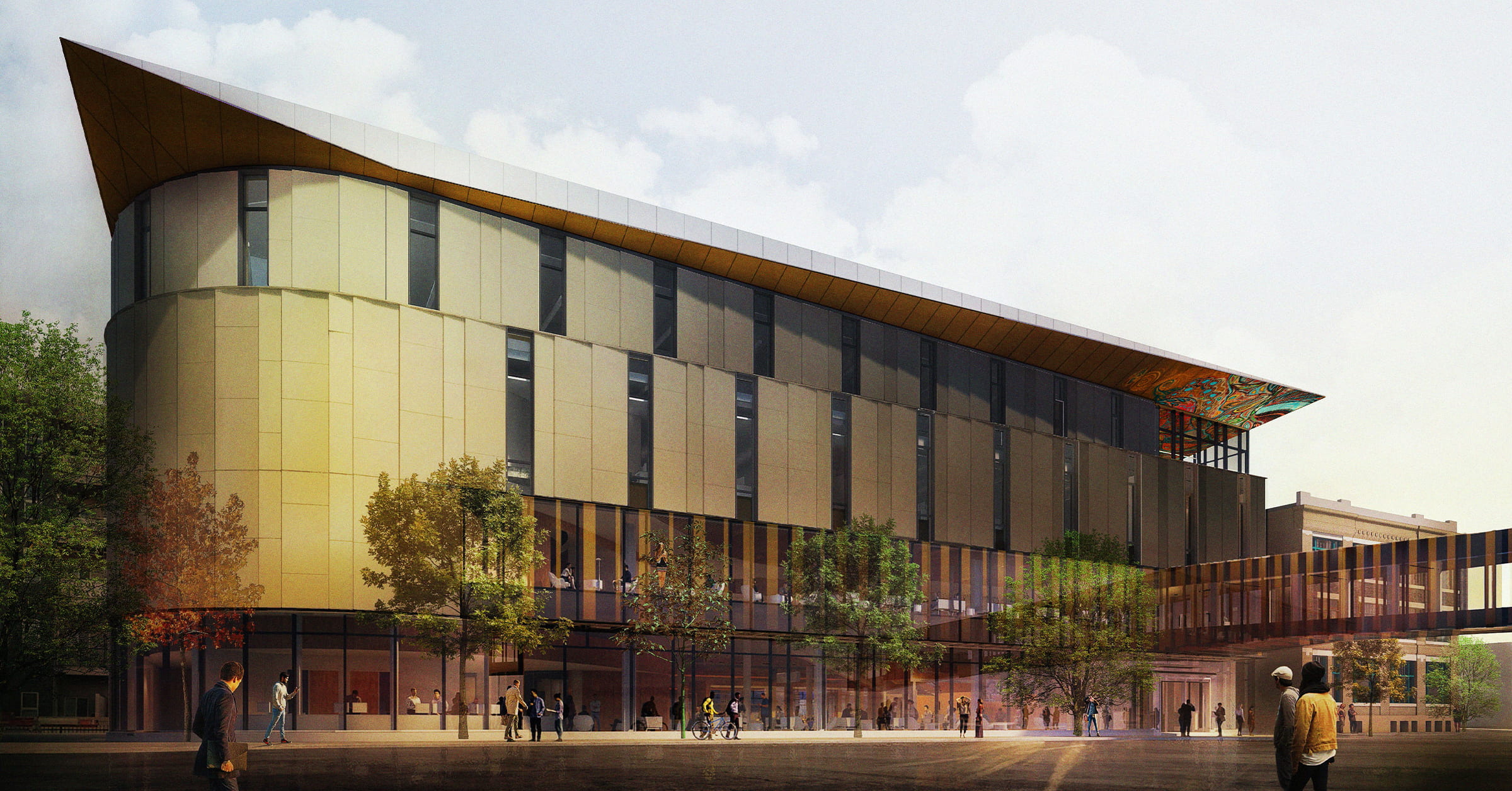 A Dynamic Collision Space in the Heart of the Exchange District
Red River College's new expansion to the Exchange District Campus is opening this Fall and will welcome students for the 2021/2022 academic year. The 100,000 square foot Innovation Centre Project houses an atmosphere of constant innovation that focuses on creative arts, technology, Indigenous entrepreneurship and social innovation, and industry-led applied research.
Students, faculty, industry mentors and members of the community will use this dynamic space to engage in concept development, product development, testing, and promotion – creating solutions to real-world issues that benefit the lives of Manitobans.
Many of our Business, Creative Arts, Indigenous, IT and Language Training Centre programs will be offered at this new space. The building will also house the College's ACE Project Space, a highly successful Information Technology collaboration zone, which acts as the model for all programs housed in the new space.
Indigenous Achievement
Red River College strives to be the College of choice for Indigenous learners.
The building features prominent art from Anishinaabe artist Jackie Traverse and Cree/British artist KC Adams, which is meant to provide representation and inspiration for Indigenous learners and community members. Winnipeg's downtown has the highest urban population of Indigenous people in Canada, and through this new building, RRC intends to provide new opportunities for community groups, organizations and entrepreneurs to collaborate on projects.
At this time, RRC is working with Elders and Indigenous stakeholders to create a name for the building — one that captures the experiences of the Anishinaabe, Cree, Oji-Cree, Dene and Métis people who have lived and innovated on Treaty 1 territory for thousands of years.
The Roundhouse Auditorium is a 210-seat space that is available for interactive lectures, traditional teachings, ceremonies and large events —such as the annual Pow Wow honouring Indigenous student achievement. The Roundhouse, as well as the round meeting room below it, is fully ventilated and allows for the use of the four sacred medicines; tobacco, sage, sweet grass and cedar. KC Adams' Morning Star design (created using birchbark technology) is embedded into the floor in this space.
Connecting Students from Across Manitoba
While Red River College is built on a reputation of delivering unparalleled hands-on training, expanding our online presence gives us greater access to remote and rural communities and improves our ability to offer training.
The Innovation Centre Project building houses two Digital Teaching Studios that allow instructors to develop and record digital content, and run live classes with students connected from across the province, or even around the world.
Smart screen computers, a tablet for on-screen drawing and notation, attendee controls and display features, and a full complement of audio, video and lighting equipment provide instructors with the tools they need to deliver live classes.
Digital Teaching Studios will also be used to welcome guest lecturers – such as industry experts, alumni and other external presenters – to enrich the curriculum and provide real-world application to the concepts students are learning in the classroom.
Sustainability in Design
The Innovation Centre Project is on track to be RRC's fourth LEED-certified building, with a goal of 100 energy use intensity and a near net zero efficiency.
Part of the Centre's design includes Building Integrated Photovoltaics (BIPV) that have been installed along the exterior. Designed by SwissINSO, the coloured panels — called Kromatix — absorb and conduct energy while also protecting the building from the elements. This installation is the first of its kind in Canada, and will reduce energy consumption by an estimated 15 per cent.
Thanks to energy efficient technologies — including Power Over Ethernet lighting, Smart LSI Breakers, Wi-Fi outlets and BIPVs — the renewable energy produced will also power the building.
Other Amenities and Features
A skywalk connects the new space with the Roblin Centre
The Elgin Plaza green space features meeting spaces, ping pong tables, and garden beds of prairie grasses – Indigenous Elders will also use this outdoor space for teachings and meetings with students
Study nooks along the stairs can be used for individual or group study, plus a number of breakout rooms and meeting spaces for group projects or hanging out with friends
Students in our IT programs have access to the sandbox zone, and students working on industry projects at the ACE Project Space have two UX rooms that can be used for product testing and focus groups
A 200-seat multi-use space (Roundhouse Auditorium) for events, lectures, classes, smudging ceremonies and rituals open to students and the public
A full suite of student services and supports
Indoor bike storage to keep your bicycle secure
Gallery