Empower Leadership Training Series
Discover the secrets to leading others, implementing ideas, introducing change and driving initiatives to achieve long-term success.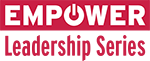 Red River College's Empower Leadership Training Series consists of comprehensive in-house workshops designed to develop leadership skills. These workshops are built to address the important needs in today's workplace and provide the skills needed for existing and emerging leaders to succeed in their careers.
One- and multi-day workshops are available and each is designed to bring relevant, timely and immediately applicable training to the market in a cost-effective manner. This is made possible by leveraging the expertise of Red River College's trusted instructors.
Enhance your team's development by providing applied solutions to address emerging business trends. Register today for an Empower Leadership Training Series workshop.
Who Benefits the Most From the Workshops?
New supervisors and managers.
Emerging supervisors and managers (0-3 years).
Current leaders, including team leaders, project leaders, department leaders and business leaders.
Human resource managers and specialists.
Rising stars.
Small business owners.
Individuals recognized as role models by their peers.
Individuals driven by self-improvement.
Past Workshops
Closing the Leadership Gap
Effective Business Writing for Success
Surviving to Thriving: Change Management
Project Management Essentials
Courageous Conversations at Work
Critical Consequences – The Communication Gap